Why Artificial Grass is Perfect for Event Venues
If you're an event venue owner in the Dallas area, odds are that you're always looking for ways to improve your venue and draw more bookings. Whether you're hosting weddings, baby showers, birthday parties, or company events, having an attractive and welcoming venue is critical to having satisfied clients and generating positive impressions in your visitors. If you're in search of a way to improve your venue's appearance, a new installation of synthetic turf can be the perfect way to elevate your venue. An artificial grass lawn also helps reduce upkeep costs and your overall workload.
Great Landscaping All Year Round
With an artificial grass lawn, you'll never have to worry about weather changes affecting your lawn. Artificial turf is made from durable polyethylene materials, which don't deteriorate or wear out the way natural sod grass will. Heavy foot traffic won't cause synthetic turf to degrade, and it will never turn brown and die due to a lack of water. Synthetic grass also never grows, so there's no chance of it ever looking messy and uneven. Additionally, artificial turf doesn't use soil to root itself in the ground; instead, turf uses infill made from synthetic materials to help support the individual turf blades. This means your guests will never have mud or dirt staining their nice shoes and clothes. Lastly, synthetic turf can integrate fun features like putting greens and bocce ball courts without you having to worry about them getting overgrown, meaning your guests will always have ways to entertain themselves. With an artificial grass lawn, your venue won't just be convenient to maintain, but it will also be more visually stunning than ever before.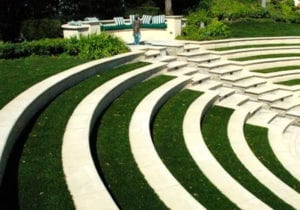 Increased Bookings
With the enhanced aesthetic and well-kept appearance that synthetic turf gives your venue, visitors will have an even better first impression. Appearance is the single greatest factor that potential clients consider when booking an event venue, so it is critical that you stand out from your competition. Additionally, if your visitors have a positive experience at your venue thanks to your synthetic grass lawn, the positive word of mouth that they will spread to their friends and families can help result in more bookings. Word of mouth is a cheap and incredibly effective form of advertising, so keeping your clients happy will only boost your business further.
Long-Term Savings
Artificial turf does have higher initial installation costs compared to natural grass lawns, but turf will quickly become a cheaper landscaping solution over time. When you use synthetic grass for your landscaping, you will no longer need to pay for an irrigation system, fertilizer, landscaping services, and more. Thanks to the lower maintenance costs that it provides, synthetic turf lawns offer you a full return on investment after just two or three years, on average.
Lower Maintenance Requirements
In addition to spending less money on a synthetic grass lawn's maintenance, you'll also spend much less time working on it as well. Artificial grass never needs to be mowed, trimmed, fertilized, or treated with pesticides like natural grass does, ensuring you will spend far less time maintaining your lawn and much more time allowing your guests to enjoy it. Synthetic turf will never get diseases or grow, meaning the smallest amount of effort is all you need to keep your lawn looking great. Artificial grass can be adequately maintained by quickly rinsing it down every few weeks as well as occasionally brushing it to lift and rebloom the turf blades.
If you're interested in installing a synthetic grass lawn for your Dallas venue, you can trust the experts at DFW Turf Solutions. We offer a wide range of artificial turf products that can perfectly match the needs of any business, giving your venue a verdant and beautiful lawn year-round. Our skilled team can guide you through every step of the process, from discussing your turf product options to completing the installation process. Call us today at (940) 365-9165 to get a free estimate.

DFW Turf Solutions, "A synthetic grass company", is focused on customer service, quality control, and water conservation.

4700 US-377
Building 6B
Krugerville, Texas 76227
12300 Ford Rd B321, Farmers Branch, Texas 75234