Artificial Lawn Turf
DFW Turf Solutions

is

 

the #1 synthetic

 

turf

 

provider

and

installer

based in Dallas. Homeowners and businesses in and around the Dallas and Fort Worth area are installing synthetic grass products more and more because they want a landscaping alternative that will help them save money and time on upkeep.
Get a Free Estimate
MORE DURABLE THAN REAL GRASS
Maintaining a green lawn in the Dallas-Fort Worth area is a major task. In the sweltering heat during the summer, your grass needs almost daily watering, which sends your water bill skyrocketing. In the winter, low temperatures and morning frosts leave your lawn with unsightly brown patches, and days of continuous rain make your yard muddy and unpleasant to walk on.
With DFW Turf Solutions' artificial grass, Dallas weather doesn't stand a chance. Have beautifully lush green grass 365 days a year with virtually no maintenance. No more mowing, no daily watering, and no flooding or mud. Our synthetic turf products have a real grass feel and natural appearance, all while delivering innumerable advantages over real grass.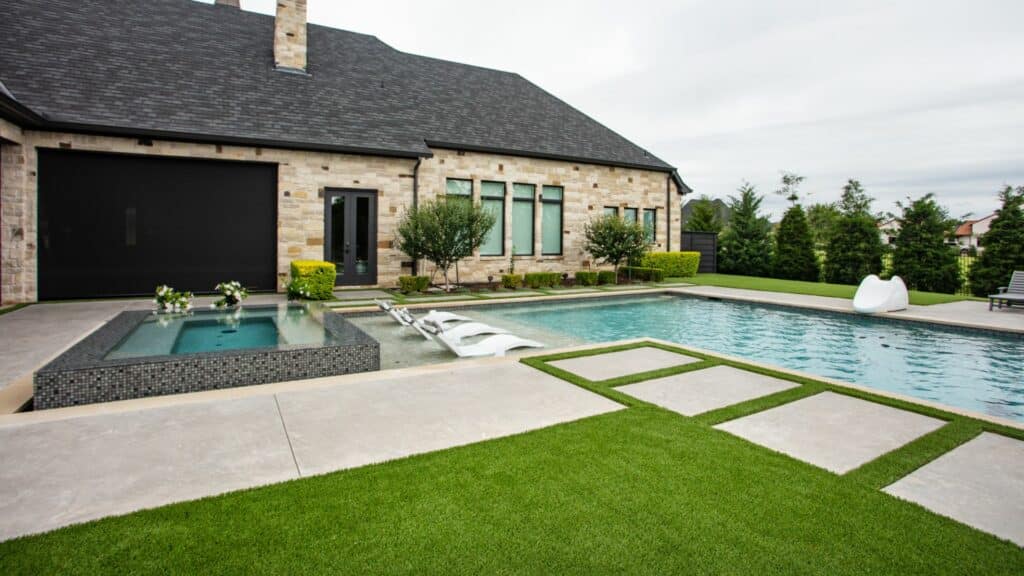 YOUR NEIGHBORS WILL BE GREEN WITH ENVY
DFW Turf Solution is the #1 synthetic turf provider in Dallas. Homeowners and businesses in and around the Dallas and Fort Worth area are installing synthetic grass products more and more because they want a landscaping alternative that will help them save money and time on upkeep.
Forget paying someone to mow your lawn or having to do it yourself. Our residential artificial turf products look and feel like real natural grass, and you won't even know the difference when you install your synthetic grass lawn.
PROFESSIONAL INSTALLATION
DFW Turf Solutions is a trusted residential artificial lawn installer in Dallas dedicated to transforming residential and commercial landscapes, one project at a time. In addition to our high-quality products, we take pride in our unique installation services. Using specialized tools and polished techniques, we can transform a barren piece of land into a lush and livable space.
Discover the many benefits of artificial turf. Get in touch with our synthetic grass specialists today.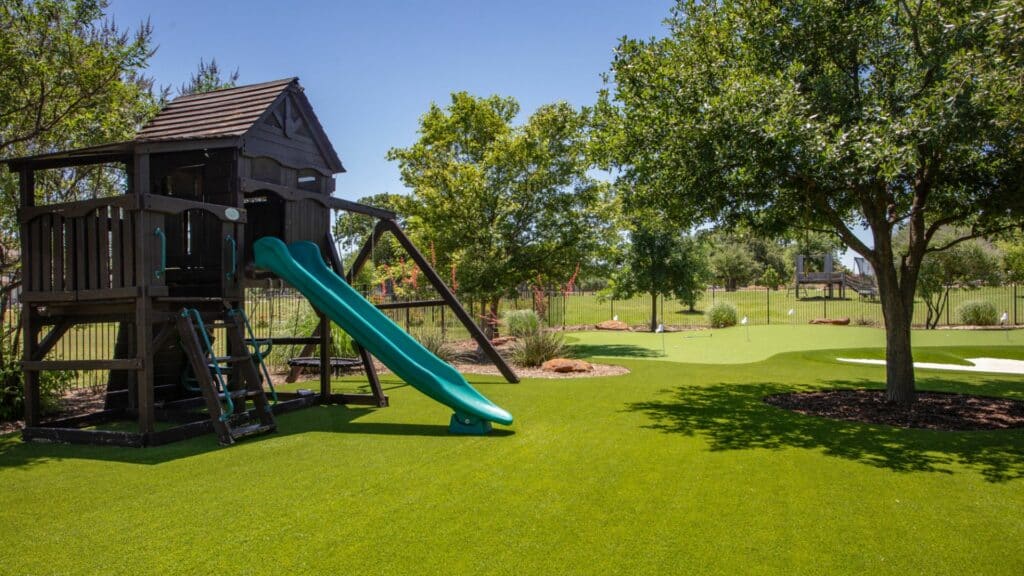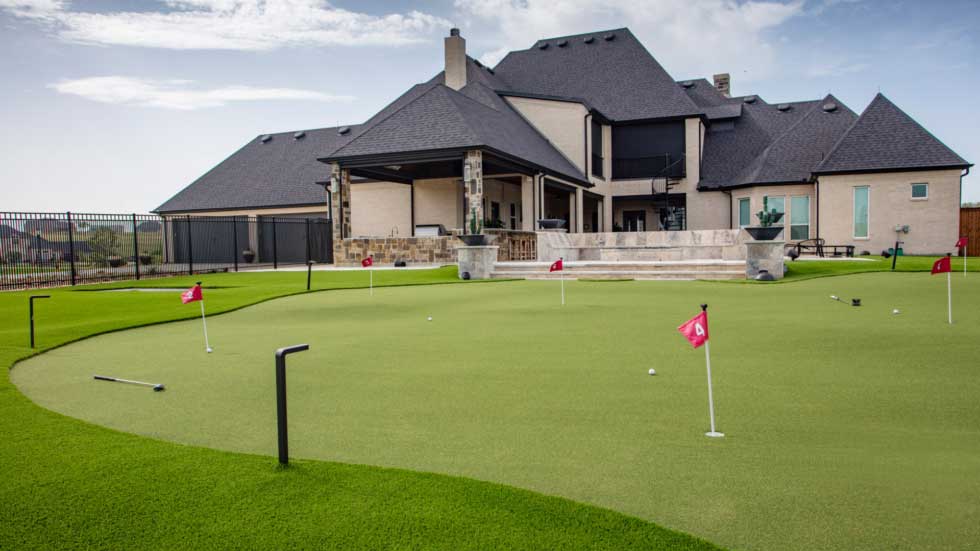 A TURF SOLUTION FOR EVERYONE
Whether your needs are residential or corporate, whether you have kids or pets, DFW Turf Solutions has a synthetic grass product for everyone. Our expert installers will work with you to choose a product that has the perfect durability, drainage rate, and pile height for your specific needs.
We offer play area turf and pet systems that are perfectly suited to a busy household, and our CoolFlo technology turf will even keep your grass cool to the touch through a blistering summer. With no mowing, little to no watering, and a natural appearance, our landscape turf will transform your home or business into a custom oasis that will last for many years.
INDUSTRY LEADING  TECHNOLOGY
Here at DFW Turf Solutions, we install turf products from industry-leading USA-based manufacturers. Our manufacturing partners are leaders in artificial turf innovation, constantly improving the materials and performance of their artificial grass. Their state-of-the-art products are made out of the highest quality polyethylene yarn so that your yard is the very best it can be.
All products feature multiple blade colors, varying pile heights, and improved durability so that your lawn has the most natural look possible while remaining nearly flawless all year long. An efficient drainage system, CoolFlo temperature reduction technology, extreme durability, and customization potential are just some of the reasons why DFW Turf Solutions is your best resource for artificial lawn installation in Dallas-Forth Worth."
What are the Benefits
of Installing Artificial Turf?
More Durable Than Real Grass
High-traffic areas can have their wear and tear on the average lawn. However, artificial turf is built to last.
No Color Fading
Even on the hot days of summer, artificial turf will remain green for years to come.
Minimal Maintenance
No more spring and fall fertilization or constant watering. Save time and money maintaining your backyard.
MAINTAINS SHAPE AND TEXTURE
Artificial lawn turf does not get destroyed or compressed under heavy weight and pressure. Artificial turf can preserve the look and feel of your space for many years because of its high level of durability.
Great For All Appplications
Artificial Turf is a great year-round solution for all types of applications including golf greens, pool turf, playgrounds, turf strips and more. 
Frequently Asked Questions
Have questions about residential artificial turf. We answer some common questions below.
How Easy Is It To Clean?
Cleaning synthetic turf is easy! Leaf blowers work great to remove any leaves during fall and a quick spray with a hose helps rid your artificial grass of any lingering pet odors
How Long Does Artificial Turf Last?
The artificial turf we use is backed by a 15-year product warranty from the turf manufacturer. Artificial grass can last more than 20 years if cared for properly
Does Artificial Grass Get Hot?
While artificial grass can get slightly hotter than natural grass on very hot days, the turf remains safe to use as it does not get nearly as hot as concrete or other materials that become hazardous in the heat. Advances in artificial grass technology over the past 10 years has significantly improved its' ability to stay cool. Selecting a high-quality synthetic grass and more heat-resistant infill materials can help prevent your turf from getting too hot during the summer months.
What Is Cost Of Installing Artificial Grass In Your Backyard?
Fill out a quick 30-second contact form to get a quote
Get An Estimate In Seconds
Fill out a quick 30-second contact form to get a quote.
Links to the Blog
Learn more about artificial turf solutions below from our in-depth blog covering all of your in-depth questions.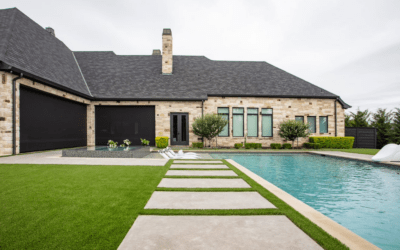 Dallas ranks tenth in the country for cities with the most homes with swimming pools. Around one in seven homes here have pool areas to cool off in the sweltering temperatures. We love our pools but they do present some challenges when it comes to ground cover. Many...
read more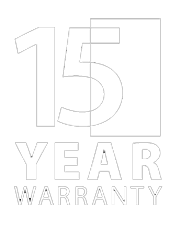 15 YEAR Product WARRANTY
We stand behind the products we use to bring you the best quality of artificial turf on the market. These industry-leading brands offer a 15-year manufacturer warranty that guarantees repair or replacement if your turf develops covered problems. We carry multiple levels of insurance and warranties with every installation so that you can be as worry-free as possible.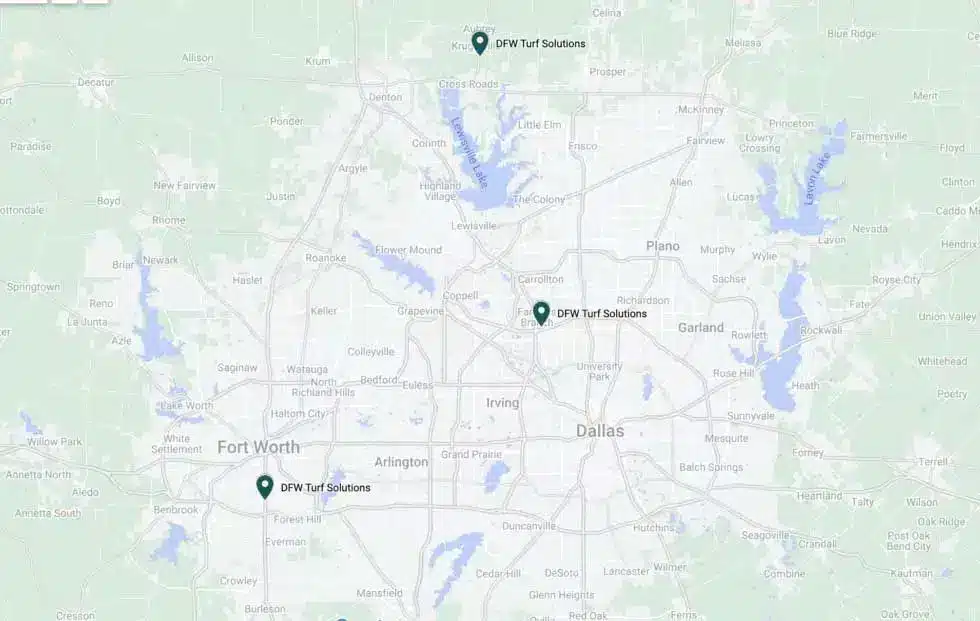 Service Areas
Looking for artificial turf near you? We service Dallas, Fortworth, and surrounding areas with premium artificial grass options. Choose your locations below.