There are few places in the US with more excruciating summers than Texas. Residents know that when the full force of the summer heat descends, you'll do anything you can to stay as cool as possible. However, you'll still want to go outside and enjoy the fun that summer has to offer. With artificial grass for your home, you can create a backyard oasis where you can have fun and make the most of the sunshine without overheating. With our bestselling products' innovative temperature-control technology, TigerCool, you'll never have to worry about the summer heat ruining your outdoor fun again.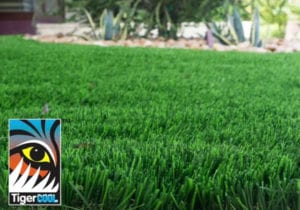 Several of the bestselling TigerTurf products here at DFW Turf Solutions feature the latest innovations available for artificial grass, including first-of-its-kind TigerCool temperature-control technology. In early variations of artificial grass, temperatures on the grass' surface could often reach more than 175 degrees. Not only is this uncomfortable for you to walk on, but it also poses a health hazard for your small children and pets. However, after years of extensive research and development, TigerTurf has revolutionized the synthetic turf industry with temperature-control technology built into their bestselling artificial grass products.
TigerCool utilizes heat-reflective color pigments and UV inhibitors that are able to reduce surface temperatures by up to 15 percent. Normally, grass absorbs infrared sunlight and transforms it into heat. Dark colors, like those used in standard artificial grass blades, absorb the most infrared light, causing a high level of heat buildup and raising surface temperatures dramatically. However, with heat-reflective dark color pigments such as those used in TigerCool products, infrared light is reflected rather than absorbed. This results in a lower heat buildup than normal and, therefore, a lower overall temperature. In a series of tests conducted by TigerTurf, it was indicated that TigerCool technology was able to successfully reduce artificial grass temperatures by 15 percent, or up to 10 degrees. TigerCool makes summer outdoor time safer and more comfortable for you and your family, so you can enjoy your backyard for as long as you desire.
TigerCool is used throughout two of our bestselling TigerTurf product lines – the Diamond series and the Marquee series. Both of these artificial grass product lines cover a wide variety of project needs, ranging from light to heavy foot traffic. Pile heights range from 1.75 inches to 1.875 inches, and face weights vary from 60 ounces to 75 ounces. All of our products are lead-free, non-toxic, kid-friendly, and pet-friendly, so you can be worry-free with artificial grass all year long.
If you want to prepare for the summer heat with TigerCool artificial grass, we at DFW Turf Solutions would be happy to assist you with all of your design and installation needs. Give us a call at (940) 365-9165 for a free consultation on your artificial grass installation today.