A proper dog kennel or hotel in Dallas needs to provide a healthy and happy environment for its four-legged tenants. Pet owners want to know that their beloved friend will be safe and stress-free while they're away, and that means having an open area where the dogs can run and play for exercise and stimulation. But an open space means a lawn, and a lawn can mean heavy costs for maintenance. Fortunately, a synthetic turf lawn, rather than natural grass, can be perfect for any dog kennel, and here are the reasons why.
Durability and Cleanliness
Any pet owner or kennel employee knows that dogs love to dig. The problem is, digging damages the lawn and lets dogs track dirt and mud into places that they shouldn't. Synthetic turf, however, is woven with durable polyethylene fibers and a resilient backing that can resist any attempts to dig through it. Even in wet or rainy conditions, artificial grass's lack of soil means that a dog will never get its paws dirty while running around on the turf.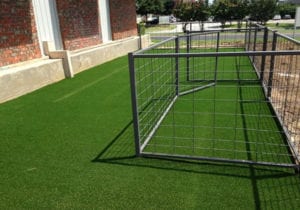 Waste Disposal
Dogs obviously need to relieve themselves outside. This creates several problems, however. Dog urine is very high in nitrogen, which can end up permanently damaging natural grass by burning out the roots and polluting the soil. This creates dead spots where grass will always be dead and yellow, which can only be removed by replacing the soil-bed itself. Even if you do this, dogs relieving themselves will inevitably create more issues down the line. But because synthetic grass has no soil and isn't affected by waste, it will look fresh and green all year round. Waste can simply be washed away with a hose, and fresheners and odor removers can be used to get rid of the smell afterward.
Health and Safety
Natural grass lawns need to be treated with a range of chemicals and pesticides to keep insects and bacteria from accumulating in them. The problem is that these chemicals can cause serious health issues for any dog that chews on the grass after it's been treated. Synthetic turf, however, does not require these chemicals and is made from polyethylene fibers that are non-toxic and lead-free. 
Low Maintenance Requirements
Unlike natural grass, an artificial turf lawn will never need to be weeded, fertilized, mowed, or trimmed. All a turf grass lawn requires is occasional rinsing and brushing to remove dirt and debris, meaning less downtime for your business and more playtime for the dogs. This also means you'll spend much less money on maintenance, reducing your overall upkeep. A synthetic grass lawn will often end up costing less than a natural grass lawn after just two years.
If you'd like to learn more about using synthetic grass in your dog kennel, come to the experts at DFW Turf Solutions. We can happily consult you on the best products for your Dallas business and can provide you with a free estimate on the cost of installation. Give us a call today at (940) 365-9165.