Home and business owners around Dallas have increasingly chosen artificial grass as their landscaping solution. If you plan on having a lawn that experiences a lot of foot traffic, consider talking to your installer about Diamond Pro Fescue as your artificial turf solution. Diamond Pro Fescue combines a lush and realistic grass appearance with a resilient design that makes it perfect for both residential yards and businesses lawns.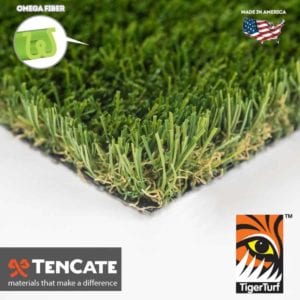 Diamond Pro Fescue features 1.875-inch long blades made of polyethylene that come in dual shades of field green and olive green. This is complemented by a brown thatch underneath that gives it a realistic appearance similar to natural grass. Diamond Pro Fescue is one of the most durable types of synthetic turf in the industry, with an approximately 75-ounce face weight that makes it perfect for sustaining high-traffic areas. The grass blades are designed with an open W-shape, which acts as a sort of memory foam and lets the blades return to their original shape after being stepped on. These grass blades are triple reinforced into the backing via tuft bind technology, making it exceptionally difficult for the blades to be pulled up and out of the backing.
Like all types of synthetic turf, Diamond Pro Fescue will never need to be weeded or mowed, and requires only occasional rinsing with water to stay clean and green.. The turf possesses an extremely strong backing but is still perforated to allow liquids to pass through for easy drainage. In rain, Diamond Pro Fescue can drain 30+ inches per hour per square yard, ensuring that it won't get waterlogged or develop puddles. If stains or residue do end up on the synthetic grass, all you need to do is spray it down with a garden hose to clean it. Diamond Pro Fescue is also heat and frost resistant, UV stabilized to prevent it from losing color from constant sunlight exposure, and, like all of our products, lead-free and non-toxic for the safety of those using the lawn.
If you're considering an artificial grass lawn for your next landscaping project, call on the experts at DFW Turf Solutions. Serving the Dallas area since 2014, we're dedicated to providing synthetic turf solutions that are affordable, attractive, and environmentally conscientious. Whether you're hoping to develop a play space for your children and pets or want to wow clients with a gorgeous lawn all year long, we can make your dreams a reality. Call us at (940) 365-9165, and we can provide you with more information and a free estimate for your next project.