Whether you intend to put your house on the market or not, it's good to know how any improvements you make will affect its value.
So, if you install artificial grass, will it increase or hurt the value of your home?
This could depend on several factors:
Who installs the artificial grass

Where you live

Who's buying your home?
We can say that professionally installed artificial grass in Dallas-Fort Worth homes sold to buyers who are concerned about water usage and low maintenance will increase the value of your home.
If you install synthetic grass yourself and do a poor job — and most potential buyers love gardening and spending time mowing the lawn at weekends — it's likely that it will hurt the value of your home.
Fortunately, most homeowners in the Dallas-Fort Worth area fall into the former bracket. Here's what you need to know about artificial turf and home value:
Is artificial grass a factor that affects home value?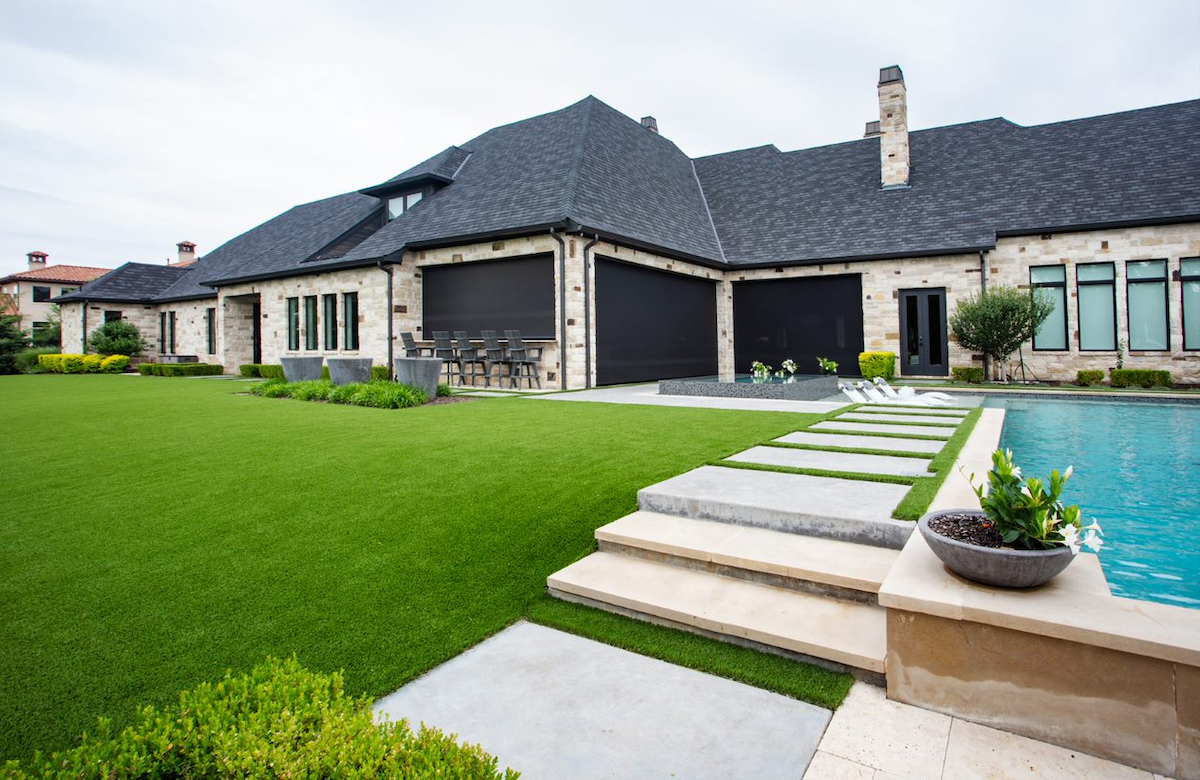 What are the major factors that influence home value?
If you believe this investment property company, 10 main factors affect the value of a property:
Location

Home size and usable space

Age and Condition

Upgrades and updates

Supply and demand

Real estate comparisons

Planning/building regulations

Interest rates

Renovation potential

Economic factors
Where does synthetic grass fit into the above? Well, most homeowners who install artificial turf consider it an upgrade/update of their homes. If the buyers do too, you're in luck: the value of your home should increase, all else being equal.
How much does artificial grass add to a home's value?
"Professional landscaping can add up to 15 percent to 20 percent to the resale value of a home."
The American Society of Landscape Architects
Professional landscaping encompasses a wide variety of improvements to garden areas but an artificial grass installation can be considered part of it. Synthetic turf has come a long way since Astroturf in the 1960s.
A professionally installed area of artificial grass is rightly considered a landscaping upgrade for most homes in the Dallas area — and a good way to add value to a home and improve the potential sale price.
Many home improvement experts consider high-quality landscaping one of the most cost-effective ways to raise a home's curb appeal and value:
"At the very least, the exterior will determine whether or not buyers even want to take a look inside. Therefore, if you want to maximize your property's value, it is wise to focus on improving its curb appeal."
(Source: The Importance of Curb Appeal)
Potential home buyers are making a massive financial decision — one that can affect them for the next 20 or 30 years. They know they must get it right. Their decision will come down to fine details as well as major considerations like home size, location, cost and style.
An immaculate lawn, children's play area or a fine turf area around a swimming pool could swing their decision in favor of your property.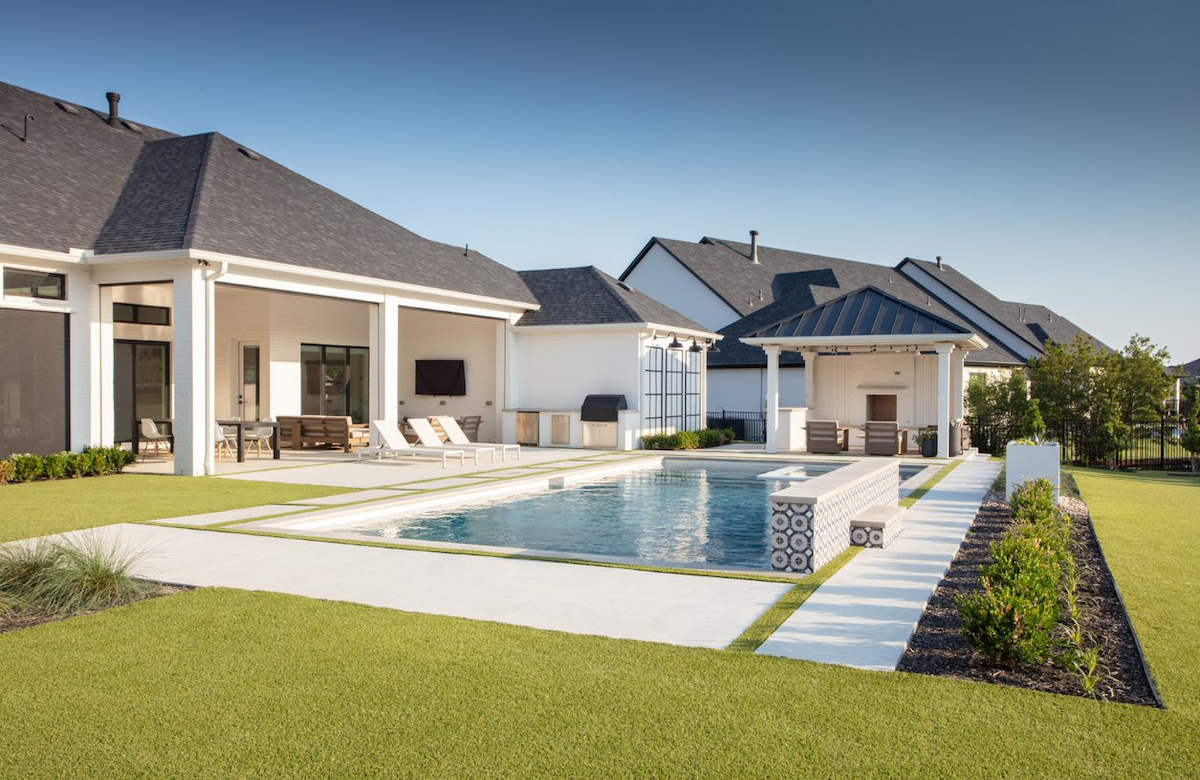 In Bob Vila's list of 10 factors that can ruin a home's curb appeal, an overgrown lawn is the first one on the list. Better Homes & Gardens also stresses the importance of keeping a low-maintenance garden in its feature on Landscaping Ideas for Maximizing Your Curb Appeal.
So, the appearance of your front yard and backyard lawn is a major factor in curb appeal and home value. A verdant well-kept lawn remains lush with barely any effort from the homeowner — and is attractive to potential buyers, suggesting that the inside of the house will also be worth a look. That's the first battle won!
The advantages of artificial grass over natural grass
To understand more about why artificial turf increases home value, let's run down its main benefits over natural grass:
Longevity and durability:

if you select high-quality grass and have it installed professionally, it can last 15-20 years or more.

Water use is minimal

: natural lawns suck up water at an alarming rate. Artificial lawns only require an occasional rinse down (more about this below).

Looks immaculate with minimal effort

: artificial grass is much lower maintenance with no mowing, fertilizing, aerating, etc. It just needs to be brushed and rinsed from time to time.

It looks the same as natural grass

: artificial grass used to be spiky, plastic-like and shiny but with the advance of technology now closely resembles the look and feel of natural grass.

No insecticides or pesticides

: because fleas, flies and other insects are less attracted to artificial grass, fewer toxic chemicals like insecticides and pesticides are required.

Saves fuel

: you may be surprised how much fuel your lawnmower uses — and how

environmentally unfriendly

they can be. There's none of this with artificial grass.

Saves the cost of hiring lawn care services

: there's no need to call the lawn care company every few weeks.

Pet-friendly:

dogs can play and even pee on artificial grass

after it is installed with antimicrobial protection.

Swimming-pool-ready

: pool turf works well for areas that get large amounts of moisture and need excellent drainage.

Ideal for play areas

: well-maintained artificial grass fitted with shock absorber pads and made from non-abrasive materials is a safe surface for

children's play areas

and playgrounds.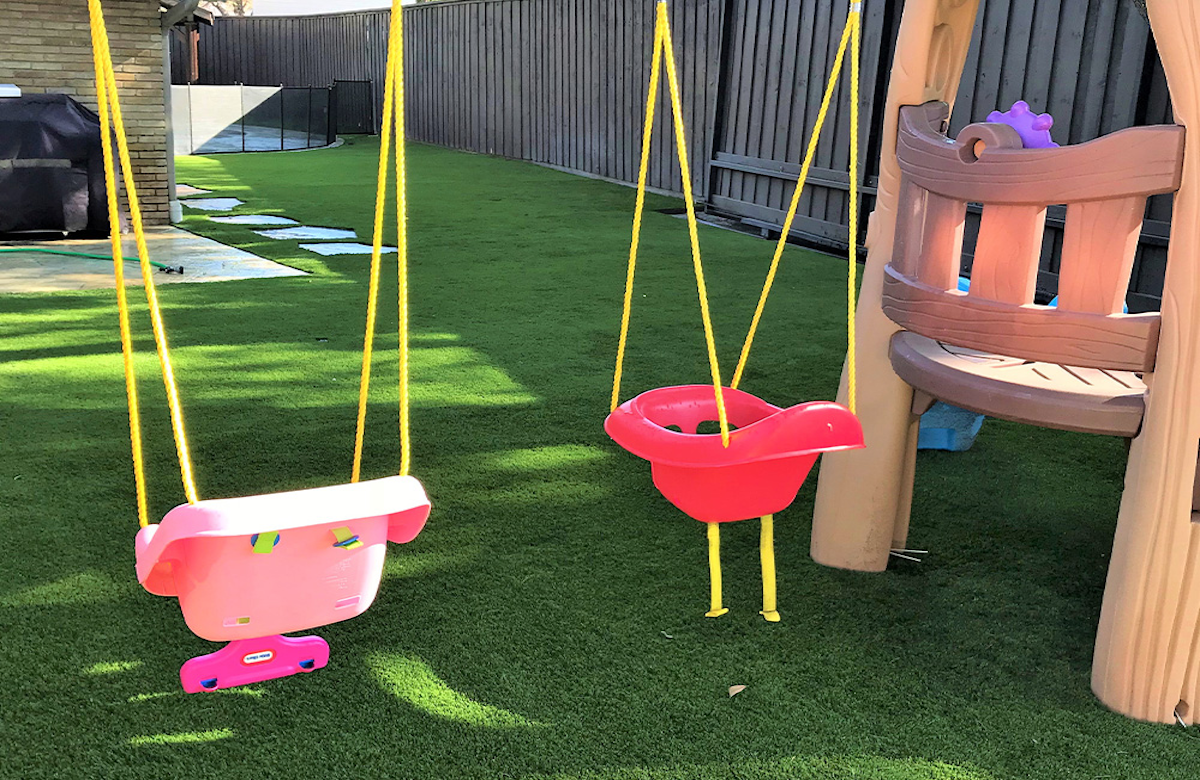 Water conservation raises home value in Texas
Water conversation is one of the strongest arguments for installing artificial grass in Texas.
The United State Department of Agriculture reports that Texas is one of the leading states to experience the most severe drought conditions in the country, along with the nearby states of New Mexico, California, Nevada and Utah.
The humid subtropical climate of the DFW area hasn't prevented water conservation from becoming a critical issue in the entire North Texas area. Dallas, Fort Worth, Arlington and Irving all recently instituted a twice-weekly watering schedule for residents and the situation appears to be worsening.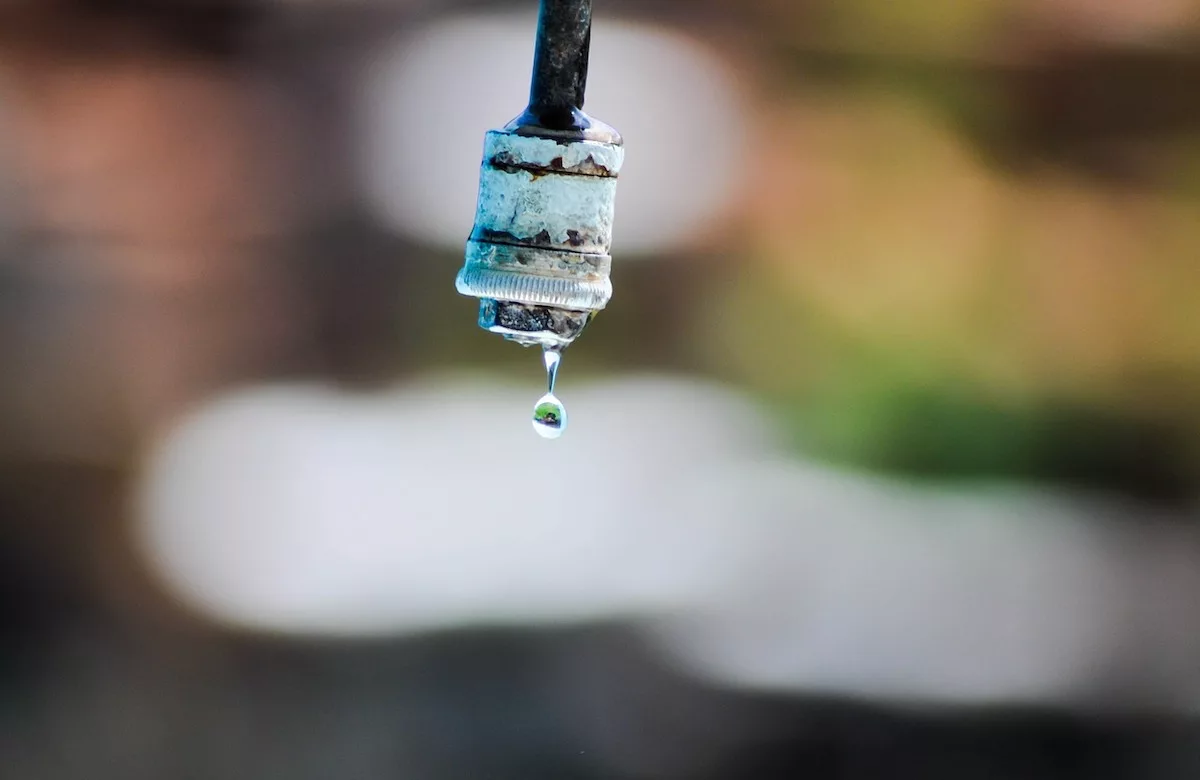 We in Texas are not alone in this problem. In December 2021, the Southern Nevada Water Authority prohibited the installation of new grass anywhere within their jurisdiction. Who's to say that parts of Texas won't have to follow suit soon?
The effect of water shortages on the value of properties that require less water is obvious — and the expectation is that such properties will be in high demand in the Dallas-Fort Worth area in the coming years.
Artificial grass water requirements vs real grass
The EPA estimates that around one-third of residential water is used for lawn irrigation nationwide. That amounts to nine billion gallons of water per day.
The rule-of-thumb advice for natural lawn irrigation is to water your lawn so that it receives one inch of water per week during dry conditions.
On average, this requires 0.623 gallons per square foot. So, even a 1,000-square-foot lawn requires 623 gallons of water per watering to prevent it from drying out:
The Southern Nevada Water Authority estimates that every square foot of natural grass replaced with artificial grass saves 55 gallons of water every year. For a 1,000-square-foot lawn, that's 55,000 gallons of water saved per year — from a single lawn!
An artificial grass area will require less than one-tenth of the water required by a healthy natural grass lawn. Firstly, you won't need to water it once or twice a week and secondly, when you do take the garden hose to your artificial turf, it will be a quick rinse rather than deep watering.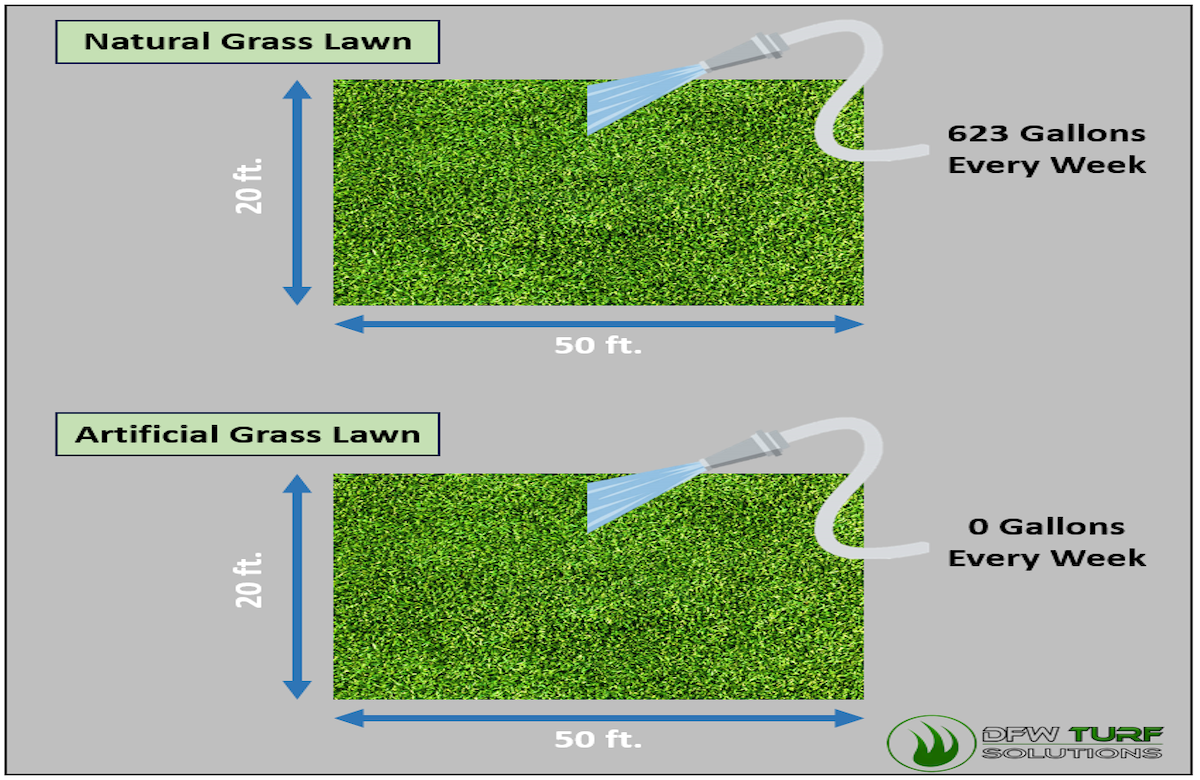 What happens without water? The artificial grass still looks immaculate. So, the water-saving advantages of switching from natural grass to synthetic grass should be obvious to most DFW homebuyers, That's generally good news for the home's value.
The low-maintenance attractions of artificial grass
Unless you love to crank up the mower at weekends and love nothing more than spending time aerating your lawn, it's probably difficult to ignore the advantages of artificial grass.
Ultimately, artificial grass will save you on two commodities that most people hold dear:
Time

Money
The Dallas-Fort Worth area is hot and humid but frequently very dry. This makes natural lawn maintenance a constant battle with the elements.
The switch to artificial grass means you can largely put your feet up or head to the golf course at weekends while the neighbor's sweating away with the mower.
If the neighbor's not doing that for his natural grass lawn, then he'll need to hire a lawn maintenance company to do it — or leave it to get overgrown, unkempt and ugly: not a great first impression for homebuyers.
Lawn maintenance services get expensive in the DFW area. The average cost per month of a lawn mowing service is between $45 and $200+ depending on size. That amounts to $540 to $2,400+ per year! And that's without even considering the cost of fertilizers, weedkillers, water, etc.
Ultimately, by switching to artificial grass and with very little ongoing cost, Dallas homes can enjoy a lush, green lawn all year with barely any effort. That's a pretty attractive proposition for homeowners and potential buyers because there's absolutely none of this: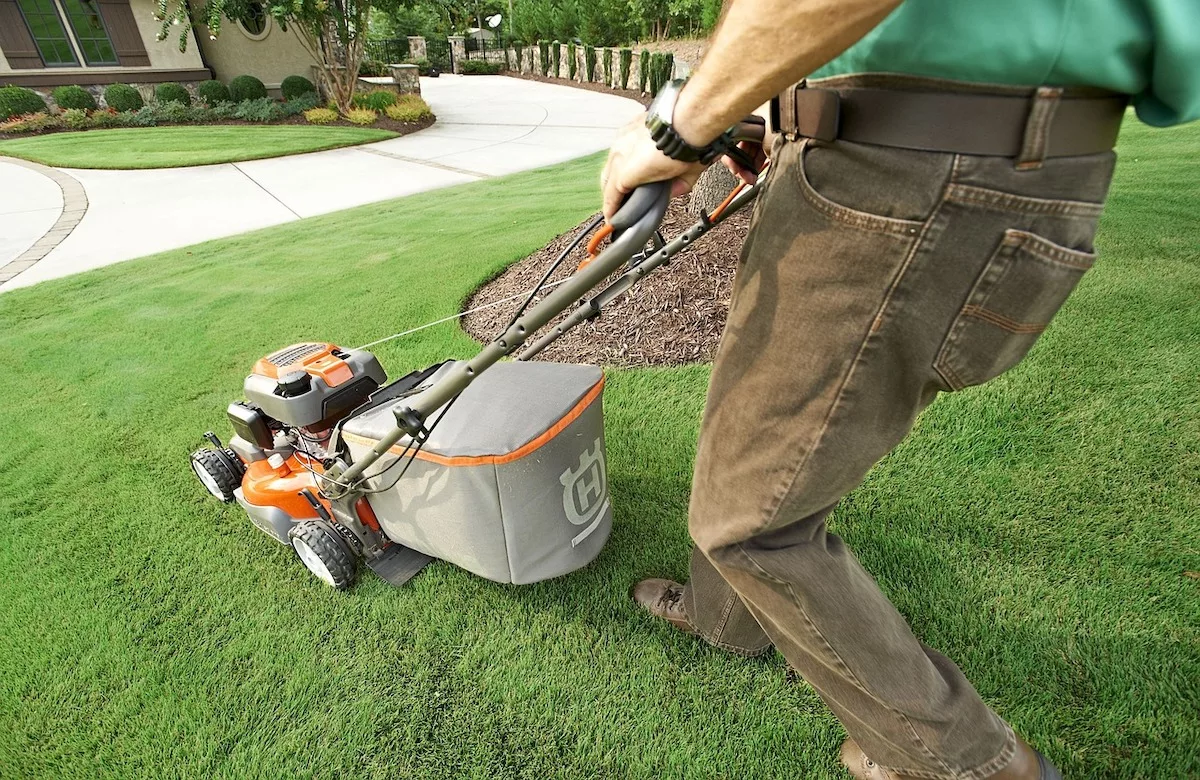 A backyard putting green adds home value for golfers
Texas is ranked in the top one-third of the most "golfy" states in the country. Every weekend, hordes of golfers in the DFW area pack the clubs in the back of the car and head out to one of our many courses.
Dallas and Fort Worth both hold major tournaments and Texas is the only southern state to host the U.S. Open, Ryder Cup and PGA. Texas and golf are inextricably linked and that's perhaps why backyard putting greens are becoming more popular.
It's also because of recent improvements in artificial turf technology. A backyard putting green was once considered a luxury only afforded to the wealthiest people but is now a realistic possibility for many homeowners in the DFW area — even with the water restrictions.
If space allows, a backyard putting green can even include a chipping area and sand features: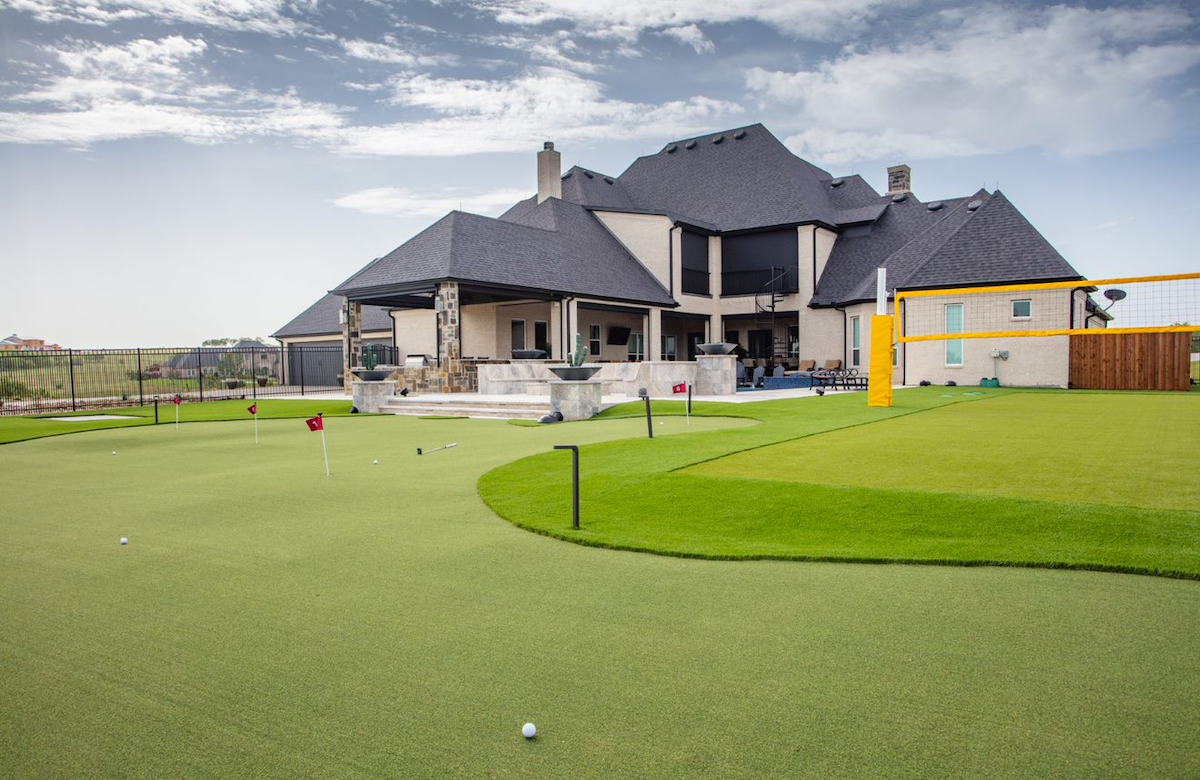 This can greatly increase the curb appeal of your home — and its perceived value.
Is the initial cost of artificial grass worth it?
The economics of artificial grass are different from natural grass. When you weigh up whether artificial grass is worth the investment, this needs to be factored in.
The bulk of the costs with natural grass come after it's installed: maintenance, water, lawn services, etc.
With artificial grass, the higher installation costs are offset by the negligible ongoing costs — which generally pay back the initial investment within a few years.
Because of its durability and longevity, the cost of artificial grass is certainly justifiable if you intend to stay in your home for a good few years. If you do decide to sell, you might have a pleasant surprise about your home value too.
When will artificial grass hurt a home's value?
Artificial grass will hurt a home's value if:
It's poor-quality grass that deteriorates quickly

It's not installed professionally

Zero maintenance is done
If you work with the right people from the start on your artificial turf area, you'll have few concerns about it hurting your home's value.
DFW Turf Solutions installations stay looking immaculate for many years…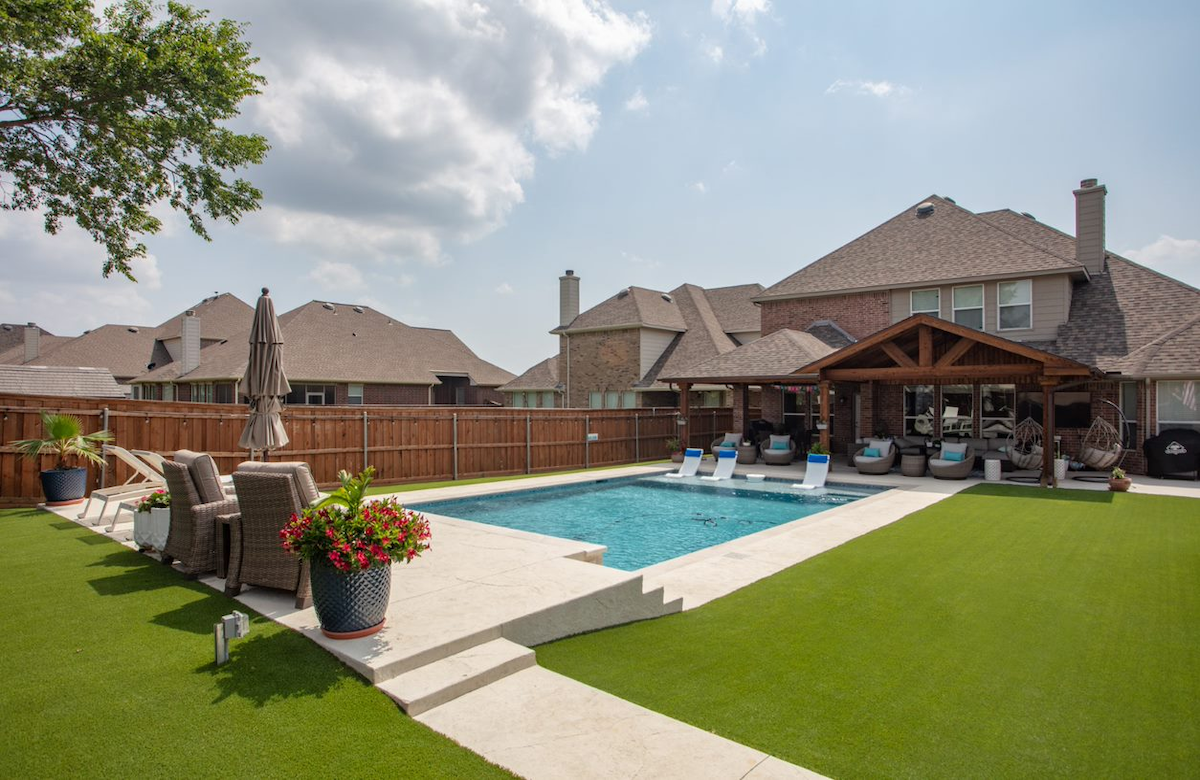 Conclusion: if artificial grass is right for you, it will likely increase home value too!
It's probably not wise to install artificial grass simply to boost home value before you sell. That can be done by the new owner.
But if the switch to artificial turf works for you and your family (there are many benefits of making the switch) and you intend to remain in your home for a few years at least, the decision could increase home value as well as save a great deal of time, money and water.
The DFW Turf Solutions team has been installing high-quality artificial turf since 2014 and all of our artificial grass is designed for the Dallas-Fort Worth conditions. We can look after your project from start to finish.
Reach out to our helpful team by calling 940.365.9165 and we'll be happy to provide a quote.