Once installed, synthetic grass looks great all year — but when's the best time to lay artificial turf?
For homeowners in Dallas-Fort Worth, switching to artificial grass solves many problems associated with natural grass, which are often magnified in the summer months.
The sweltering summer heat doesn't stop the kids playing outside or families getting together for all sorts of fun activities in the yard. Your backyard lawn can take a pounding. Grass grows quickly and maintenance requirements are high.
You can put these worries to bed with synthetic turf and many homeowners choose to lay it in the fall or winter to prepare in good time for the following summer.
That said, there's never a bad time to lay artificial grass in the Dallas-Fort Worth area. It's down to personal preferences. Provided you select the right installation company, you can lay synthetic grass at any time of the year.
The team at DFW Turf Solutions is large and experienced enough to accommodate your artificial grass installation requirements in any month you choose. Call us at 940-365-9165 for a quote.
Meanwhile, let's take a closer look at this topic…
Best time to lay artificial grass: quick summary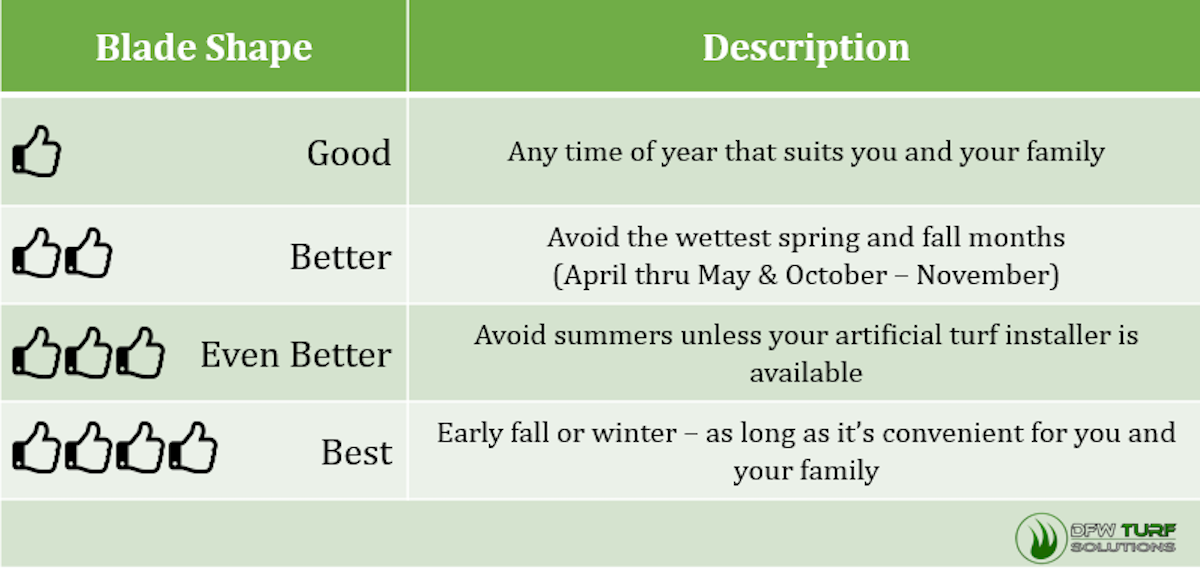 Why switch to synthetic grass?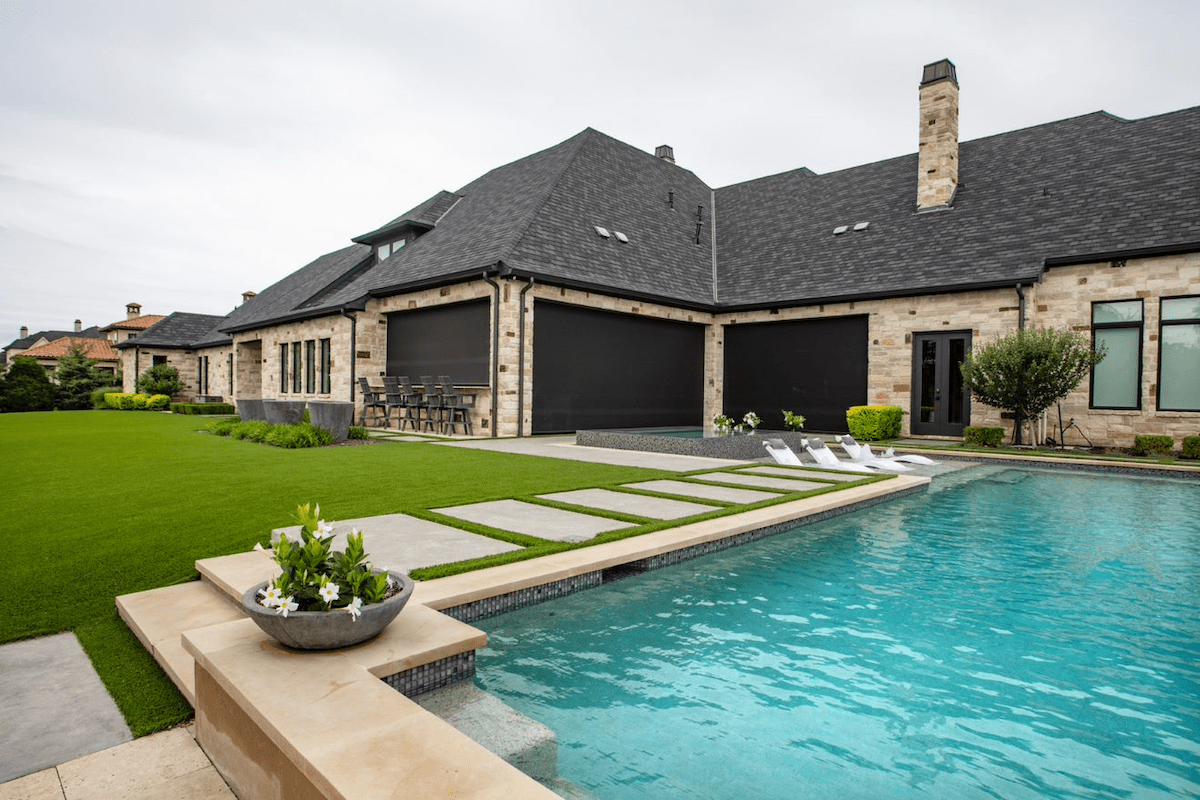 Synthetic grass is the ultimate evergreen landscaping solution since it remains clean, durable and low maintenance all year long.
A quick overview of the main benefits of artificial grass includes the following:
Realistic appearance very similar to natural grass
Maintains its pristine appearance with virtually no effort from you
No mowing, trimming, watering, seeding, aerating or weedkilling
Lower water, fuel and gardening bills
No chemicals, such as pesticides, herbicides, etc.
Fewer insects and pests
No mud, burrowers, bald spots, mold or mildew
Durable materials like polyethylene and nylon ensure your turf lasts (10-20 years)
No discoloration or degradation from the heat and sunshine
Excellent drainage to handle the above-average rainfall in Dallas
Safe for children, dogs and other pets
Suitable for swimming pool areas, putting greens and play areas as well as lawns
How to decide the best time to lay artificial grass
If you're laying out thousands of dollars to meet the initial costs of artificial grass, you'll want to make sure the installation goes smoothly and is on time.
It doesn't matter what anybody else thinks. What's important is finding the best time to lay artificial grass for you and your family.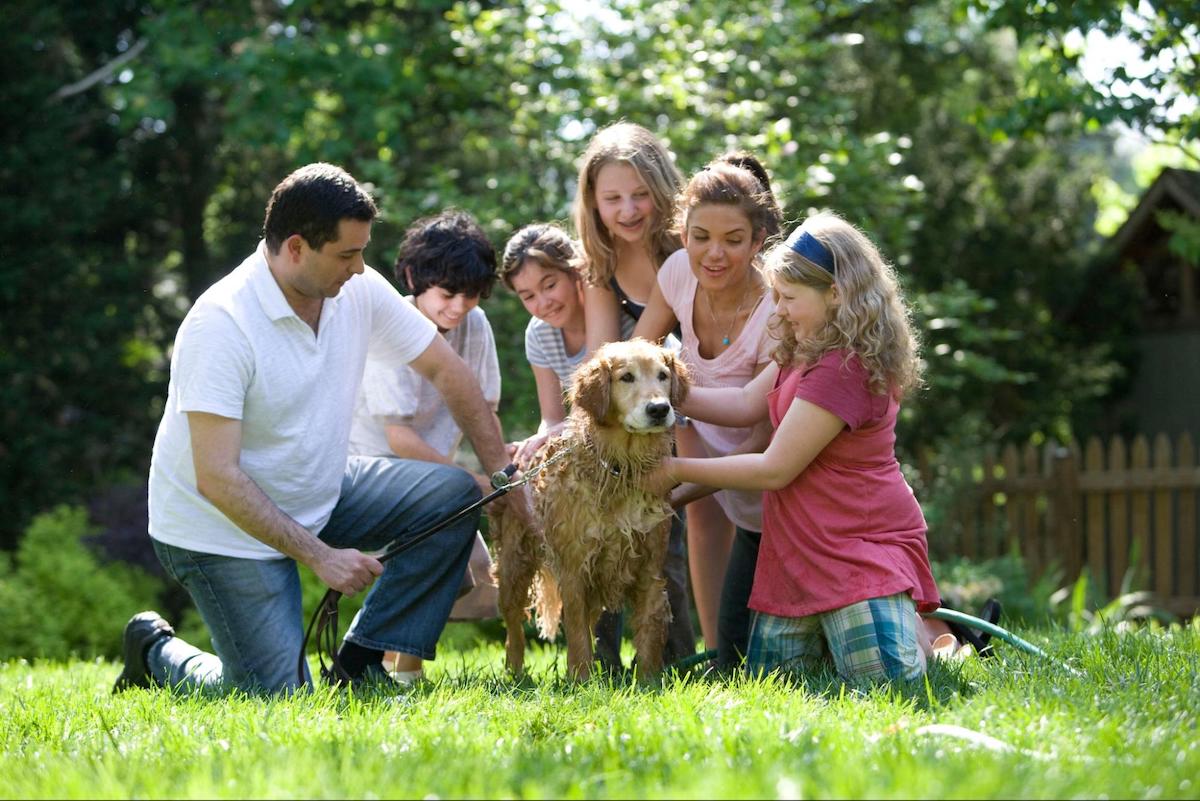 To do that, consider the following factors…
How you use your artificial grass area
If you use your backyard area frequently for garden parties, barbecues, kids' play areas, dog walking areas, etc., your schedule for laying a new artificial grass area may be tight — especially in the months when the Dallas climate drives people outside.
Standard installations of up to 1,000 square feet generally take one day; more complex installations or larger areas take longer. We recommend not using your artificial grass area for 24 hours after installation to allow the adhesives to set and the grass to settle. This prevents your new turf from shifting.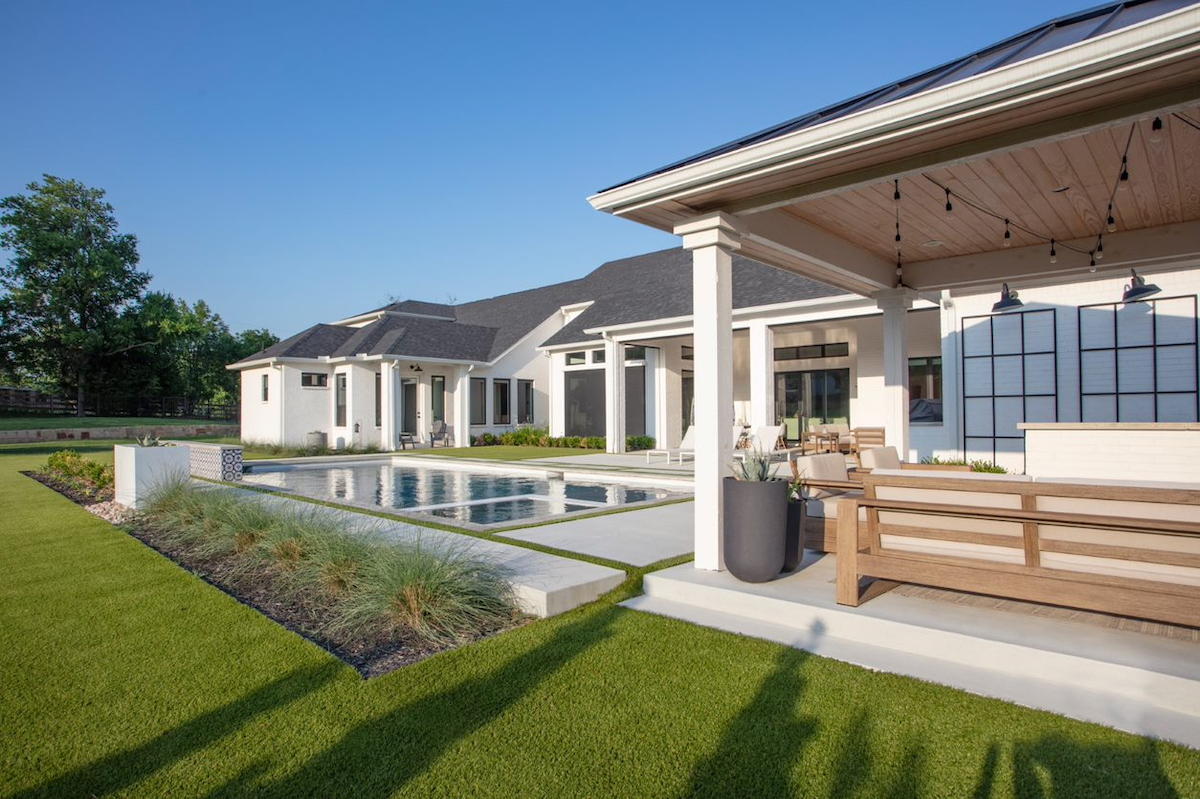 So, realistically your yard is going to be out of action for a couple of days at a minimum. You'll need to plan any backyard activities around this.
How to beat the rains
Dallas gets a high rainfall total that usually averages about 40 inches per year (25 inches to 60 inches most years). This places it just outside the wettest cities in the U.S.
Much of this rain is in the spring and fall months, with the wettest months traditionally April and May.
Artificial grass (once installed) stands up well to wet weather but heavy rains can slow the installation process, potentially creating delays that mean your yard is out of use for a while longer than expected.
A light shower won't have much effect but heavy rains can affect the adhesive bonding if you need to attach artificial grass to hard surfaces (like concreate or decking). Excessive rain may also cause clumping of the silica infill used on top of most artificial grass.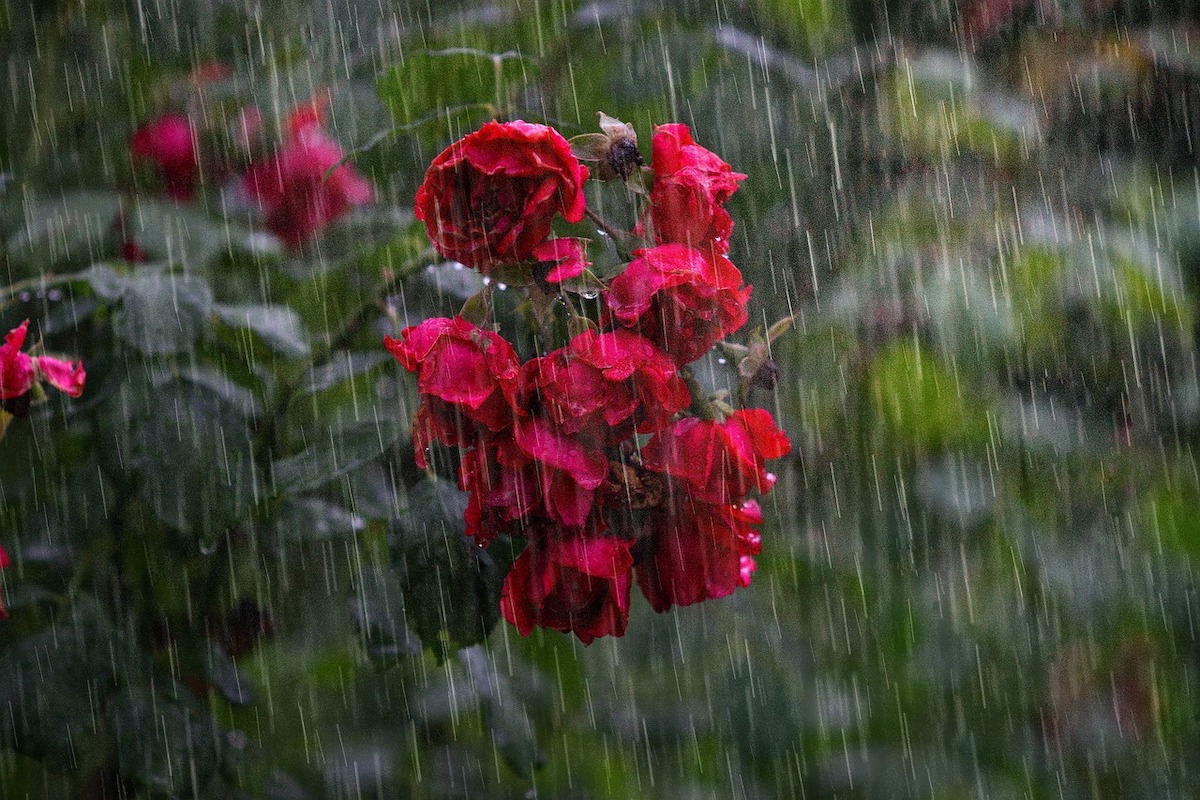 Additionally, if the ground is too waterlogged and the sub-grade is wet and sticky, the sub-base installation can run into problems.
Unpredictable weather can disrupt your installation plans. To minimize the chances of rain disruption, avoid the wettest spring months.
If you're concerned about rain delays to your project and want to minimize the chances, choose September rather than October and February rather than March/April.
Do you need your synthetic grass in time for a particular event?
Some homeowners have a date in mind — maybe a kid's birthday, graduation or a wedding date — as the "outlying" date for installation. As long as the artificial grass is laid before that date, they'll be happy.
Another good example of an event-restricted installation is if you are building a new home. Usually, there's plenty of time to plan and design the landscaping to suit your preferences rather than having to work around what's already there. Artificial grass can be cut to any shape, size or terrain. You can time the installation for just before you're going to be ready to move in, if that suits you best.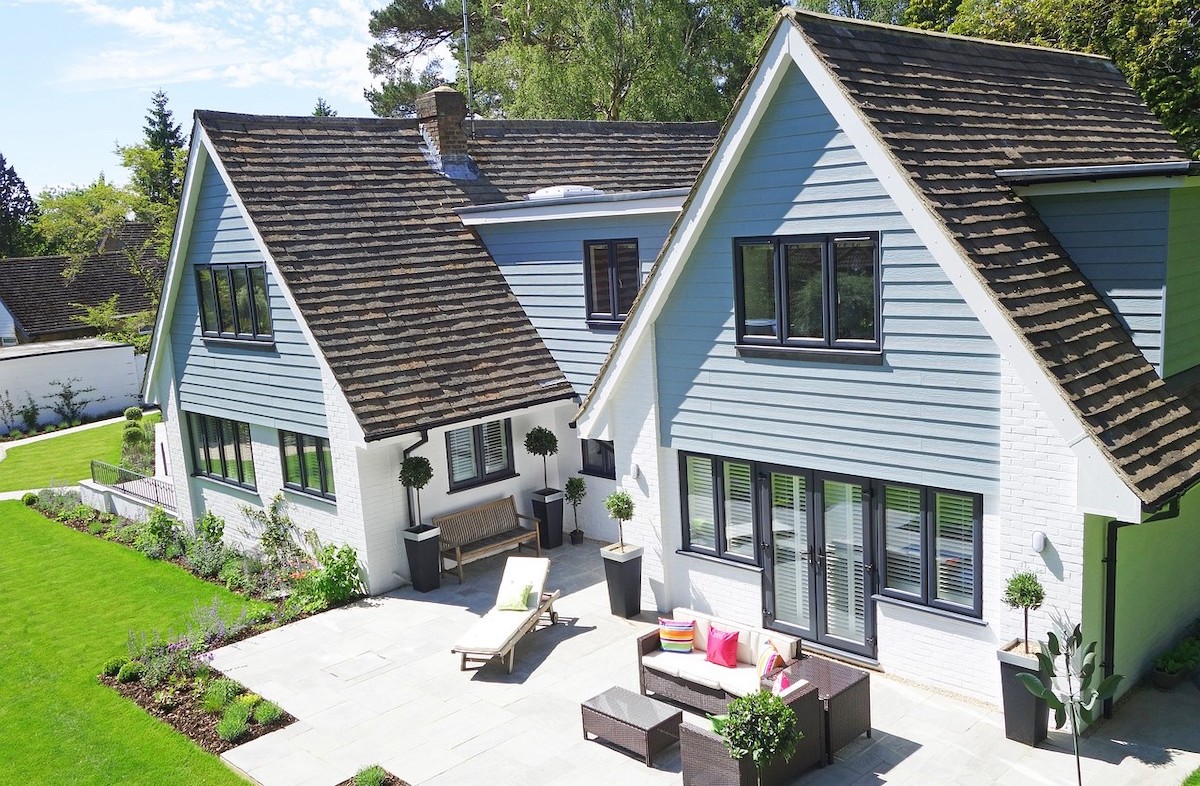 Sometimes, homeowners don't leave enough time to schedule the install. It's best to research installation companies and contact those with enough flexibility to accommodate your needs (more about this below).
Is your turf installation company available?
Like with many home improvement and renovation projects, the most popular times of year to lay artificial grass are the spring and early summer.
After the winter months, families spend more time outside. Homeowners' thoughts often turn to how they can look after their yards while avoiding the maintenance, mud, weeds and bald patches that come with real grass. There's also more time in the day to work.
However, installation companies may be inundated with inquiries at that time. Availability may be an issue and you may need to book weeks or even months ahead with smaller companies.
Most of these companies are least busy in the winter months and you may be able to use this to your advantage. You can usually pick a particular date/time for a winter installation with no problems. Your artificial grass will still be in fine condition when the summer rolls around again.
Remember, the sizable team at DFW Turf Solutions is flexible enough to lay your artificial grass at any time you choose.
FAQs
How long will my yard be out of action if I lay artificial grass?
Assuming that your artificial turf is designed to cover most of your yard space, the area will be unusable for a couple of days: one day for installation and one day to help it settle.
Will the summer heat damage artificial grass?
No, all artificial turf installed by DFW Turf Solutions is designed to easily withstand the hottest summer temperatures and will not deteriorate or discolor. It's proven over many years. However, some cheap grasses/installations may be adversely affected by excessive sunshine.
Lay artificial grass whenever it works best
When laying real grass seed, homeowners must aim to beat the frost by some distance. That's why natural grass is commonly laid in the fall months.
With artificial turf, you benefit from fewer seasonal restrictions. You don't need to worry about seed growth or whether the temperature is too cold/hot.
Your turf can usually be installed in a day (though longer for larger or more complex installations) and will look immaculate from day one. It then continues to perform all year round with barely any lawn maintenance.
So, truth be told, you can lay artificial grass at any time of year. It depends on your needs (special events, home activities, holidays, etc.) and what's most convenient for you. Some homeowners want it installed in time for an event and others would rather find a quiet time when there's not much else happening at home.
Either way, after installation, you'll get to enjoy a fresh green lawn all year while your neighbor's lawn likely has periods when it turns brown, dry and brittle.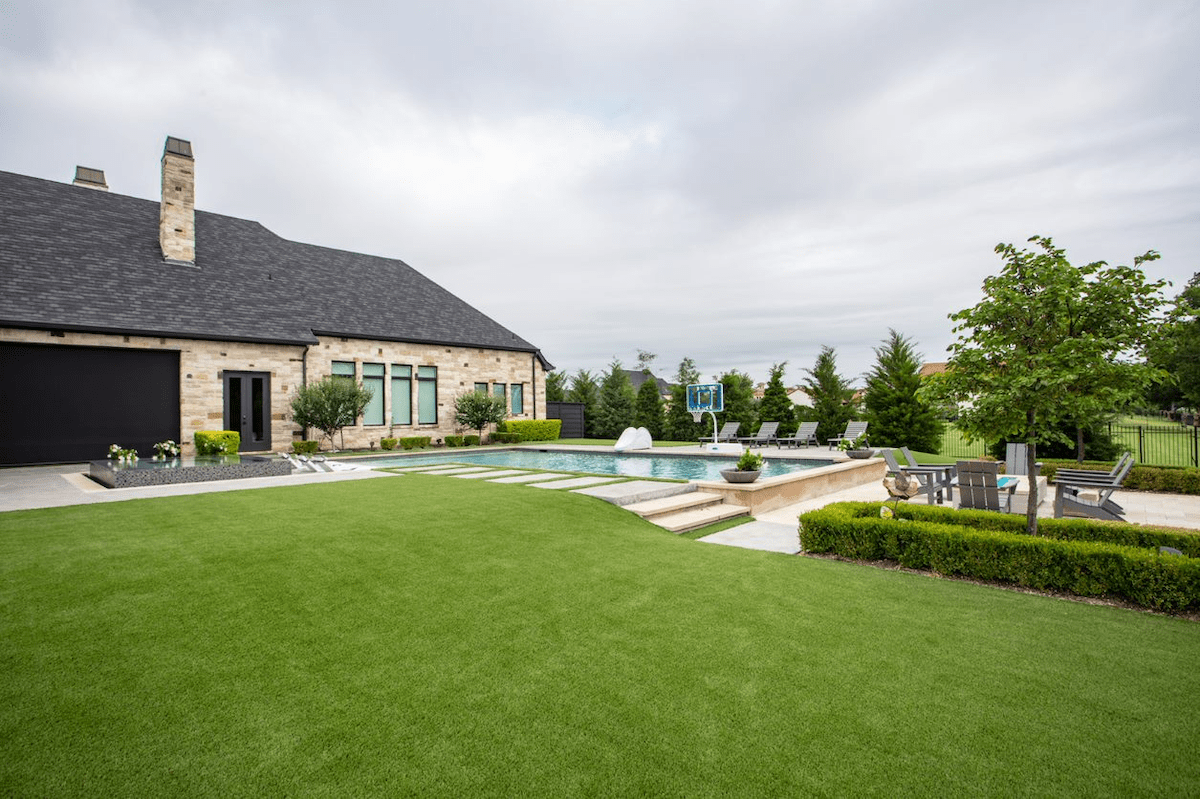 Lay your synthetic grass with the pros
If you're ready to make the switch from natural grass to synthetic grass or to entirely re-landscape an area to include artificial grass, the team of pros at DFW Turf Solutions can help.We complete most installations in Dallas-Fort Worth in a single day and will always try to work around whatever's most convenient for you and your family. Our expert team can work one-on-one with you from the initial estimate to installation day so that your artificial turf installation is a fully customized project. Get a free estimate by calling 940-365-9165.