Installing artificial grass is a wise choice — especially considering its low maintenance requirements/costs, which save you hours of work each month and a lot of money over the years.
But how do synthetic grass maintenance costs stack up against natural grass in terms of the actual numbers?
Can you expect to save $100 a year, $500 a year — or even more?
Let's take an in-depth look at the maintenance costs of artificial grass in case you're still undecided about making the switch from real grass.
Here's what we'll cover:
Artificial grass maintenance costs: summary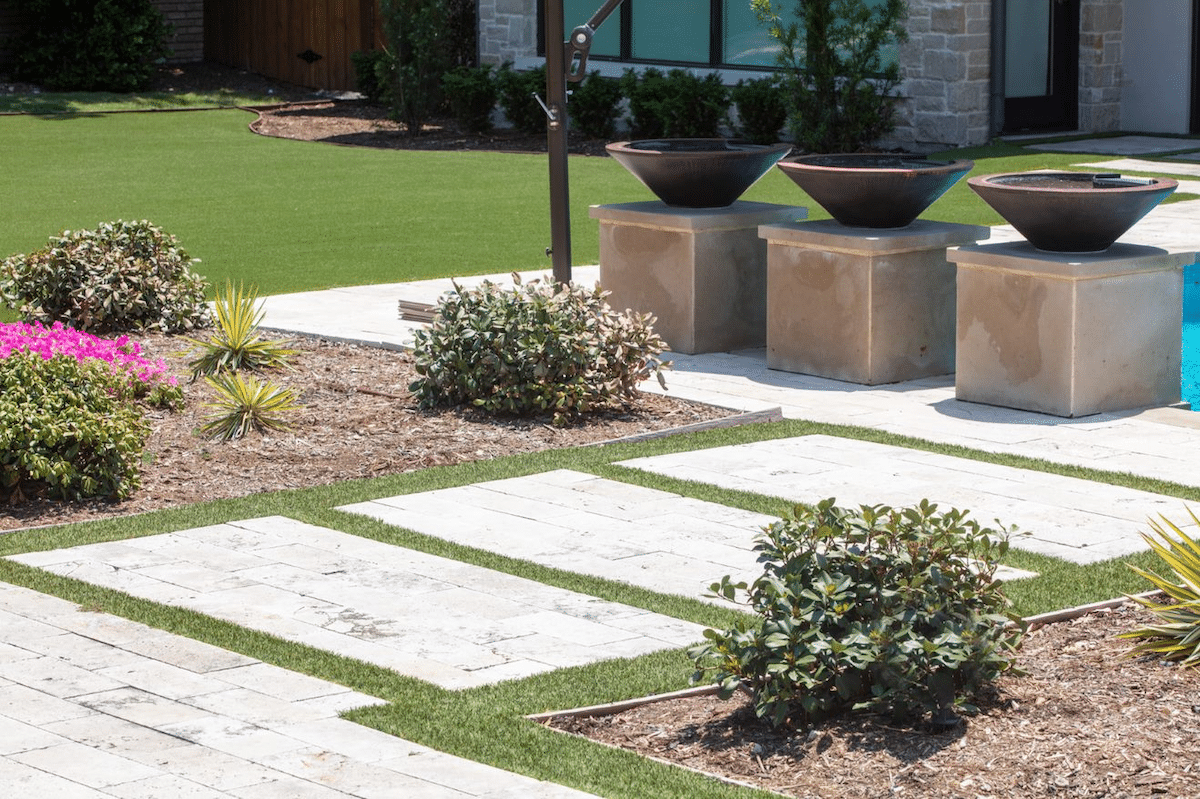 When considering the costs of artificial grass, the installation costs are higher than with natural grass but the "payback" comes quickly (usually within five years) due to much lower maintenance costs.
Here's a very quick summary of the costs of maintaining an artificial grass lawn in a residential setting compared to real grass — and then we'll break down the costs for you in the rest of the article.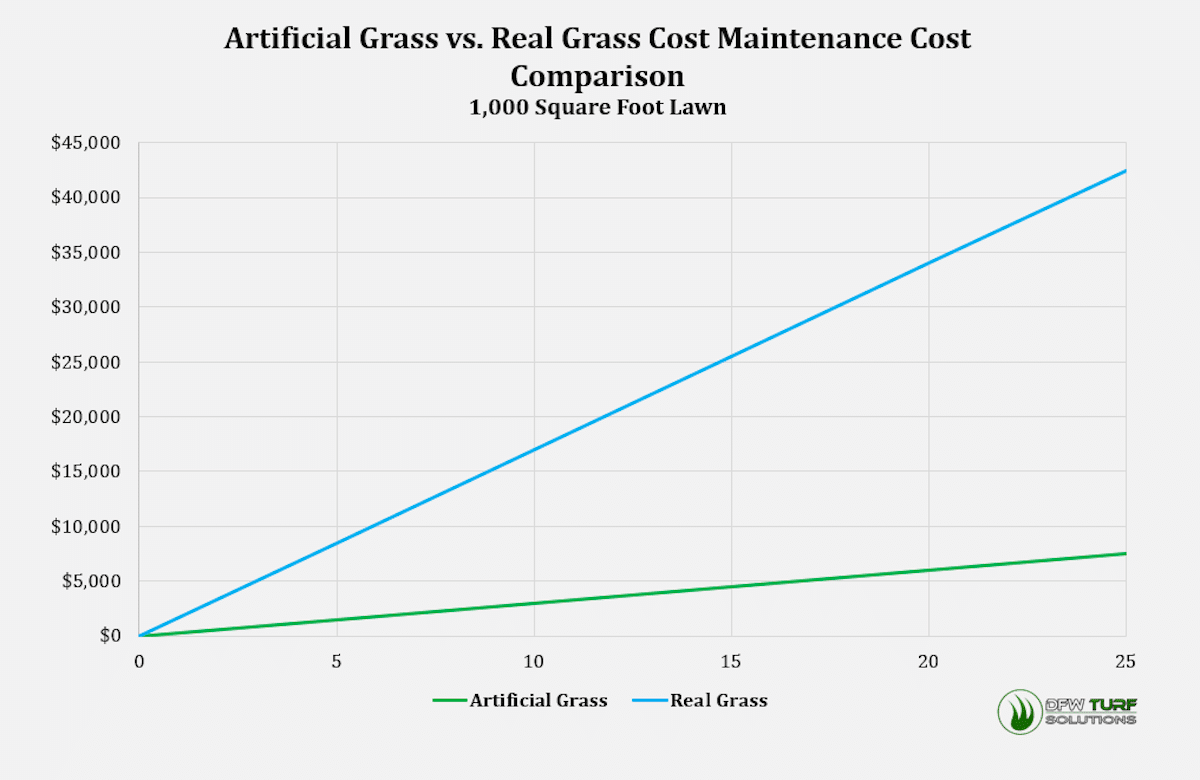 Why do you need to maintain artificial grass?
Artificial grass looks green and pristine all year round, with no dead grass or mud — and it lasts many years even if you do very little in the way of maintenance.
Whereas natural grass needs mowing, trimming, seeding, watering, fertilizing, aerating and weeding, there's very little to do with synthetic turf. It's almost maintenance-free in comparison — as long as you choose high-quality turf and it's installed professionally.
However, if you perform a few basic maintenance steps from time to time, your artificial grass will look and feel even better and last even longer.
Maintenance tasks include:
Clearing leaves and debris (especially after storms or if the area is surrounded by vegetation)
Cross-brushing your artificial grass area (i.e., brushing "against the grain")
Wiping away stains with soapy water
Rinsing it down occasionally to clear dust
Clearing weeds from the infill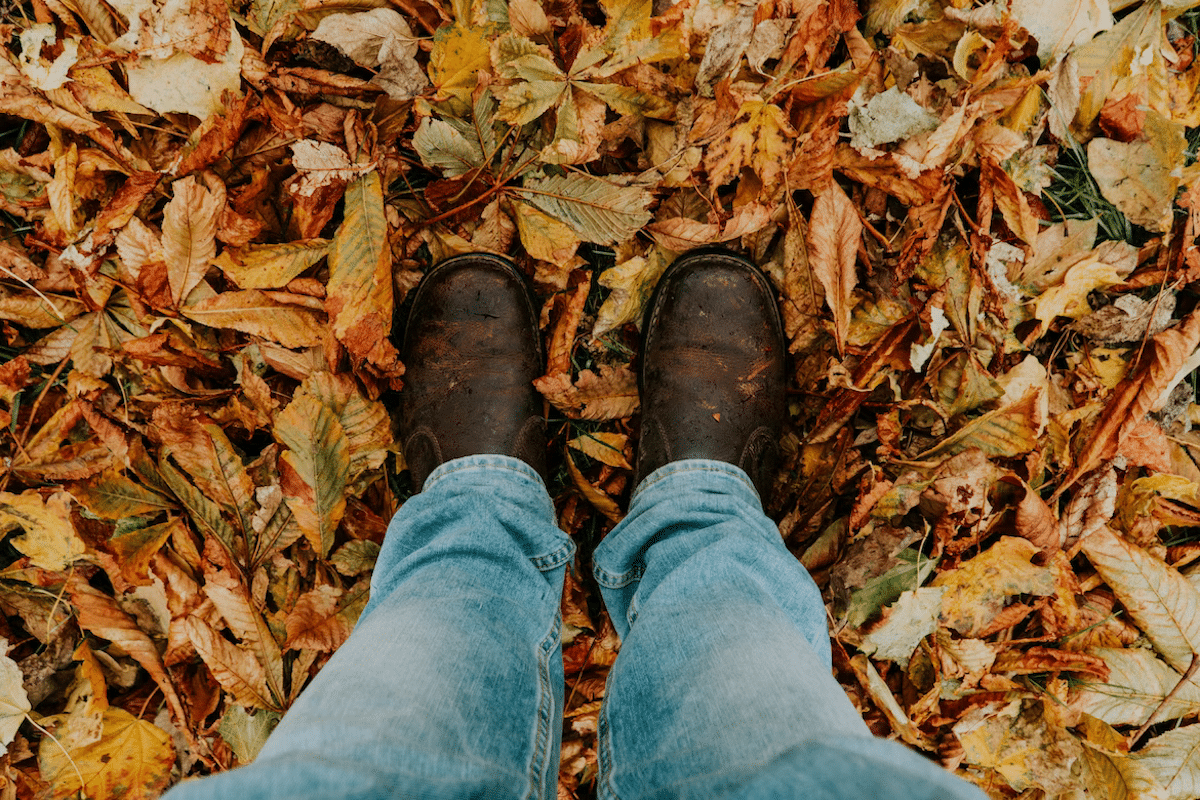 Artificial grass and watering
Artificial grass requires a tiny fraction of the water it takes to keep real grass looking healthy in the Dallas-Fort Worth area.
This is a major plus when it comes to both the maintenance costs of artificial grass and saving water — which is uppermost in many homeowners' minds in this area as water shortages deepen and more water restrictions are rolled out.
Even if you never take a garden hose to your artificial backyard lawn to rinse it down, your grass will remain verdant and look immaculate for years.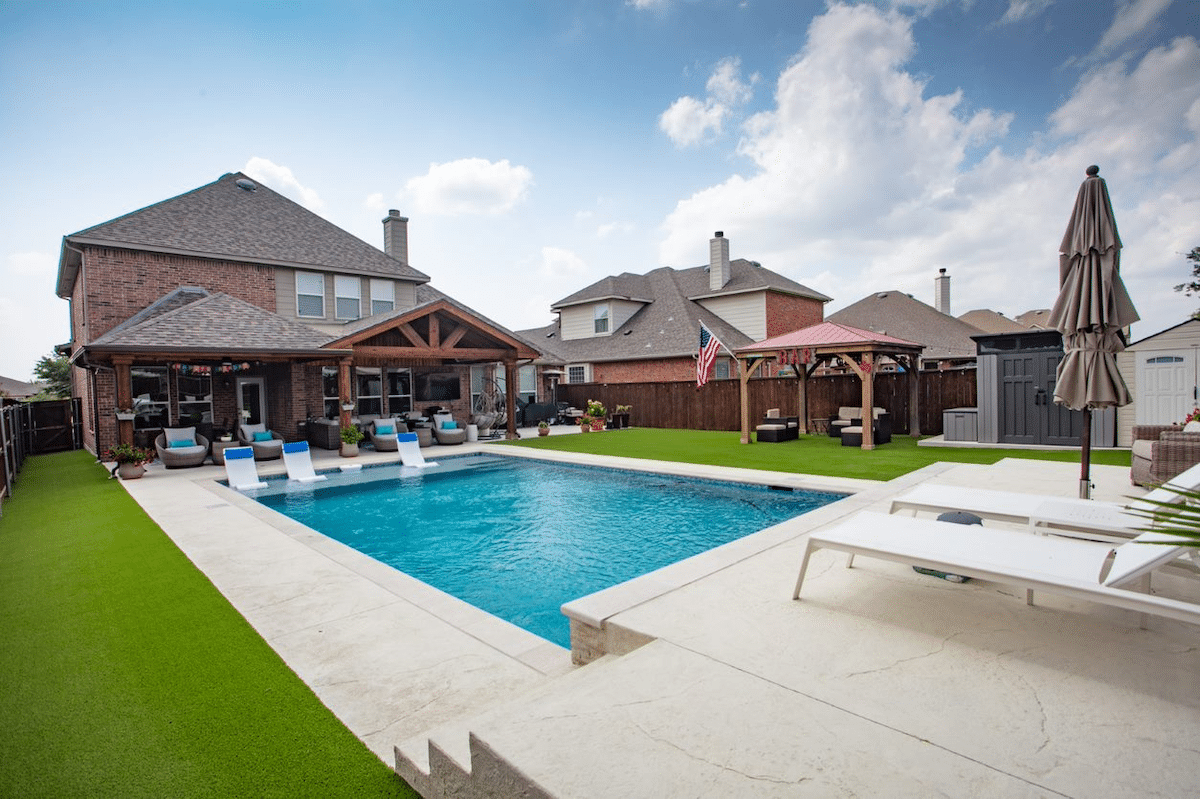 Artificial grass lawn maintenance costs
For a typical artificial grass backyard lawn in the Dallas-Fort Worth area (measuring approximately 1,000 square feet), here's a breakdown of the annual costs:
Watering: $0 – $100
Fertilizing: $0
Brushing: $150/year
Infill replenishing: $100/year
Other lawn services: $0
Total annual costs: $250 – $350
Artificial putting greens and commercial sports fields
For backyard putting greens a little extra maintenance may be required, which can slightly increase the annual costs.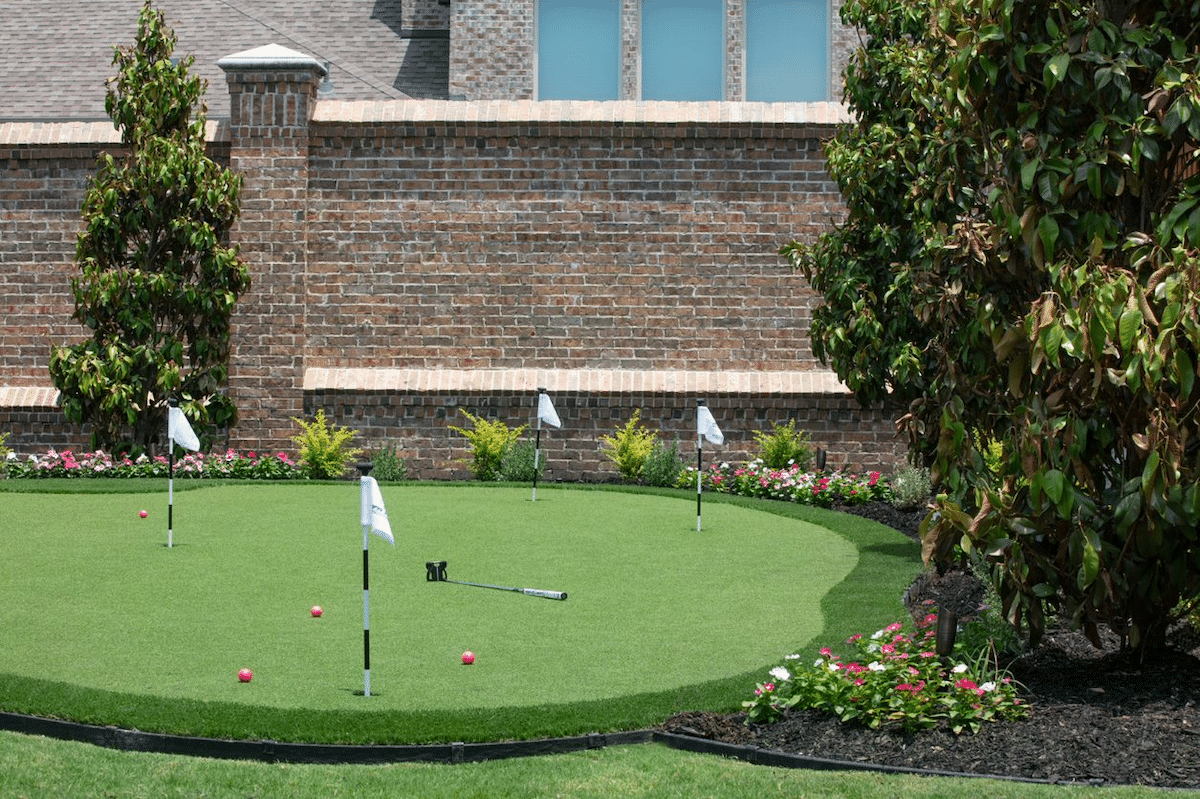 A typical artificial grass commercial sports field in the Dallas-Fort Worth area may require maintenance that runs into many thousands of dollars per year.
This is mainly because of the advanced work required to help the field stand up to the extra wear and tear that a sports field experiences: there is more brushing, raking and cleaning required as well as more inspections, infill redistribution, repairs and impact testing.
This generally requires more specialist labor, more materials and more equipment to hire.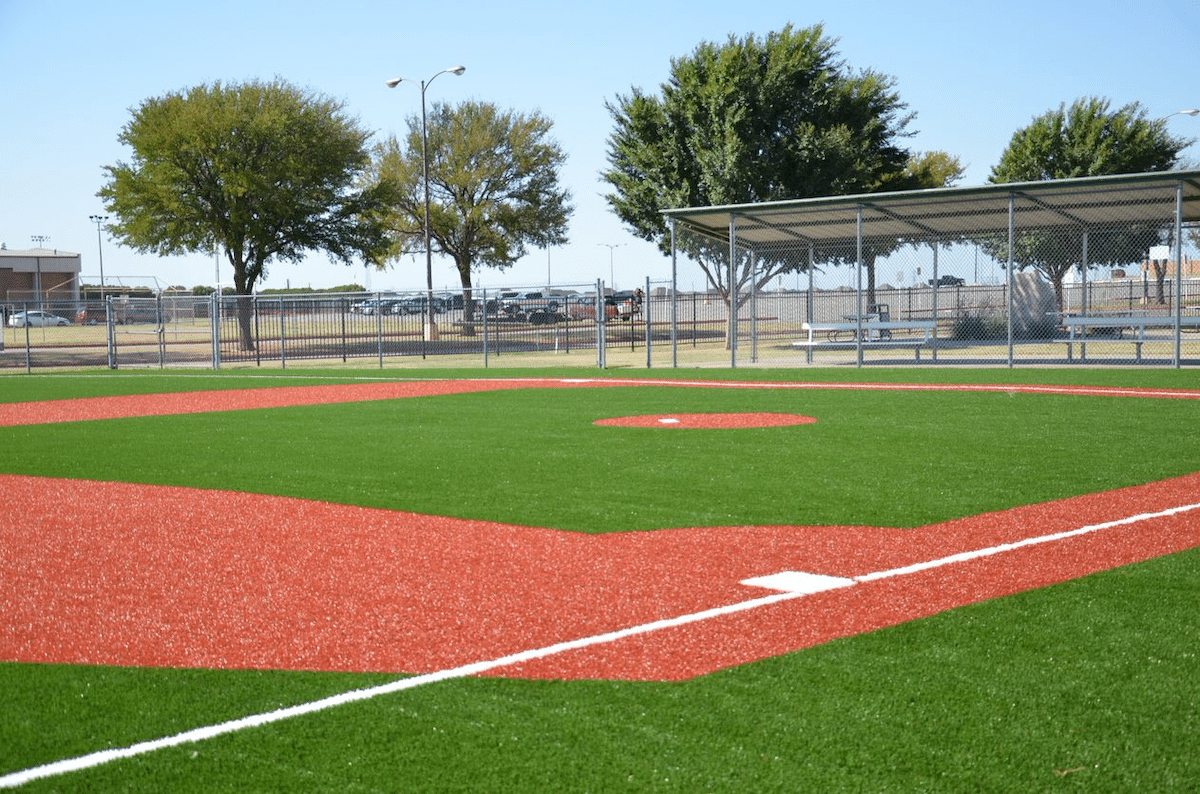 Depending on the field size, anywhere from a few thousand dollars per year up to $10,000 or even $ 20,000 a year is realistic (including repairs).
This can still represent a significant cost saving over real grass sports fields, which can cost $30,000 – $100,000 per year to maintain (again highly dependent on their size and usage).
Comparison of costs of maintenance between artificial turf and natural grass over 20 years
We've already established that the annual maintenance costs for a 10,000-square-foot artificial grass backyard lawn are between $250 and $350.
This equates to $5,000 – $7,000 over a lifespan of 20 years, which is realistic for high-quality, professionally installed artificial grass.
For natural grass, the annual maintenance cost estimate of between $1,600 and $1,700 translates to $32,000 – $34,000 over the same 20-year period.
Unless you pay that, it starts to look like this: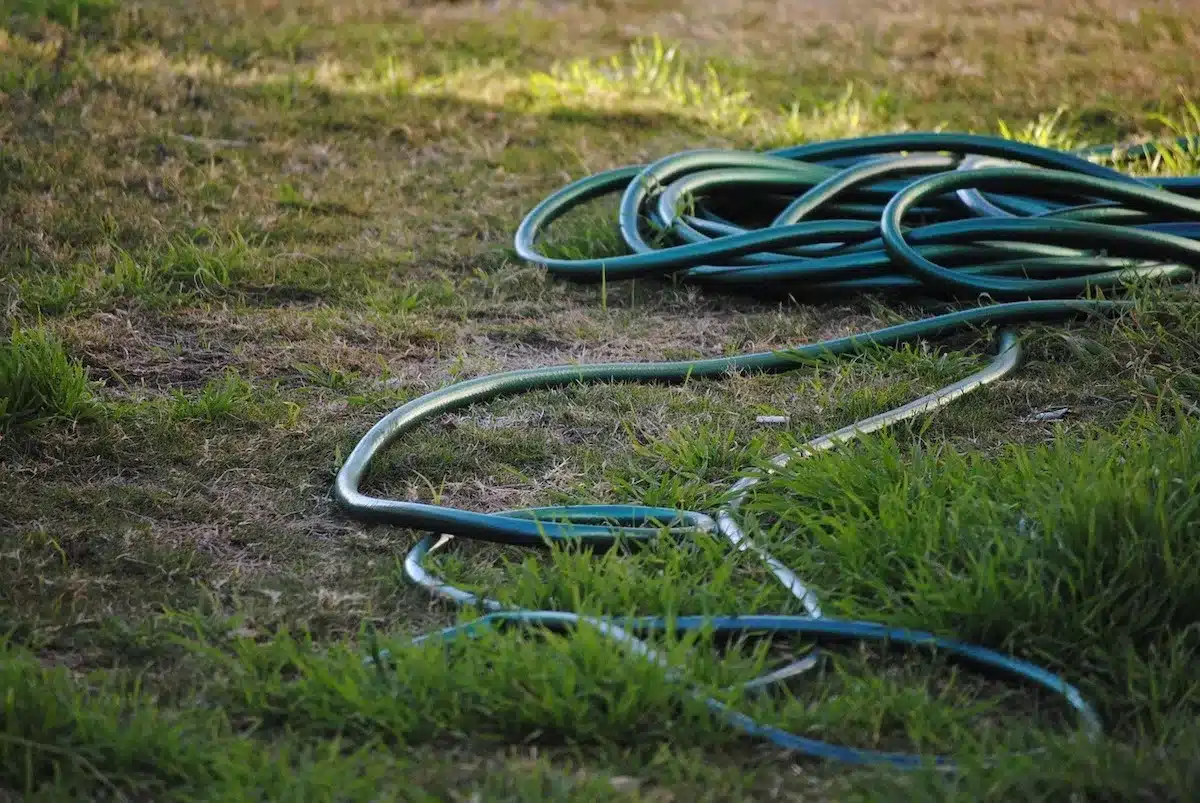 That represents quite a cost saving — and one that pays back the higher installation costs of artificial grass many times over. Read more about the comparative costs of artificial grass vs. real grass here.
Let's break this down further…
Artificial grass care and maintenance (20 years):
Watering: $0 – $100
Fertilizing: $0
Brushing: $150/year
Infill replenishing: $100/year
Other lawn services: $0
Total Annual Costs: $250-$350
Total costs over 20 years: $5,000-$7,000
Real grass care and maintenance (20 years):
Mowing/edging: $650/year ($25 every two weeks)
Watering: $500/year
Leaf and debris clearance: $175/year
Fertilizing: $100/year
Spring/fall cleanup: $75
Aeration: $75/year
Weedkilling: $40/year
Total Annual Costs: $1,600-$1,700
Total costs over 20 years: $32,000-$34,000
FAQs
What tools are needed to maintain artificial grass?
Every homeowner with artificial grass should consider keeping the following tools in the shed to maintain its pristine appearance:
A lightweight plastic or bamboo rake with curved tines
A brush or broom with plastic or natural fiber bristles
A standard garden hose
A leaf blower (optional)
Most of these are affordable and available at the local hardware store. You can get rid of most of these (except the leaf blower!):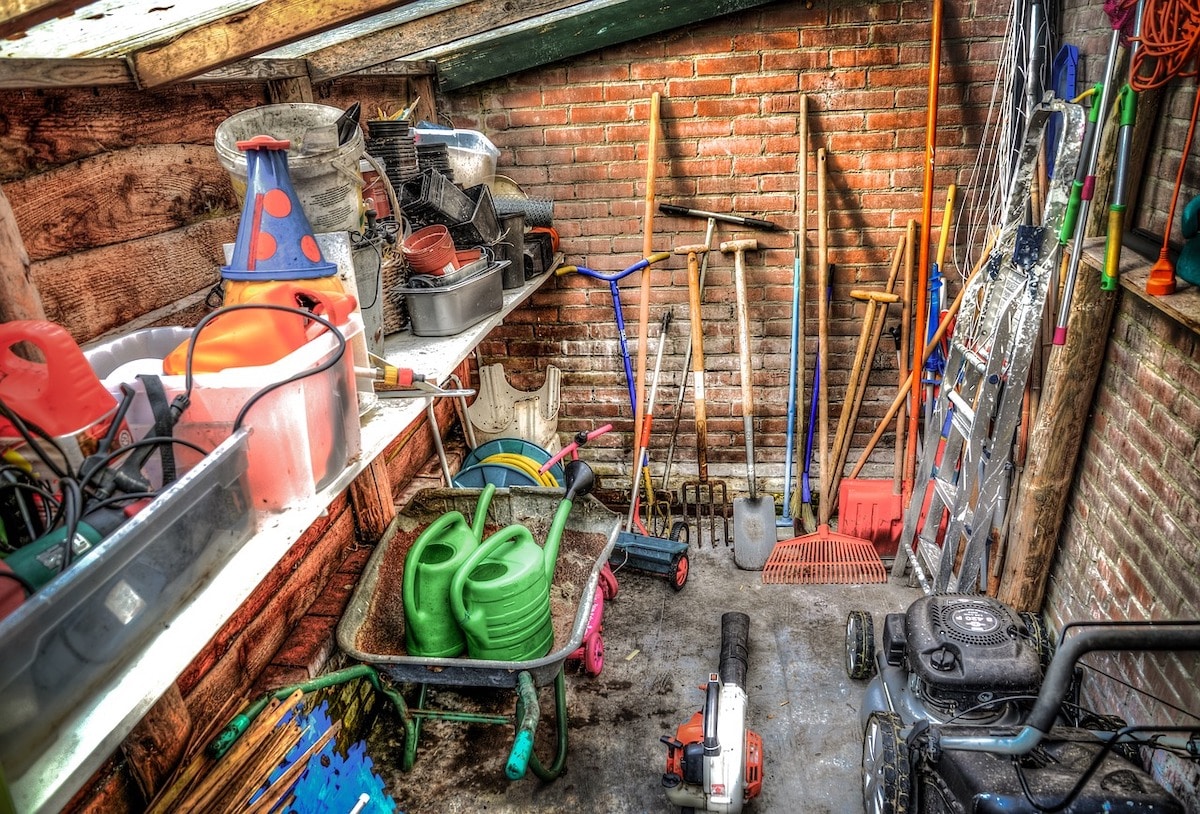 Will sharp or hot objects damage artificial grass?
Glass and other sharp objects, cigarettes and fireworks should all be kept away from your artificial grass. Rips, tears and burn marks are not a good look. To avoid other issues, it's a good idea to ban chewing gum in your artificial grass areas too.
Can I use bleach on artificial grass?
No, never use harsh chemicals like bleach to remove stains. If in doubt, check with the manufacturer or seek professional advice but most stains can be removed with soapy water.
Can you repair damage to artificial grass?
Yes., minor rips and tears can be repaired relatively easily by a professional. Broken seams are a tripping hazard and should be repaired without delay. If your artificial lawn is badly torn or worn out from heavy traffic, fixing it may not be an option and you may need to consider a replacement.
A little maintenance goes a long way with synthetic turf
If the initial turf installation costs are off-putting, the news for homeowners gets much better with the low maintenance costs of artificial grass.
The above breakdowns indicate that artificial turf pays back the initial investment several times over a 20-year period.
The low maintenance burden should make artificial grass a serious consideration for many homeowners in the DFW area, especially alongside the many other benefits, such as its water-saving properties, its natural and pristine appearance year-round, and the lack of mud, weeds or pests, etc. DFW Turf Solutions has been installing high-quality artificial grass in Dallas-Fort Worth since 2014. Reach out to our helpful team by calling (940) 365-9165 and we'll be happy to provide a quote.