Is Artificial Turf Worth the Cost?
Have you ever envied that perfectly mowed lawn in your neighbor's yard and wondered how in the world do they manage to maintain it so well? Don't be surprised when you find out that it's fake grass. Artificial turf, as it is called, is a surface of synthetic fibers made to look and feel like natural grass. It is becoming increasingly popular with Dallas homeowners these days as it saves a lot of time and money, which would otherwise be spent maintaining a natural lawn.
The evolution of artificial turf.
Invented in the 1960s, synthetic grass was one of the most talked-about innovations of its time. Within a decade, however, the talk turned sour. After being installed in baseball fields and arenas, artificial turf was found to be a subpar substitute for the real thing, and for good reasons. This short pile grass was made from PVC-like material and had a very spiky and plastic-like feel, as well as a shinier and lighter appearance. So, scientists and manufacturers went back to their drawing boards, and even now, are constantly improving upon the original design.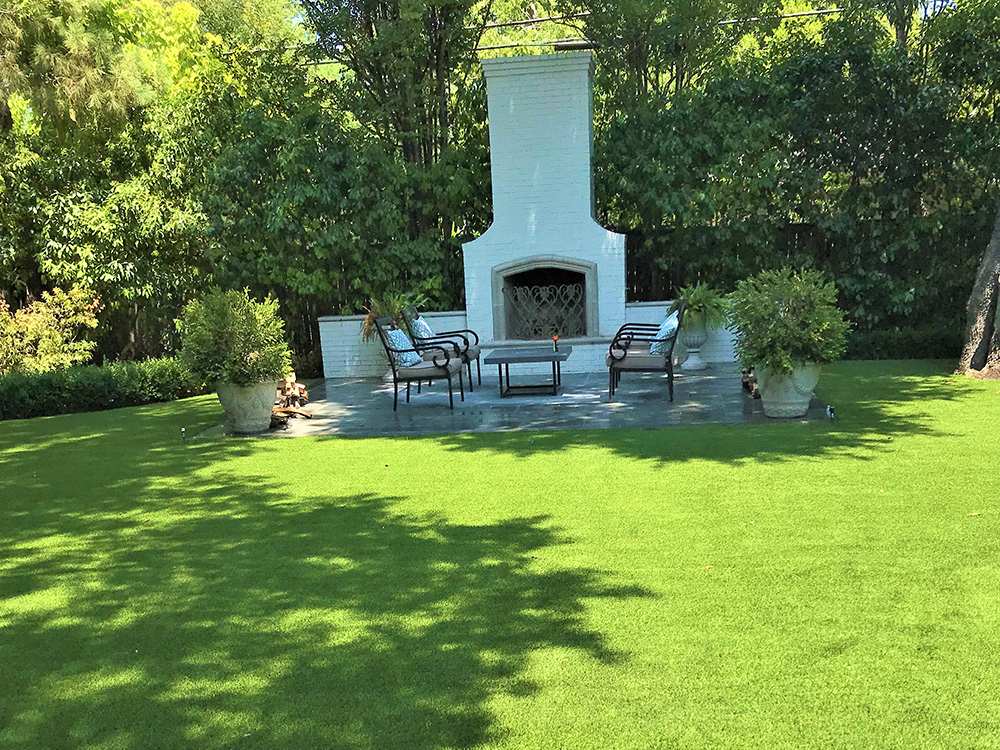 Today, artificial turf looks and feels indistinguishable from natural grass and has many functional attributes that were not available in its predecessors, such as, infill and a highly effective drainage system. No wonder synthetic grass is now widely used in stadiums, arenas, indoor golf areas, and even restaurants, and is now making an appearance in residential yards.
The real question is, "Is it worth the cost?"
It absolutely is!
Although the average cost of synthetic grass installation in Dallas, Texas, varies from $2500 to $6000, the benefits it offers more than make up for it.
Benefits of artificial turf
Artificial grass requires less maintenance.
Grass lawns require maintenance year round. They need to be mowed in the summer and raked in winter. If you do not properly maintain your yard, weeds take over and spoil the look of your garden. Artificial lawns, on the other hand, require very little maintenance. They only need to be raked and swept periodically to lift up any flat spots where the plastic blades have become tangled or matted. It also ensures that the inside of your Dallas home stays clean, as there would be no mud or dirt tracks to soil your floors. Pets littering on your lawn will not be a problem as all you will have to do is hose off the urine or pick up after them as you normally do.
Artificial grass is environmentally-friendly.
Fleas, insects, and other pests are attracted to green lawns, so it becomes necessary to regularly spray insecticides and pesticides. With artificial lawns, this is not required. Also, there would be no need for chemical fertilizers, which are used to enhance the growth of natural grass. Mowers and automatic trimmers, which cause noise and air pollution, will not have to be used as well.
Artificial grass saves water.
Artificial turf plays a very important role in water conservation. Installation of artificial turf at a typical home in Dallas, Texas, can conserve approximately 22,000 gallons of water per year, which can save up to 75% of your monthly water bill.
Artificial grass is durable and lasts.
Artificial turfs are long-lasting and can endure any type of weather. Water accumulation will not be a problem in case of rain as most of the artificial turf available now allow the water to drain through. With the right maintenance plan, your artificial turf could very well end up serving you beautifully for at least 20 years, or even longer. So, you don't have to worry about replanting grass periodically.
Artificial grass is ideal for sports.
Apart from looking just like real grass, artificial grass is very versatile. It can be used for a wide range of sporting arenas like soccer fields and golf courses. Natural grass can only be played on for an average of 250 hours per season, whereas artificial grass can be played on at all times. All synthetic turf needs is regular brushing to keep the leaves off and to straighten flattened bristles. With the right maintenance artificial turf can last for many years.
Get the most out of your artificial turf.
Synthetic grass provides a lush and attractive landscape and is slowly replacing natural grass due to the many benefits it offers. However, if you want to get the most out of your artificial turf installation, make sure that you hire a reliable synthetic grass company in Dallas, Texas.
Although you can certainly install artificial turf in your yard yourself, we believe that it is a project that is best left to the professionals. From overworking the material to leaving visible seams, there are many things that can go wrong during a synthetic turf installation if it isn't done properly. A professional installation service, on the other hand, ensures a high-quality and long-lasting finish that will help your synthetic turf maintain a green and healthy appearance.
There are many choices out there, so be sure to do your research and decide on artificial turf installers you are most comfortable with. Once you have decided on a company to install artificial grass in your yard, you'll be that much closer to a beautiful maintenance-free yard that you can enjoy for years to come.
ARE YOU LOOKING FOR A LEADING SYNTHETIC GRASS INSTALLER IN DALLAS, TEXAS?
At DFW Turf Solutions, we provide high-quality artificial turf that looks real and stays green for years to come. As a reliable synthetic grass company in Dallas, Texas, we work with top-of-the-line synthetic grass products and use only the best tools and techniques in our unique installation services to provide Fort Worth residents with an installation that guarantees customer satisfaction every time.
Are you thinking about switching to artificial grass for your Dallas home?
Get in touch with DFW Turf Solutions today and let our team of friendly experts introduce you to your next synthetic grass landscape. Call us at (940) 310-3263 for a free quote on your next project.

DFW Turf Solutions, "A synthetic grass company", is focused on customer service, quality control, and water conservation.

4700 US-377
Building 6B
Krugerville, Texas 76227
12300 Ford Rd B321, Farmers Branch, Texas 75234