Does Artificial Grass Increase Home Value?
Did you know that landscaping is one of the best ways to maintain your home appearance and improve your home's value, should you ever decide to put it on the market for sale? Well, that is true; your landscaping can have a bigger, more positive impact on your home's resale value than any other home renovation or improvement tasks.
That being said, in considerably hot and arid regions such as the Dallas-Fort Worth area, keeping your lawn looking fresh and green all the time can be a time-consuming and expensive task — you could be spending hundreds of dollars every month maintaining your home's landscaping! The high maintenance costs can force some Dallas homeowners to stop maintaining their lawns altogether, leaving their grass dead and brown looking. Letting your lawn remain dull and dead like that is certainly not going to make a good first impression on potential buyers.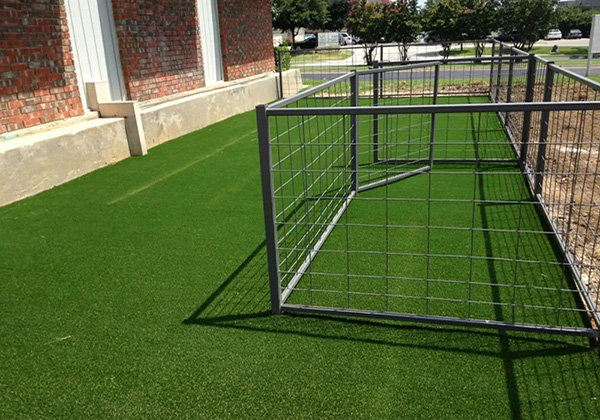 Why not go with artificial grass?
Artificial grass is essentially a surface of synthetic fibers made to look and feel like natural grass. In dry areas like DFW, synthetic grass installation can increase your home's value by adding great curb appeal and providing a low maintenance landscaping option for your buyer.
Here's the explanation in a nutshell: Dallas homes with lush, green lawns that require minimal maintenance will certainly stand out amongst homes with less environmentally-friendly landscaping that demands a ton of resources to prevent them from browning or dying.
Artificial grass has come a long way.
Artificial turf has come a long way in both appearance and quality since it was invented in the '60s. Artificial grass was originally made from PVC-like material and had a very spiky and plastic-like feel, as well as a shinier and lighter appearance. However, today, some of the top synthetic grass companies in Dallas provide artificial grass that looks and feels indistinguishable from natural grass (even pets have a difficult time telling the difference!) and has many functional attributes that were not available in its predecessors, such as infill and a highly effective drainage system.
Benefits of artificial grass
An artificial grass landscaping solution will look consistently great, but what are the other benefits of installing artificial turf?
Here are some of the other advantages of artificial grass that you can demonstrate to prospective buyers, when the time comes to sell.
Minimal Maintenance
A well-designed and installed artificial turf can look attractive with very little input and attention. No mowing, fertilizing, re-sodding, or other tedious tasks that go hand in hand with the upkeep of a natural grass lawn. There are only two things that you need to include in your synthetic turf maintenance plan: lightly brushing or raking the infill periodically, and rinsing off waste, dirt, and debris from time to time. Compared to the substantial efforts needed to maintain a natural lawn year-round, maintaining an artificial turf is a piece of cake.
Environmentally-friendly
Fleas, insects, and other pests are attracted to green lawns, so it becomes necessary to regularly spray insecticides and pesticides. With artificial lawns, insecticides and pesticides are not required. Chemical fertilizers, which are used to enhance the growth of natural grass, as well as mowers and automatic trimmers, which cause noise and air pollution, will not have to be used either.
Water conservation
Did you know that every square foot of natural grass replaced with artificial grass saves 55 gallons of water every year? For an average lawn of 1,800 square feet, that could mean 99,000 gallons of water a year!
Cost
Though the precise cost of purchasing and installing artificial turf is dependent on factors like the square feet you are covering, the amount of prep work required, and the type of artificial turf you select, artificial grass is definitively less expensive than natural grass landscaping, no matter what the cost of your installation is.
Typically, artificial turf installation runs in the range of $10-$15 per square feet, but because there are no maintenance costs of watering, fertilizing and lawn services, those initial costs are likely to be recaptured in maintenance savings after a few years. And since your artificial turf could very well end up serving you beautifully for at least 20 years, or even longer, it will still be in amazing shape years after you have recouped the cost of installation.
Conclusion
Installing high-quality synthetic grass in your home can help you improve your home's appearance and resale value while also avoiding keeping up with an exhausting maintenance schedule and saving a ton of money. If you want to get the most out of your artificial turf installation, make sure you hire a reliable synthetic grass company in Dallas, Texas. A professional installation service ensures a high-quality and long-lasting finish that will help your artificial turf maintain a green and healthy appearance for years to come.
Want to Increase Your Home Value with Artificial Grass?
As a leading synthetic grass installer in Dallas, the team at DFW Turf Solutions works with top-of-the-line synthetic grass products from brands such as Everlast, Pet Systems, Putting Green, TigerCool and TigerTurf and uses only the best tools and techniques to provide Dallas-Fort Worth residents with an installation that guarantees customer satisfaction every time.
Get in touch with DFW Turf Solutions today and let our team of friendly experts introduce you to your next synthetic grass landscape. Call us at (940) 310-3263 for a free quote on your next project.

DFW Turf Solutions, "A synthetic grass company", is focused on customer service, quality control, and water conservation.

4700 US-377
Building 6B
Krugerville, Texas 76227
12300 Ford Rd B321, Farmers Branch, Texas 75234