How Do You Prepare The Ground For Artificial Grass?
Artificial or synthetic grass has certainly come a long way from the days of cheap and tacky green blankets decorating so many gardens. These days, you can get synthetic grass, such as DFW Turf artificial grass, that looks so green and lush that you would swear a professional landscaper has just finished grooming and watering your garden. The only real difference is that synthetic grass does not wither in hot summer months, it does not suffer from weed invasions, and it does not require irrigation or the use of fertilizers.
Thanks to its aesthetic appeal and incredible durability, artificial grass has become immensely popular among homeowners in Dallas-Fort Worth and around the country.
How To Prep Your Ground For Artificial Grass
Installing artificial grass may sound simple, but there is a lot more to it than what meets the eye. You may think it is like throwing a blanket on top of the natural grass, and you are good to go. But that is certainly not true. Think about it: if it were that quick and easy, would you not see every lawn outside your house looking the same – green and luscious?
The installation of a synthetic turf demands a fair amount of time and effort. You will also need a couple of supplies and equipment to carry out the job successfully. And, you must do your homework and plan your ground before embarking on your artificial grass installation.
Here's how you can do this:
Step 1: You have to decide where you want to install artificial turf. Measure the ground and set the boundaries of where you want your synthetic grass to be.
Step 2: You need to make room for a new base before you can install artificial grass over the ground. To do so, you should dig the soil 3-4 inches from the surface and remove any existing plants you don't want.
Keep in mind: If the ground is wet, allow it to dry before you start digging in order to avoid slumping.
Step 3: Place the grass over a well-draining soil so that the synthetic turf is absorbent to the water, and the aggregates have a strong drainage layer. If there is no drain near the garden, create a drainage system before proceeding with the installation. If there is light precipitation in the ground, leave a small drainage gap after every 15 cm around the perimeter.
Step 4: Install a waterproof barrier along the perimeter to prevent the garden from splitting or slumping over time. You may use a plastic bender board or pour a block of concrete around the perimeter. The barrier must not protrude above grass level; otherwise, it might impede drainage.
Step 5: To inhibit the growth of weeds, add a geotextile fabric barrier at the bottom of the excavated area or above the base material. This barrier helps to prevent soil worms and ground squirrels from digging through artificial turf. You can also add a layer of rodent cables if you have problems with rodents.
Step 6: Now you want the area to be smooth and even by using a flattening tool or a roller. The reason you are trying to make the surface as even and flat as possible is that once you lay down the synthetic grass, you would not want a rough surface when you walk or run on it.
Step 7: After you have finished flattening and evening up the surface, you are now ready to set the first layer of foundation for your synthetic turf. The very first layer consists of covering the soil with a combination of finely ground rock, decomposed granite and gravel.
Step 8: Sprinkle the garden hose on gravel or sand to lubricate the particles for compaction. To compact the base to a depth of 90 percent below its original size, compact the base with the aid of a roller compactor, a plate compactor or a hand tamp.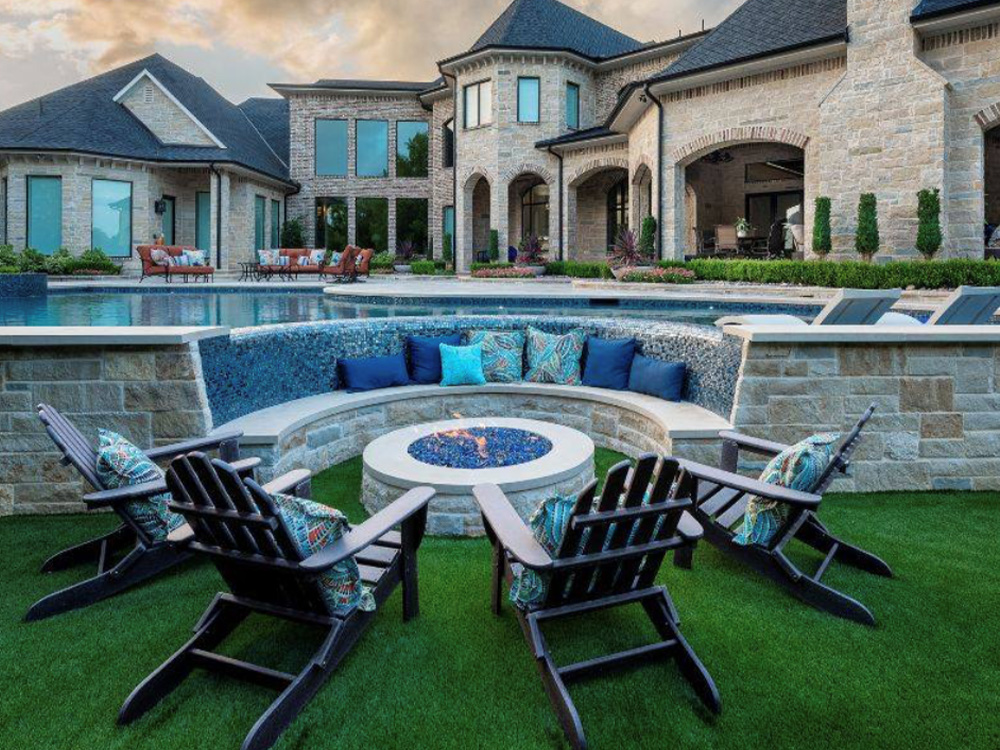 Once you are done with that process, you are now ready to lay down the artificial grass.
The artificial grass is installed just like installing carpet into your home. Lay the layers of synthetic turf evenly next to each other until you cover the whole area. You have to leave a little extra grass on the outside areas, so they are tucked in for perfect and strong fitting, leaving no gaps.
If you do the groundwork properly, then your artificial grass lawn will look great and give you enormous pleasure for several years.
READY TO GET STARTED? REACH OUT TO DFW TURF SOLUTIONS.
With these tips, it becomes easy for you to install an artificial turf. Keep in mind, though: when it comes to buying your artificial grass, make sure you buy it from a reputed dealer. You may think that buying a higher quality artificial grass will be a huge investment, but the fact of the matter is that it will save you from the enormous cost of having to repeat the installation process.
At DFW Turf Solutions, we have some of the best varieties of synthetic grass from the leading brands such as Everlast, Pet Systems, Putting Green, TigerCool and TigerTurf. We are a leading artificial grass company in Dallas and a one-stop shop for all your artificial grass needs. Whether you want synthetic turf for various traffic levels or specialty turf, we have got you covered.

DFW Turf Solutions, "A synthetic grass company", is focused on customer service, quality control, and water conservation.

4700 US-377
Building 6B
Krugerville, Texas 76227
12300 Ford Rd B321, Farmers Branch, Texas 75234