How Do You Prepare The Ground For Artificial Grass?
Installing artificial grass has a variety of benefits from minimal maintenance to saving big on maintenance costs and time, not to mention the overall aesthetic of green grass all year. So when it comes to installing artificial turf, preparation is extremely important to a long-lasting product.
In this article, we will give you the information you need to prepare a lawn for artificial grass installation. 
After preparation, you can check out our Artificial Grass Installation Process.
So let's jump into it.
Preparation for artificial turf is a much more intricate process than one may think. In most cases, if you are looking for a long-lasting product, you will want a professional company to prepare your ground and install your turf properly. 
Otherwise, you'll likely see wrinkles, tears, and poor drainage, all symptoms of poor turf preparation. In most cases, a DIY turf project will be difficult to replicate the same professional finish of a reputable company.
What Does A Proper Preparation For Artificial Grass Look Like?
We have professionally installed thousands of turf projects in the Dallas-Fort Worth area from golf greens to pet turf and we have seen our fair share of poor DIY jobs. You can check out the article below to learn what not to do. 
List of tools and products you may need for turf preparation:
Measuring Tape

Sod Cutter (optional)

Shovel & Rake

Wheel Barrow

Ground Tiller (optional)

Top Soil

Rock/Base

Lawn Roller

Compactor (Hand or Automatic)

Water/Hose
How To Prepare Ground For Artificial Turf?
Step 1: Deciding What You Want The Project To Look Like
Tools Needed: Measuring Tape
This step includes measuring the space where you will be installing turf and deciding boundaries as well as any other obstacles you will want in the final project.
Once you have the square footage you'll know a rough amount of turf you will have to buy for your project.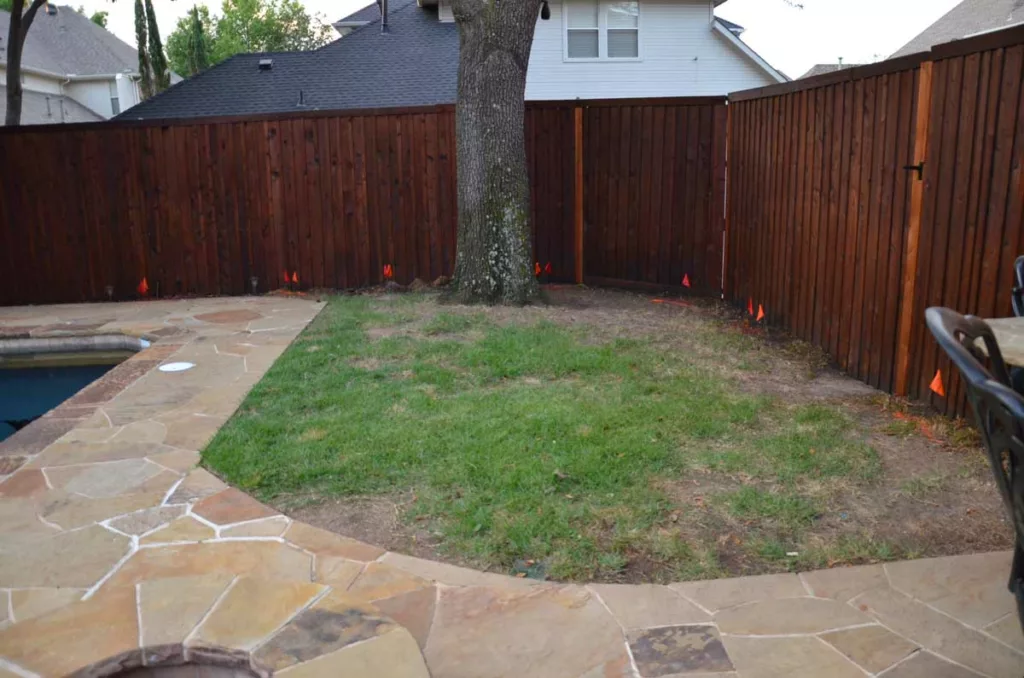 Step 2: Removing any existing grass, weeds, planters, trees, etc
Tools Needed: Sod Cutter, Shovel, Wheelbarrow, ground tiller (optional), Lawn Roller (optional)
This is one of the most labor-intensive steps of the process. 
In order for you to prepare the ground for synthetic grass you will need to remove any obstacles including sod, weeds, bushes etc. You want to try to get the soil as clean as possible as this will be your base.
Pro Tip: If the ground is wet, let it dry before starting this step as you will likely make a big mess of your yard or space.
We recommend digging down 2-3 inches to get fresh soil to the top. Rake the ground to be as level as possible and flatten down. Consider using a lawn roller here.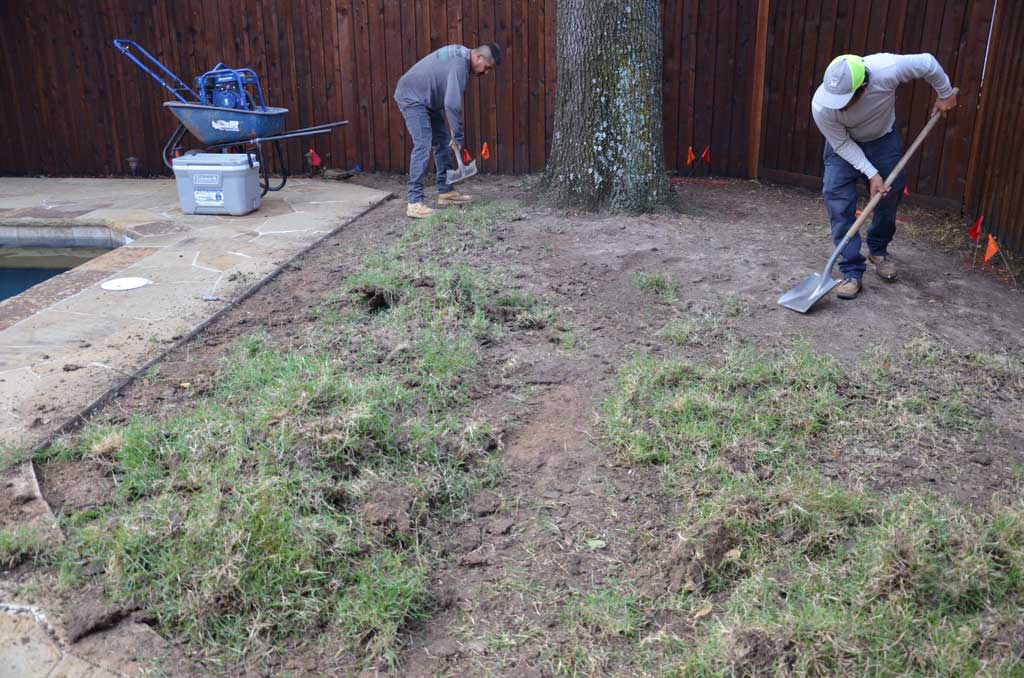 Step 3: Proper drainage and well-draining soil
We want to place the grass over well-draining soil so that the synthetic turf is absorbent to the water, and the aggregates have a strong drainage layer. 
If there is no drainage in the ground you will want to create a drainage system before proceeding with the installation. A good baseline is to leave a small drainage gap every 15 cm around the perimeter.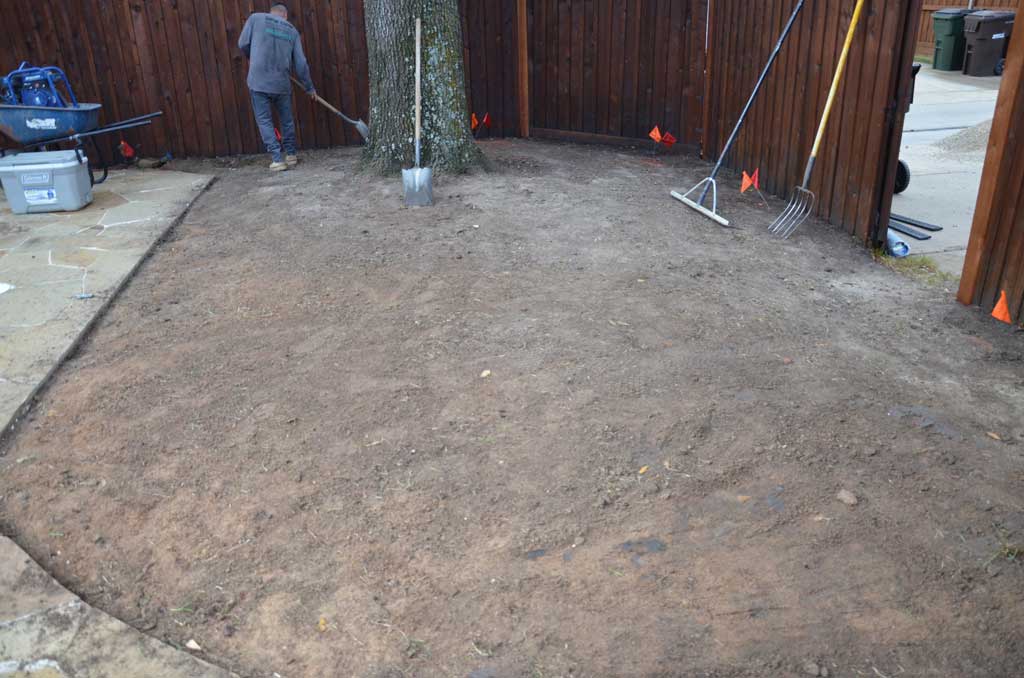 Step 4: Install a waterproof barrier along the perimeter
Install a waterproof barrier along the perimeter to prevent the garden from splitting or slumping over time. You may use a plastic bender board or pour a block of concrete around the perimeter. 
The barrier must not protrude above grass level; otherwise, it might impede drainage.
Step 5: Add A Rock/Base Layer
Tools Needed: Base layer material (decomposed granite or crushed concrete)
After you have finished flattening and evening up the surface, you are now ready to set the first layer of foundation for your synthetic turf. 
The very first layer consists of covering the soil with a combination of finely ground rock, decomposed granite, and gravel. This is known as shale which you can get from your local landscape supplier.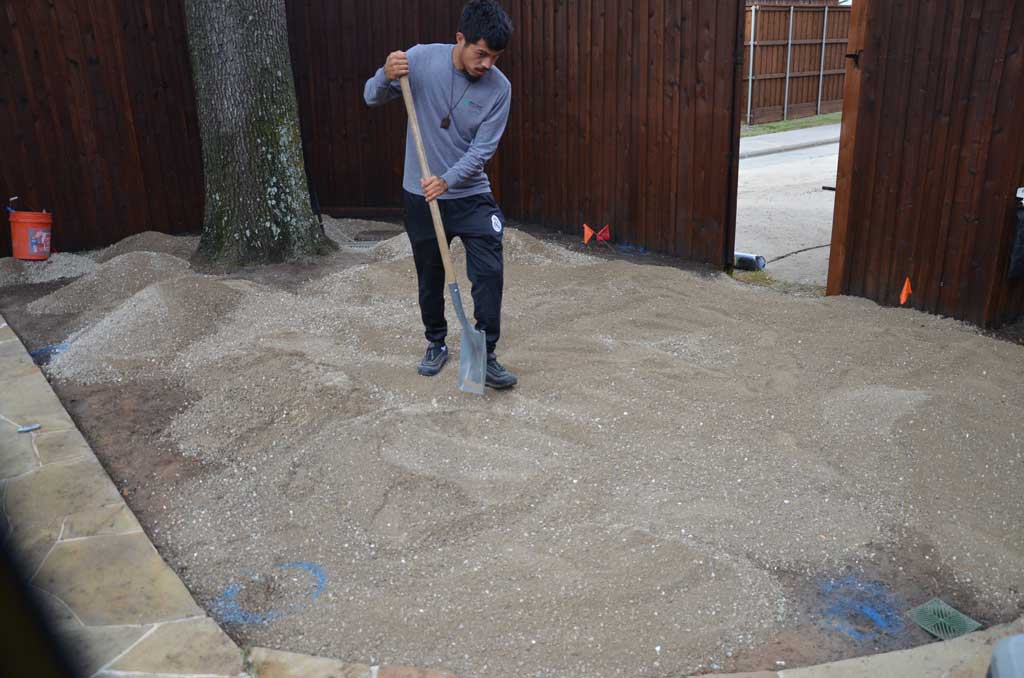 Step 6: Make the Surface As Flat As Possible
After spreading the base material you will want to make the area as smooth and level as possible using a flattening tool or a roller. 
The reason for leveling and flattening the surface is that once you lay down the synthetic grass on top any bumps, rocks, or unlevel surfaces will cause your synthetic turf to be more susceptible to wrinkles and bumps.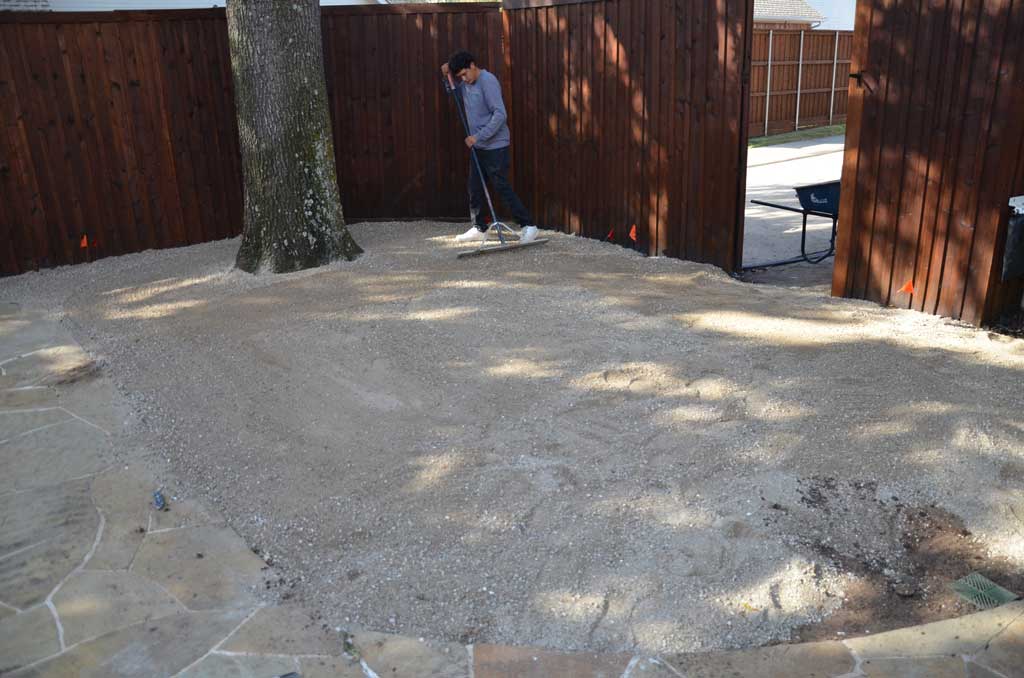 Step 7: Lightly Wet And Tamp Down the Surface
Tools Needed: Compactor
Up to this point, all work should have been done on dry soil and base material, but to make sure the ground and base material doesn't move under the artificial grass we will sprinkle the garden hose on the gravel or sand to lubricate the particles for compaction. 
This will likely compact the base to a depth of 90 percent below its original size. To further compact the base we will use the aid of a roller compactor, a plate compactor or a hand tamp.
Optional Step: Weed Killers
Be very diligent in removing any vegetation to ensure the ground is perfectly prepared for artificial turf. In certain cases, applying weed killer around the edges of the installation location can prevent unnecessary vegetation from surrounding areas from encroaching on the artificial turf area. 
Your Ground Is Officially Prepped For Artificial Turf.
If you want to learn how to install artificial turf you can see our full artificial installation process here.
Summary: Preparation for artificial grass
Now that you know the steps needed for a professional artificial grass installation you will know the materials and tools needed. 
Before you start the process of a DIY artificial turf project we highly recommend getting a quote from a professional turf company. 
With these tips, it should be easier for you to install artificial turf. Keep in mind, though: when it comes to artificial grass installation, it's best to leave it to the experts. You may think that going the DIY route might save you money, but in many cases using a professional installer will save you from the enormous cost of having to repeat the installation process.
If you are in the Dallas-Fort Worth Area, reach out to our team here at DFW Turf Solutions for a free quote on your next project.
How To Maintain Artificial Turf?
What Is The Cost Of Artificial Grass?
5 Reasons Your Pets Will Love Artificial Grass