How much does it cost to install artificial turf?
Artificial grass is very popular with property owners these days. The green fiber gives the look and feel of real grass and makes the lawn or garden inviting. It is a high-quality, low maintenance lawn that is ideal for homes and commercial properties. But before you buy and install it on your property, there are many things to consider. The most important being its price, as well as, the cost of installing it. If you search online to gather this information, you may get overwhelmed with an over-abundance of information. And getting an answer as to how much it takes to install it can be tricky. This is because the price may vary for many reasons.
Various factors contribute to the cost of installing synthetic grass.  Here we will discuss two things: factors that influence the cost of the turf, and the cost of installing it. The average cost of installation varies from $2500 to $6000. This price may vary depending upon many factors including the material costs and the labor.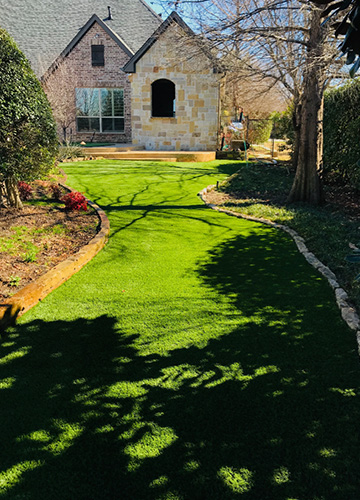 We have outlined here some of the important factors entailing the cost of artificial turf and its installation process.
The area that requires coverage
The most important factor that influences the cost of fake grass installation is the area that needs to be covered. The cost may differ depending upon the shape and size of the area. For example, if the area is unevenly shaped, is round or has curved borders, the cost will differ. And as expected, you will need to spend more if the area is larger or more intricate. This is because you will need more material to cover it.
What variety of artificial turf do you choose?
The cost of artificial grass will depend on the variety of synthetic turf you choose. There are many types of synthetic grass available on the market. The prices may vary depending upon the quality and price per square foot. As the quality and durability increase the price also increases.
Installation and labor cost
Once you buy synthetic grass, you can opt for a DIY installation. But remember, without the proper equipment and tools, you might run into trouble. If your turf is not installed properly, the grass can deteriorate or wear out more quickly. If you want to keep the cost down, you should leave the installation in the hands of a professional. The cost will include yard preparation, the synthetic grass, and the installation. The installation will also depend on whether you want a full lawn or half lawn installation. The cost will also vary from one synthetic grass company to another. But always choose a reliable synthetic grass company in Dallas Texas that offers you competitive pricing.
Redesigning the area
You need to consider what surface you are choosing for the artificial grass installation on your property. If you are planning to install it in an area which already has natural grass, it will cost you to get the natural grass removed; this is only considered when doing a diy installation. If you are hiring a company for complete installation then grass removal is included in the price. Laying artificial grass on concrete is easy but there are some processes involved in preparing the surfaces. A properly prepared surface will enhance the life of the fake grass.
Additional costs
There are some additional costs for installing artificial grass that may arise. Although they don't cost too much, you will need them; whether it is a DIY installation, or you are getting experts to do the work for you. You will need jointing tape, jointing adhesive, weed membrane, and more. You will also need gravel to lay under the turf and dried sand for infilling your new lawn.
Services of an artificial turf installer
The cost will also include the services of an artificial turf installer.  TThe installers also charge differently. They will charge according to their expertise, knowledge and skills. So, when you are hiring them, please ensure they have the knowledge, and experience to do the job adequately. At DFW Turf Solutions, we have experienced artificial turf installers in Dallas, Texas. Our installation charges are fair and cost-effective.
So, the cost of installing artificial turf will vary depending upon your needs and the quality of installation desired.
Are you looking for a leading synthetic grass installer in Dallas, Texas?
Look no further than DFW Turf Solutions! You can count on us for the latest in synthetic grass technology. We provide high-quality artificial turf that looks real and stays green for years to come. We have experts who will guide you through the entire process, from choosing the right product to installation and maintenance. We are transparent in our dealings. We will give you a breakdown of the cost of synthetic grass installation from start to finish. If you have any questions regarding the pricing, we will gladly answer them. We can also guide you if you have questions about the surface or area where you want to install the synthetic turf.
Call us today to discuss your needs. One of our experts will be more than happy to assist you with your new custom lawn project.

DFW Turf Solutions, "A synthetic grass company", is focused on customer service, quality control, and water conservation.

4700 US-377
Building 6B
Krugerville, Texas 76227
12300 Ford Rd B321, Farmers Branch, Texas 75234