Price is a factor — and an important one — for almost everyone considering replacing real grass with artificial grass. Potential buyers want to know how much artificial turf costs and whether it's worth the money.
The upfront cost of artificial grass is higher than real grass — but averaged out over the long life of synthetic turf, it's much cheaper and provides an excellent return on investment.
Synthetic grass generally lasts at least 12-15 years and considerably more in some cases. After it's installed, it not only looks immaculate from day one with virtually no effort from you but it will start paying back the investment every single year — with a much lower cost of ownership than real grass.
The average cost of artificial grass installations around the country is $9-12 per square foot This varies considerably by location and other factors discussed below.
So, let's do a deep dive into what you need to know about artificial grass price. We cover the following:
Artificial grass installation cost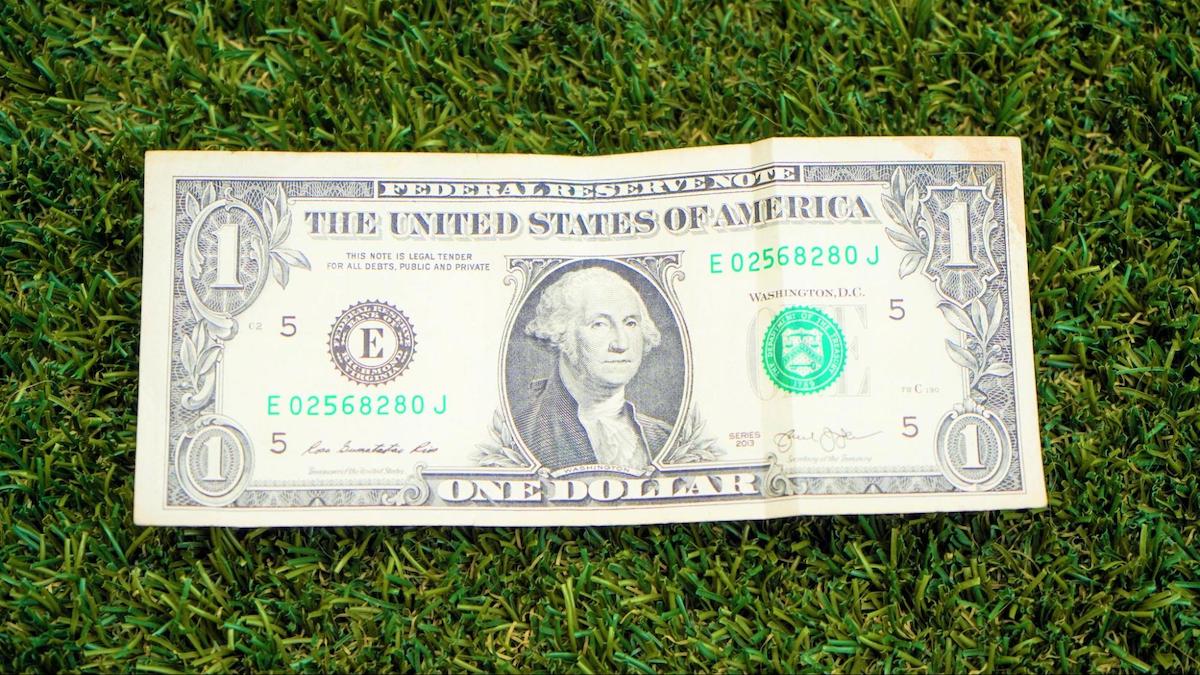 Artificial grass installations range nationally from a few dollars per sq. ft. up to $20 per sq. ft. The average is somewhere between $9 and $12 per sq. ft. This includes labor and materials. A small installation of 500 sq. ft should come to between $3,000 and $7,500.
Artificial grass costs increase with the quality of the turf and other materials you use along with the difficulty of the installation and the expertise you hire to install it. We go into all this in much more detail below.
Artificial grass price per square foot
The price per square foot (sq. ft) is the most common way of working out the cost of artificial turf in the U.S.
If you're in the Dallas-Fort Worth area, the experienced team at DFW Turf Solutions will break down the costs for you in a free estimate if you contact us here.
Artificial grass cost calculator for Dallas-Fort Worth
The size of area is not the only factor to consider when you cost an artificial grass installation (as you'll see below) but it is a key one.
The average Dallas-Fort Worth-Arlington home has a yard size of 8,712 square feet. A 1,000-square-foot artificial grass lawn is easily accommodated in many homes in the area. It's just over half the size of a volleyball court so not that big.
Let's use that as our example for calculation purposes: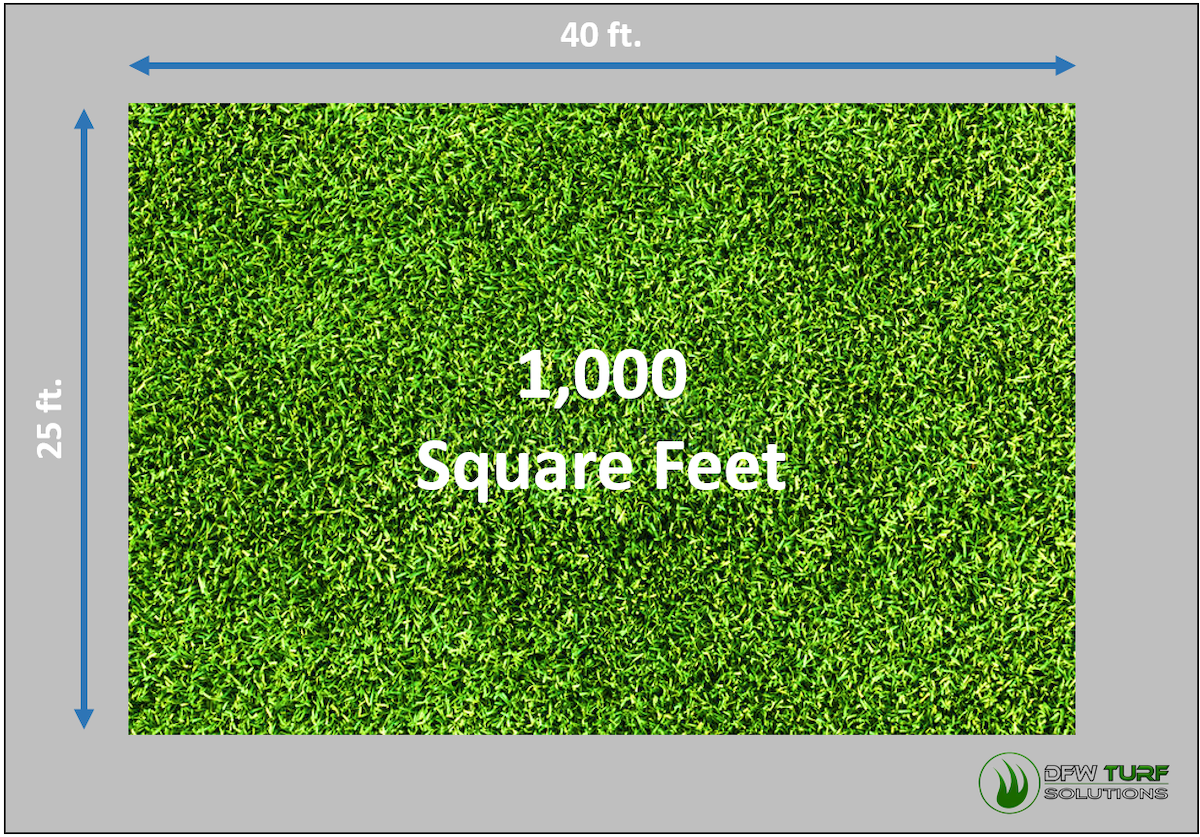 If the average per-square-foot installation cost is $10, the total cost for a 1,000-square-foot lawn is $10,000 (fully installed).
If the average per-square-foot installation cost is $6, the synthetic lawn costs $6,000.
If the average per-square-foot installation cost is $17.50, the synthetic lawn costs $17,500
As you can see the cost per square foot makes a huge difference to the overall installation costs.
Using an average per-square-foot cost of $10, here are some other sample costs for various lawn sizes in Dallas-Fort Worth: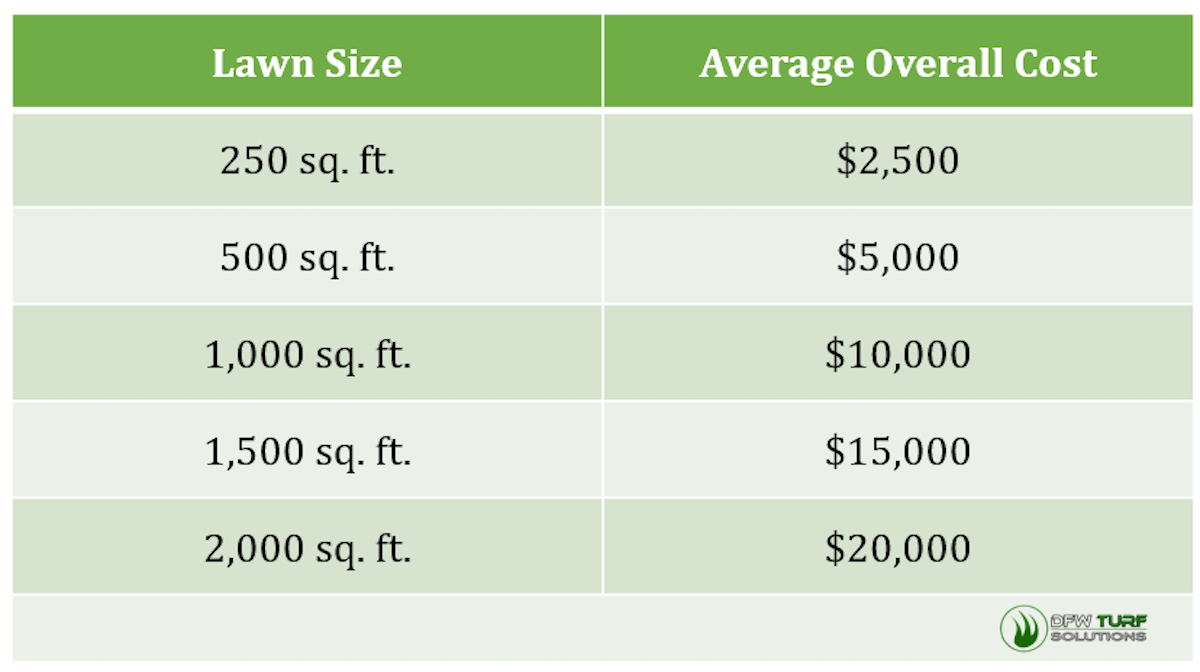 Again, this is a useful guideline. But the actual cost of your artificial grass will depend on a lot more than simply the size of area — so let's take a closer look at these factors.
What affects artificial turf costs?
In addition to the size of area, two synthetic turf installations can differ in many ways:
The quality/brand of turf
Face weight of turf
Blade shape
The shape and accessibility of the area
What's installed underneath the turf
The infill
Overall labor costs
Landscaping requirements
Most homeowners will hope for an installation that looks as impeccable as this one — but you'll need to tick off all the factors when you cost it: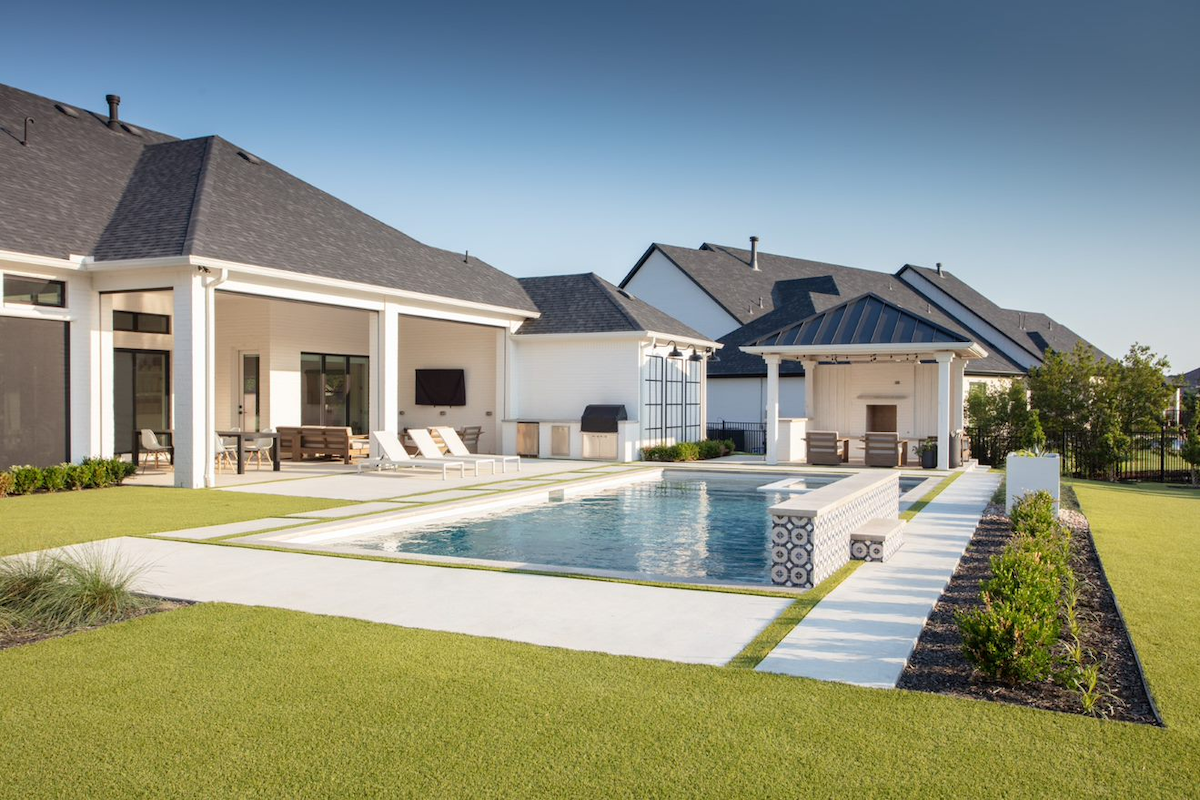 A closer look at each factor will reveal how it affects artificial grass costs…
The quality/brand of turf
Long gone are the days when it was Astroturf or nothing! The old PVC-based artificial grass was quite spiky and shiny and, thankfully, technological advances mean that modern synthetic turf is much more lifelike in appearance and more inviting to the touch.
You have many choices when it comes to the quality of the turf itself — and quality depends partly on the brand you choose and the materials used in the manufacture of the turf. There are three main materials used:
Polypropylene: as little as $2 per square foot (up to $6)
Often the lowest-cost option
Ideal for indoors or shady areas outside
Soft to the touch
Cons:
Less durable than other options
Sometimes affected by high temperatures strong sunlight and heavy usage (not ideal for Texas)
Polyethylene: from $2.50 to $5 per square foot
Mid-price-range
Soft touch and natural appearance
Highly durable
Good drainage and non-absorbent
Withstands high temperatures, heavy foot traffic and pets
Cons:
Sometimes, slightly less durable than nylon
Nylon: from $5.50 to $6.50 per square foot
Highly durable
Excellent for sports fields and high use area
Withstands high temperatures and strong sunlight
Higher price tag than other options
Stiffer blades than polyethylene and polypropylene
Cost of artificial grass by turf type

* Indicative costs for the artificial turf only and exclusive of installation and other costs.
AT DFW Turf Solutions, most of the artificial grass we install is polyethylene based as we've found this the best all-round material to use in yards and commercial areas in the Dallas-Fort Worth area. It's soft, natural-looking and highly durable. Find out more about our synthetic grass products here.
Face weight of turf
The face weight of synthetic grass is a measure of the weight of grass fiber per square foot, expressed in ounces.
It provides a good idea of the durability of the turf and how natural it looks and feels. Note that it only includes the grass itself and not the backing to which the blades are stitched.
A good general face weight for backyard turf is 50 ounces but the best turf is 80 or 90 ounces and is more suitable for heavy-use areas. Poorer quality turf may only offer a density of 30 ounces.
AT DFW Turf Solutions, all artificial grass we install has an above-average face weight for superior appearance and extra durability.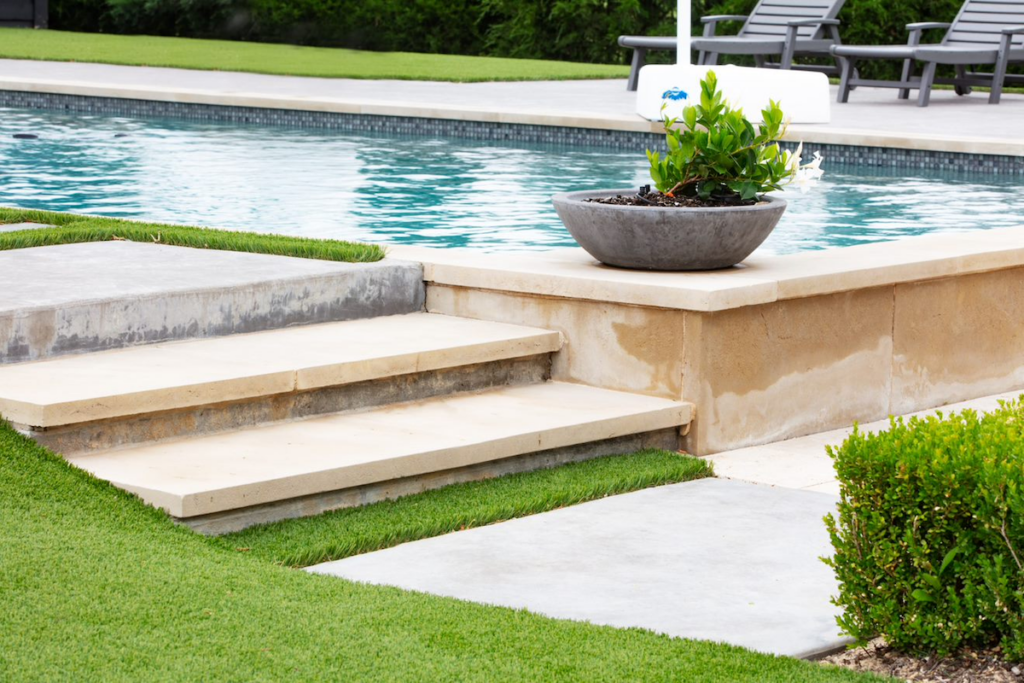 How does the face weight affect the cost of artificial grass?
Generally speaking, the higher the density, the higher the quality. You'll usually pay around $1 per square foot extra for every 10 ounces in face weight.
Blade shape
Just how far artificial grass has come since the 1970s is seen in how many different blade shapes are now available. Here are the main ones: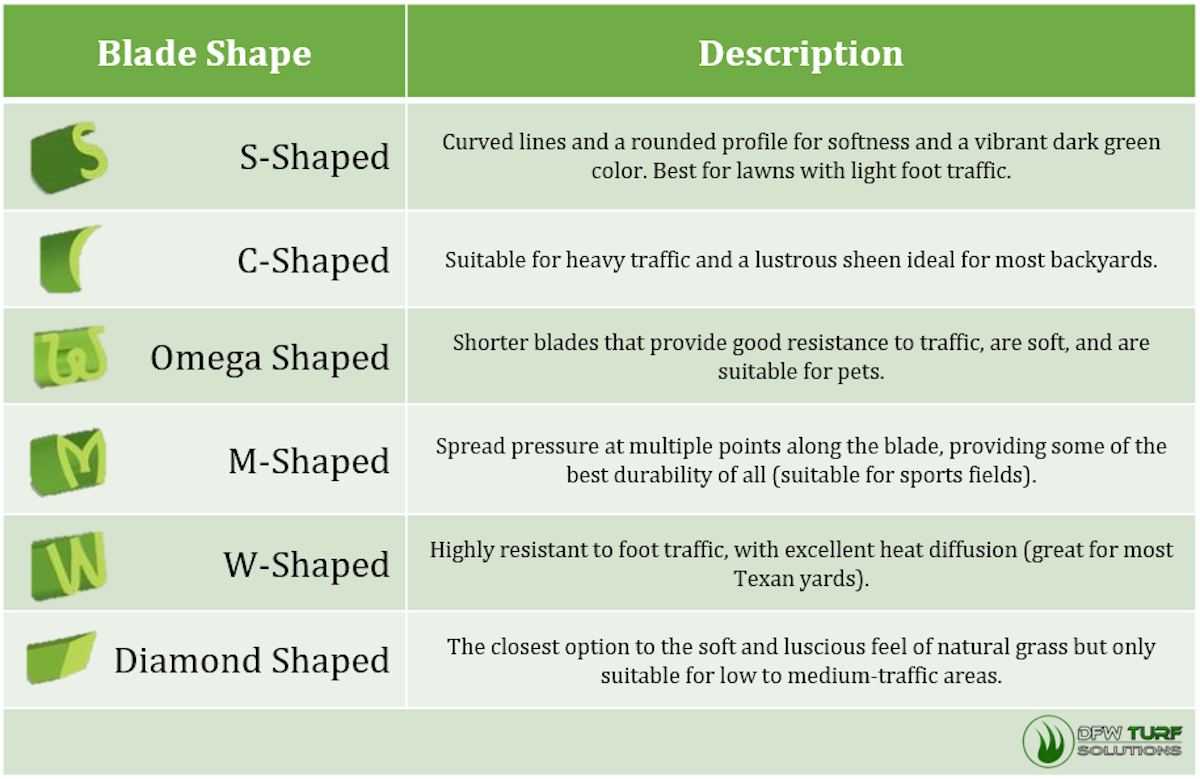 Blade shape may affect more than just the appearance and feel of your grass. It could also impact the durability and cost. Generally, you can expect to pay a little more for softer, more durable synthetic grass.
S-shaped and Omega-shaped blades are generally the most economical, while you may pay a premium for diamond and M-shaped blades.
High-quality artificial grass also includes thatch, which is the brownish, dead-looking blades between the main blades of grass, helping the turf to appear more natural.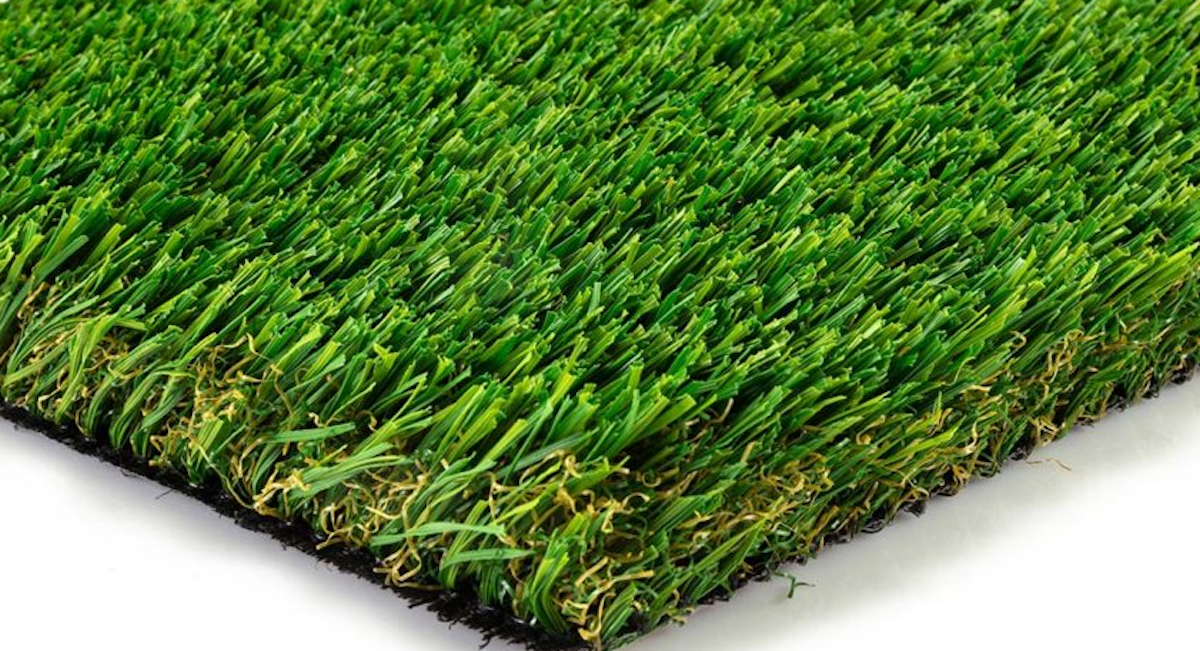 The shape and accessibility of the area
You know how the size of the area influences artificial grass costs but most installations are not perfectly symmetrical. Lawns in Dallas-Fort Worth are not usually neat rectangles and so artificial grass must be skillfully cut and shaped for curving pathways, flowerbeds, trees, water features and so on.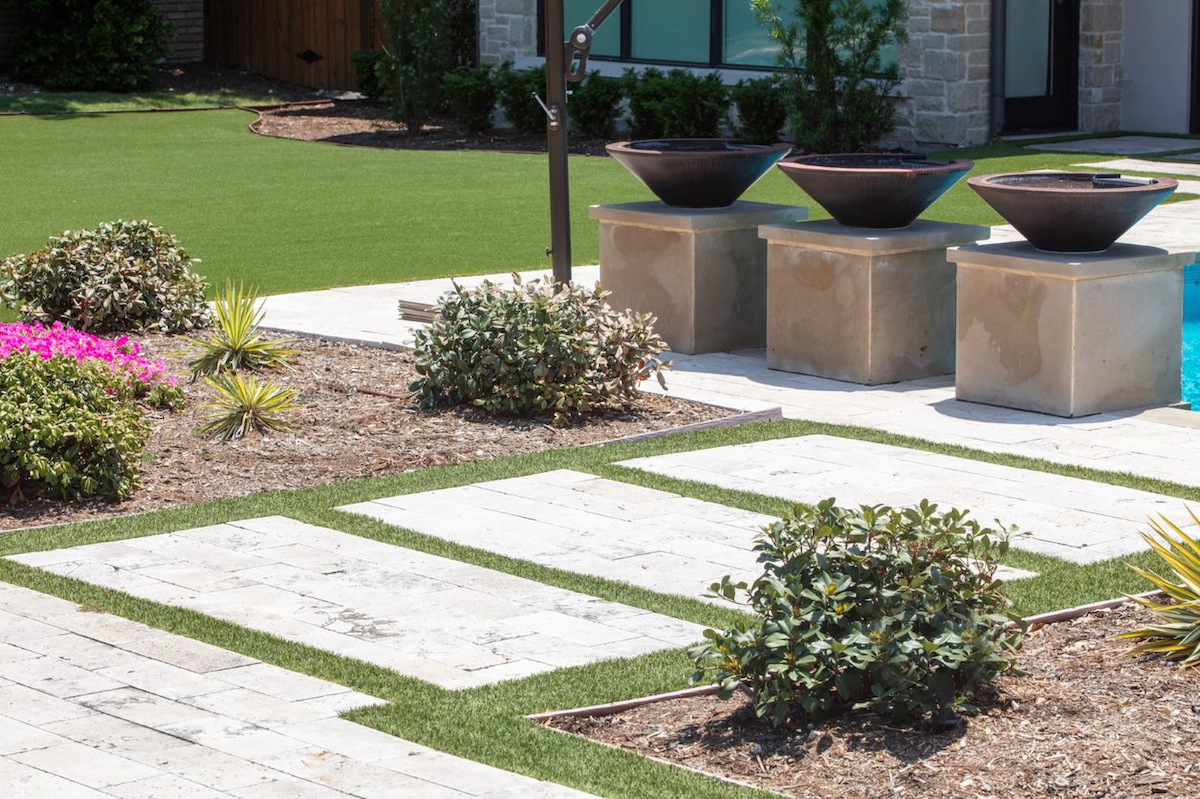 Extra cutting requirements and greater expertise are likely to add to the installation costs because of the additional materials and specialist labor required.
Extra costs are also incurred if the installation area is sloped. In reality, most lawns have a little slope (better for drainage) but anything more than this may require extra steps to prevent slippage of the grass. If your garden looks like this, expect a higher installation cost: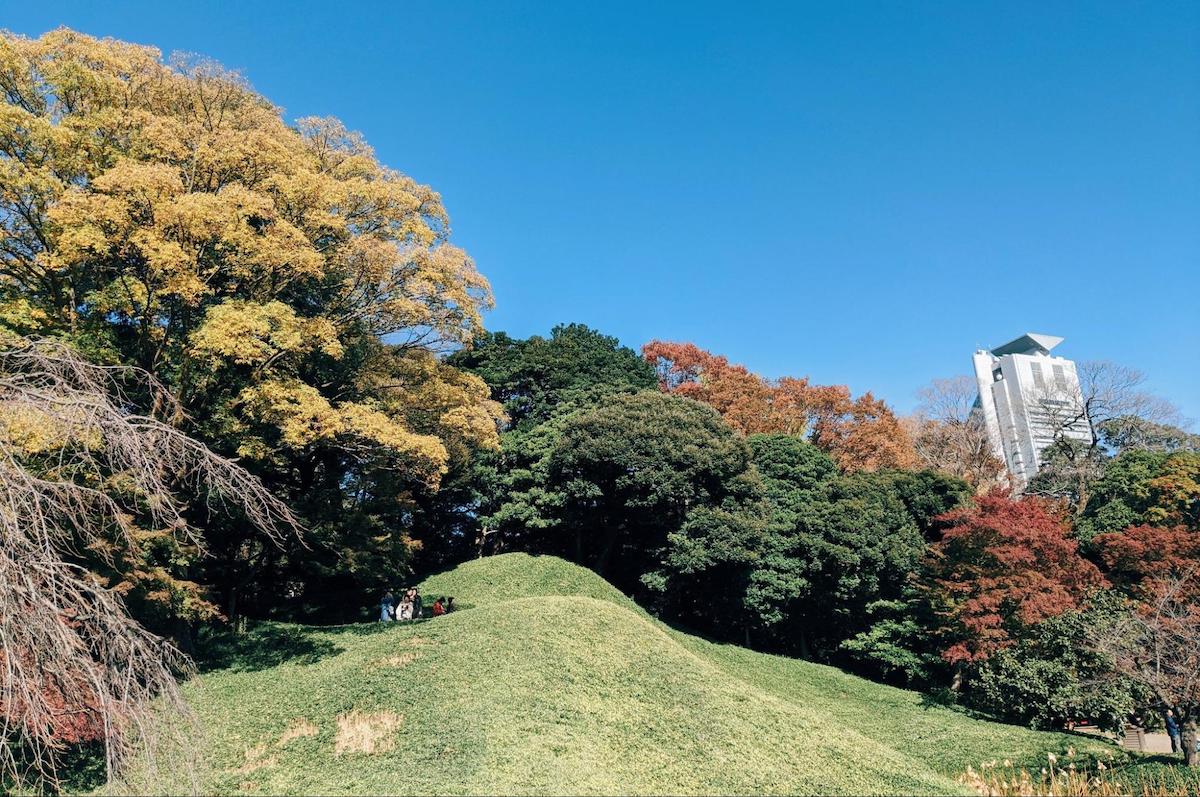 DFW Turf Solutions provides free estimates for artificial grass in almost any location, including hard-to-access areas like rooftops and stairways as well as areas that have special requirements like children's playgrounds, around swimming pools and pet areas.
What's installed underneath the turf
The blades of synthetic grass are what you see on the surface. Beneath the grass, a lot of work is done before the artificial turf is laid.
The quality of workmanship and materials underneath the artificial grass can make a huge difference to how long it maintains its pristine appearance and how well it performs its intended function — as well as to the overall costs of your artificial grass project.
Most importantly, we need to consider the road base layer. This is a layer of crushed rock that ensures proper drainage and an even layout of your artificial grass area after it's compacted. Price varies from $0.30 to $0.70 per sq. ft and it can add $300-700 to the overall cost of a 1,000 sq. ft. lawn.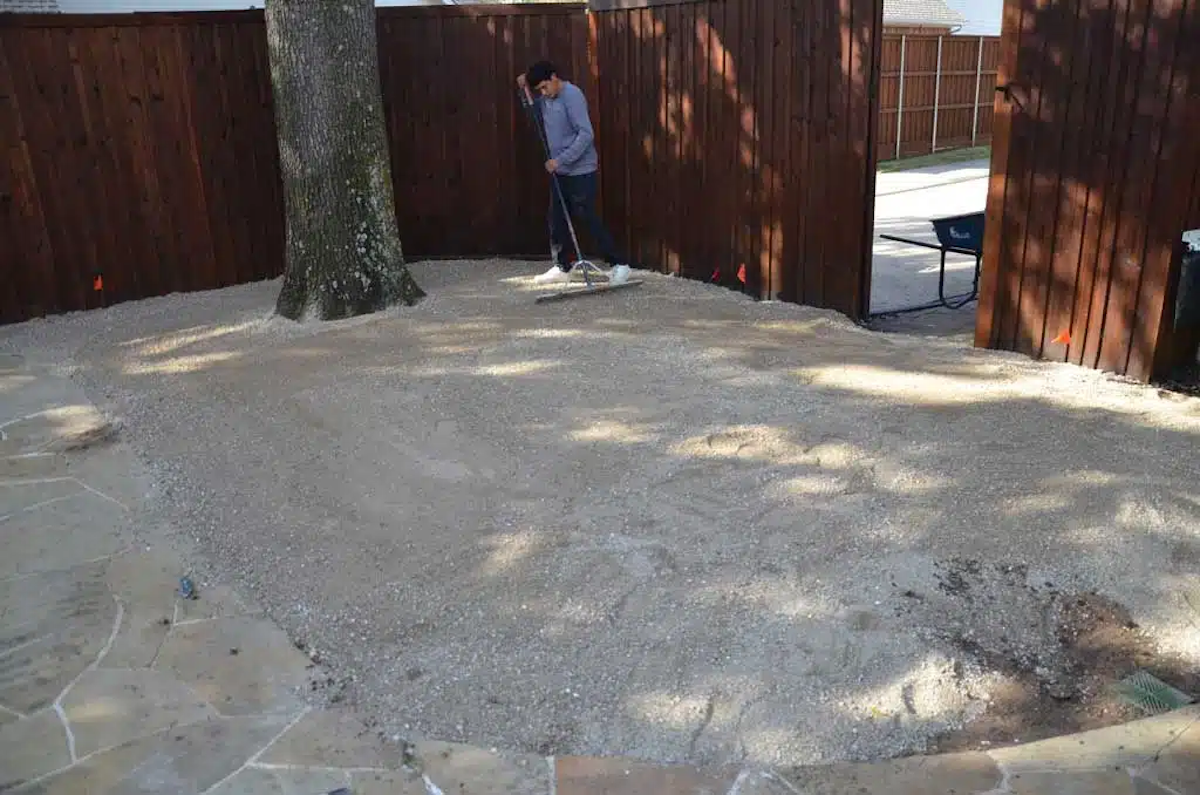 Some installations include a weed barrier, which is a layer of cloth placed under the road base to prevent weeds and natural grass from growing up through synthetic turf. It's only suitable if you don't have pets using the grass (otherwise it traps odors). The price varies from around $0.25 to $0.60 per sq. ft., which means an extra $250–600 for a 1,000 sq. ft. lawn.
For sloped areas, we also need to consider laying wire mesh before the base layer. This will help bind the sub-base and prevent the grass from slipping after being secured in place. For steeper slopes, a stabilization membrane may be required before the base is added and compacted.
For backyard putting greens with chipping areas, you may also need to consider placing shock pads under the green area to mimic the true bounce and roll of a golf ball. This, again, increases the cost.
The infill
The infill helps artificial turf more closely resemble the look and feel of natural grass. It is spread across the surface of the grass and is normally a sand or silica-based material.
Because artificial grass has no soil, the infill replaces the "soil weight" of the grass, adds stability and helps the blades stand upright.
Antimicrobial grass infill costs a little more but is essential if you have pets because of the potential for unwanted odors. The infill usually adds between $200 and $1,600 to the total cost of the artificial grass installation. It may also need to be replenished from time to time.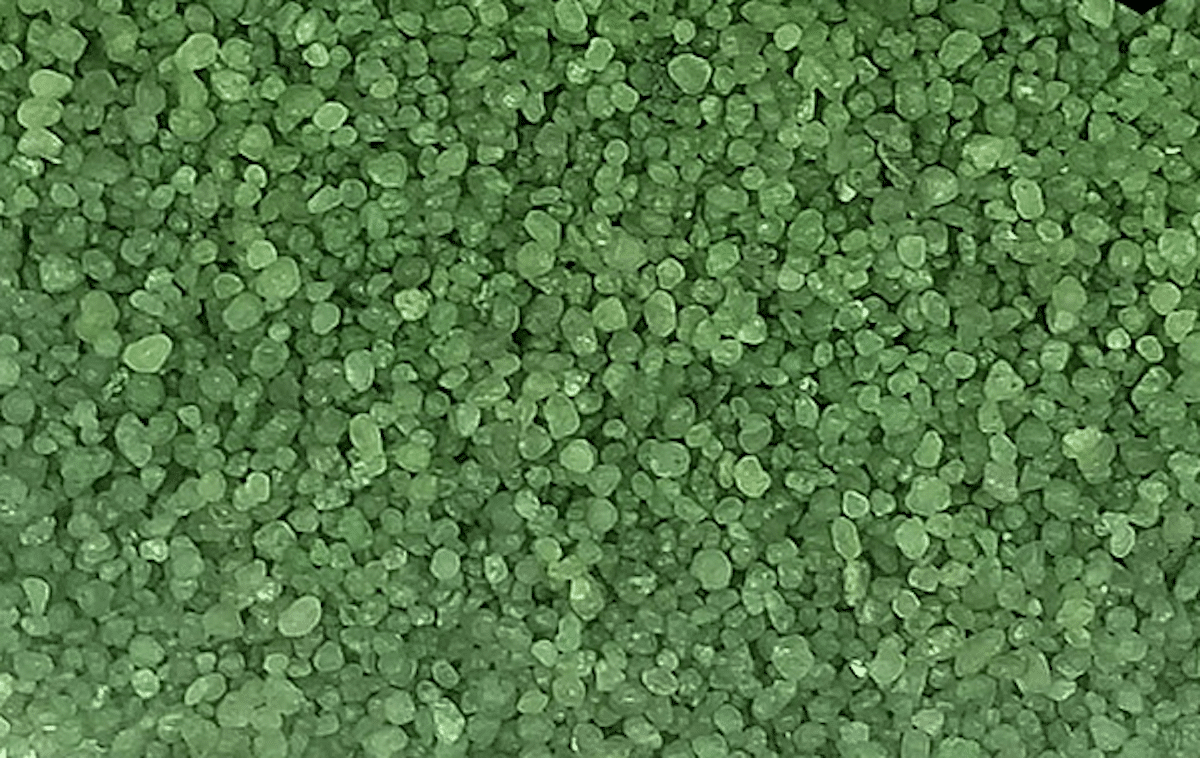 Besides the infill, there are also a few other additional costs when installing artificial grass, such as jointing tape — but these are generally minimal additions.
Overall labor costs
Labor costs for artificial turf installations in the Dallas-Fort Worth area range from $3 or $4 per sq. ft. up to $9 or $10 per sq. ft.
So, a 1,000-square-foot installation adds anywhere from $3,000 to $10,000 in labor costs. A relatively simple backyard lawn should be closer to the low end of that scale while more complex jobs cost a little more in labor.
Labor and operational costs include:
Removal of the old grass
Delivery of the artificial grass, road base and infill
Preparation of the area for laying new artificial grass
Laying the road base and any special drainage requirements
Cutting and laying the grass
Spreading the infill
Tidying up
Generally speaking, labor costs contribute about half of the total cost of the installation. Don't skimp on these by choosing an inferior supplier — check that you hire an experienced team that is up to the task…like our team: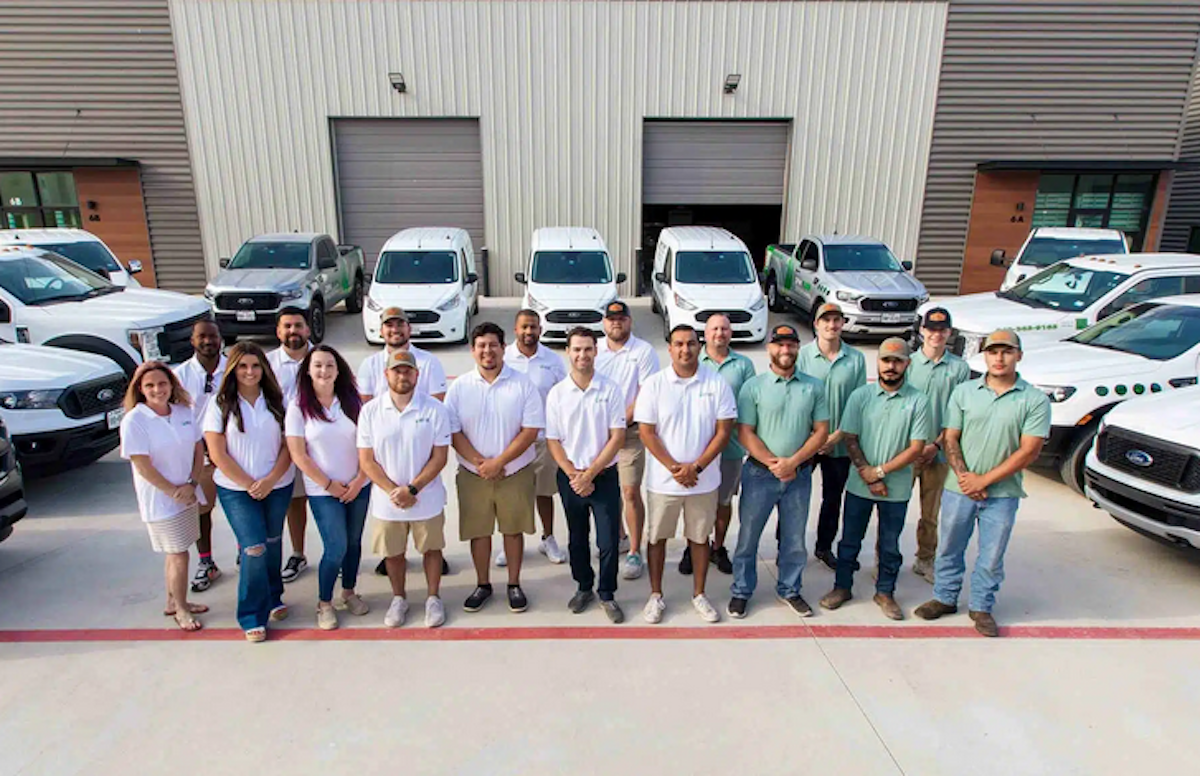 Landscaping requirements
If you're looking to redesign your entire yard, this probably requires more than simply installing artificial grass.
Optional landscaping services can greatly increase the total project costs. These include:
Removal of trees/stumps: from a few hundred dollars to over $1,000.
Landscape edging: metal, wooden, stone, brick, concrete or plastic frames to contain the road base and anchor artificial turf (typically $4 to $11 per linear foot).
Retaining walls for raised flower beds: typically, from $40 to $350 per linear foot.
Water features: water fountains, tiered garden fountains, etc.
Pathways: pavers can be laid across the lawn, adding to complexity and costs.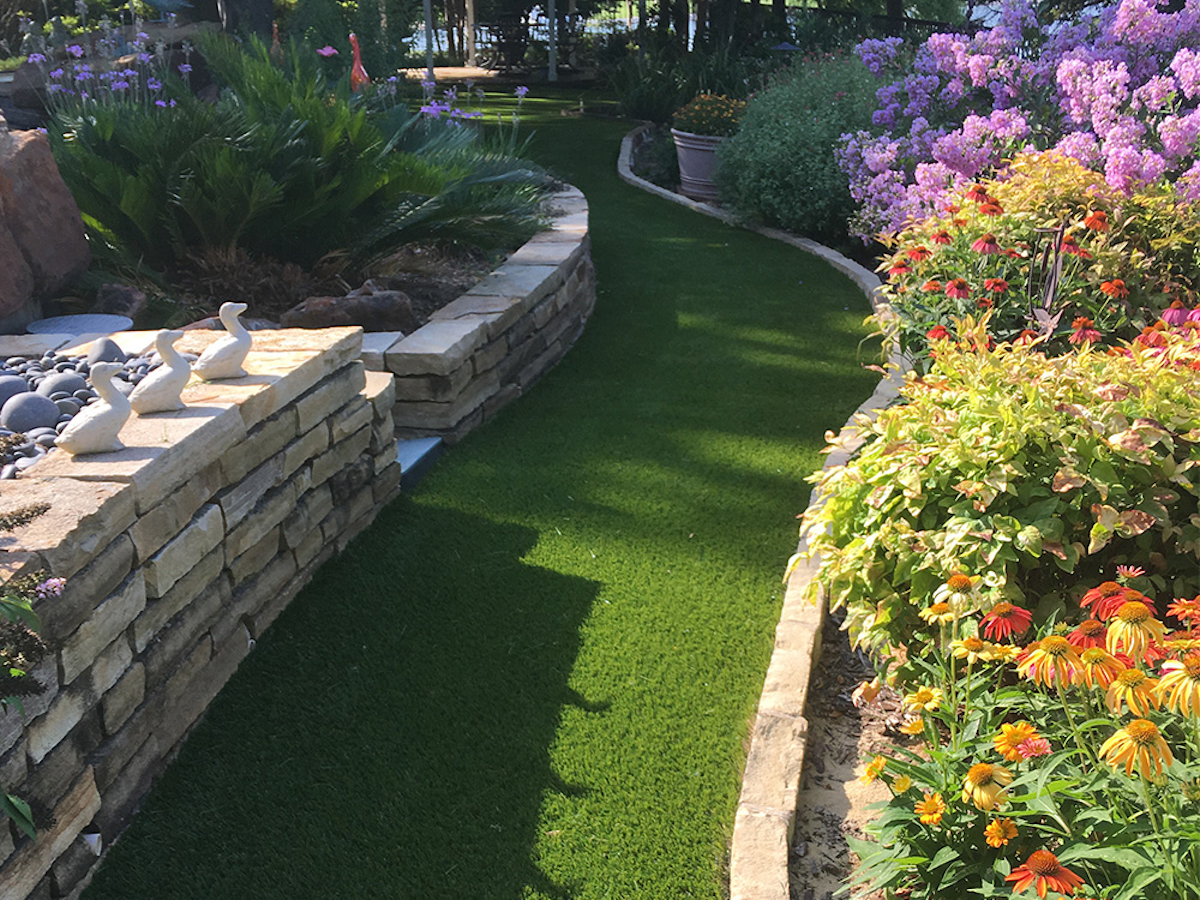 Understanding artificial grass estimates: a few quick tips
As you research artificial grass companies before deciding on the supplier to use, you'll see plenty of offers for "free estimates".
Be wary of companies that offer a free initial phone consultation but charge for callouts to inspect your property before preparing a quote. Each visit to your property is likely to be charged at $75-$100, which is a hidden cost.
It's best to get several installation quotes before going ahead but make sure that when you make your decision, you compare like with like. Not all artificial grass is the same quality, not all quotes include the total costs and not all expertise is the same. Check credentials, licensing and customer reviews before committing: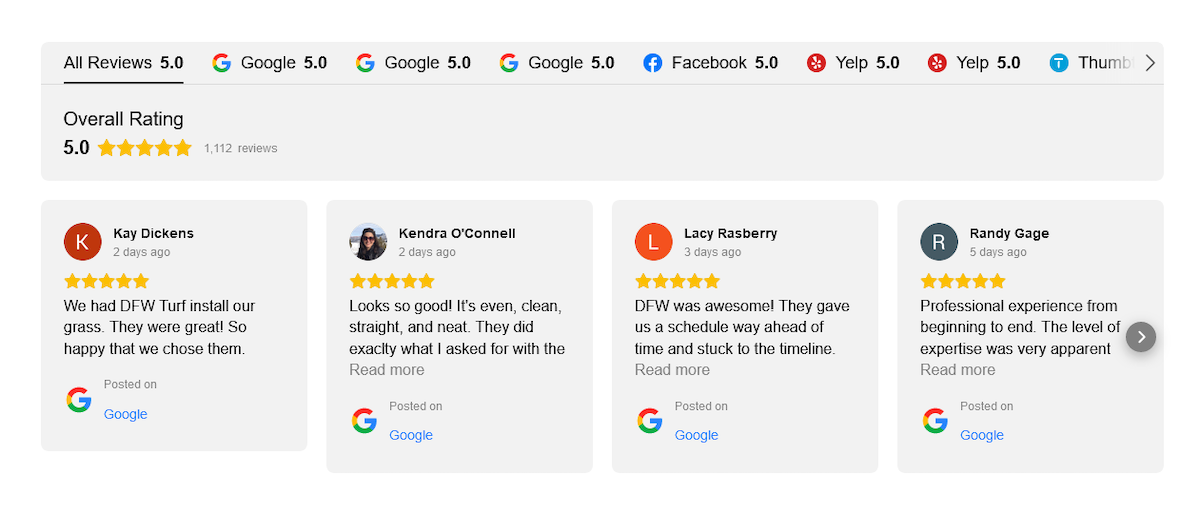 At DFW Turf Solutions, we offer the benefit of our decade-long industry expertise. Our free estimates are 100 percent free and will remain so. We believe in price transparency and the price you're quoted will be a fair reflection of the true end cost to you.
DIY artificial grass installation: Yes or no?
Beware of "false economies" with artificial grass installations.
Some homeowners see that labor costs contribute around half of the total installation costs of artificial grass and decide to go the DIY route to save money.
The truth is it may end up costing you more — even if you're generally competent with DIY.
Because of the specialist skills required to install artificial grass, we don't recommend doing it yourself. The job involves a lot more than simply rolling out a carpet. The ground preparation and laying/compacting of the base layer alone requires considerable skill — even on a relatively straightforward flat area.
In more complex areas with poor accessibility or major sloping, it's even more challenging to get right.
Potential issues with DIY artificial grass installations include:
Uneven lawn with bumps
Visible crushed rock at the margins
Excessive weed and grass growth through
Blades reflecting the sunlight
Visible seam tape or stakes/staples, etc.
Drainage issues
This front lawn clearly wasn't installed by professionals: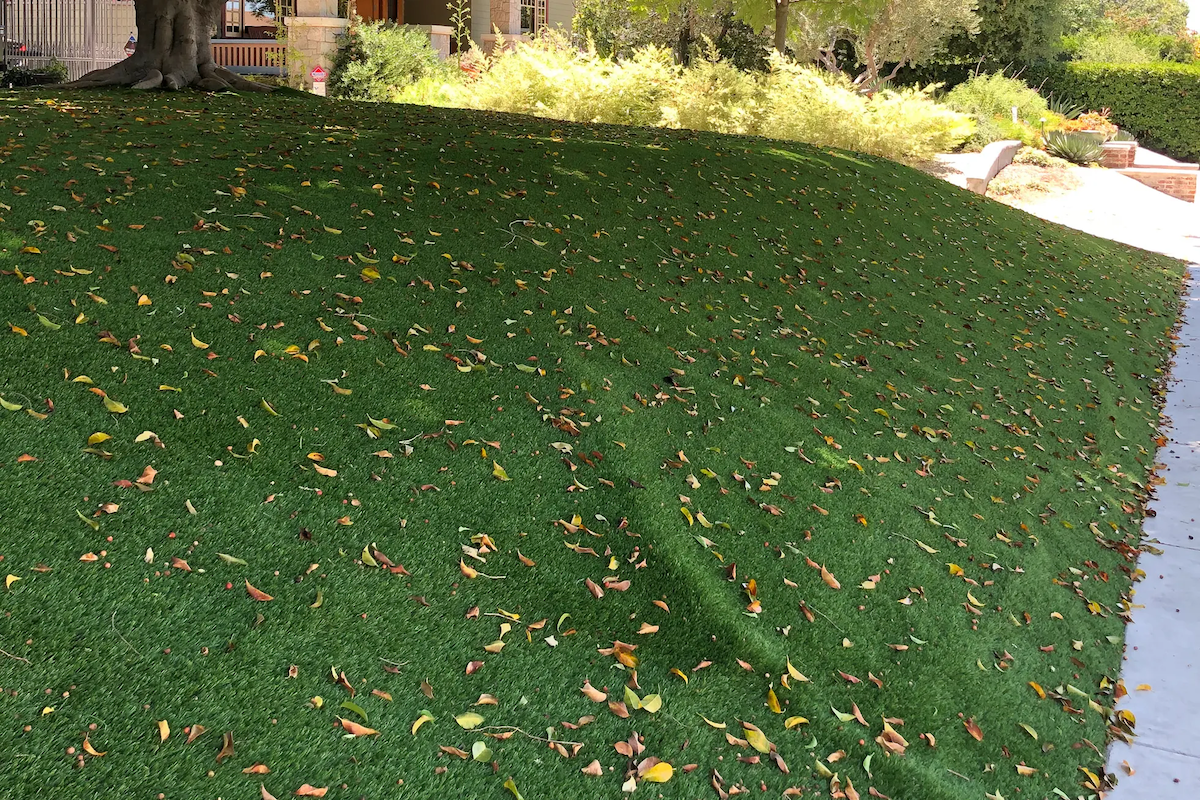 If such problems occur, you may have to call in a professional team to fix up the problems.
Professionally installed artificial grass should last 12 to 15 years or more even with moderate to heavy traffic but a poor-quality installation could shave years off its life.
The 15-year installation workmanship warranty we provide at DFW Turf Solutions is non-standard in the industry and is a measure of our quality and expertise. Our team members receive extensive training before venturing into the field for installations.
What tools are required for DIY artificial grass installations?
The following tools and equipment are needed for a DIY installation: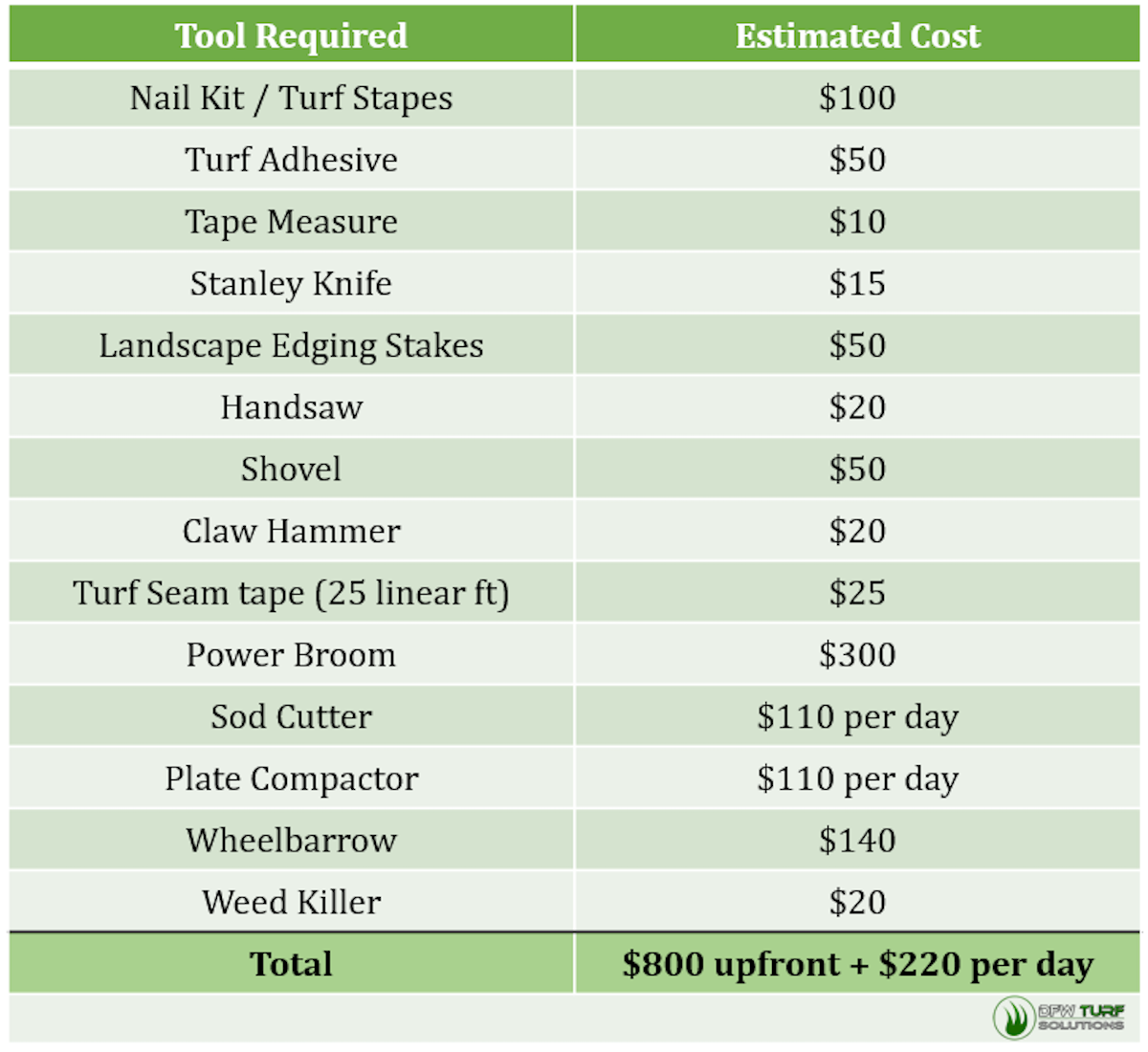 Even if you don't buy all of these, it's likely that you'll spend quite a few hundred dollars equipping yourself for a DIY installation. Generally, with artificial grass, the possible risks of DIY outweigh the gains and it's best left to the pros.
Cost of artificial grass vs. real grass
Artificial grass is more expensive to install than real grass. A real grass lawn costs around $1 to $2 per square foot to install — between $1,000 and $2,000 for a 1,000 sq. ft. lawn compared with $9-12,000 for an artificial grass lawn.
The cost benefits of synthetic grass come later when its durability and low maintenance mean a very low cost of ownership compared to real grass sod. Real grass needs considerable resources, effort and money ($1,000 per year or more) to look after and keep looking immaculate while artificial grass needs very little maintenance.
According to some standard calculations, an artificial grass lawn will pay itself back after six years in lower maintenance costs. That's not a bad return on investment when we consider the 12-15-year life of the average synthetic grass area — and the potential for even longer.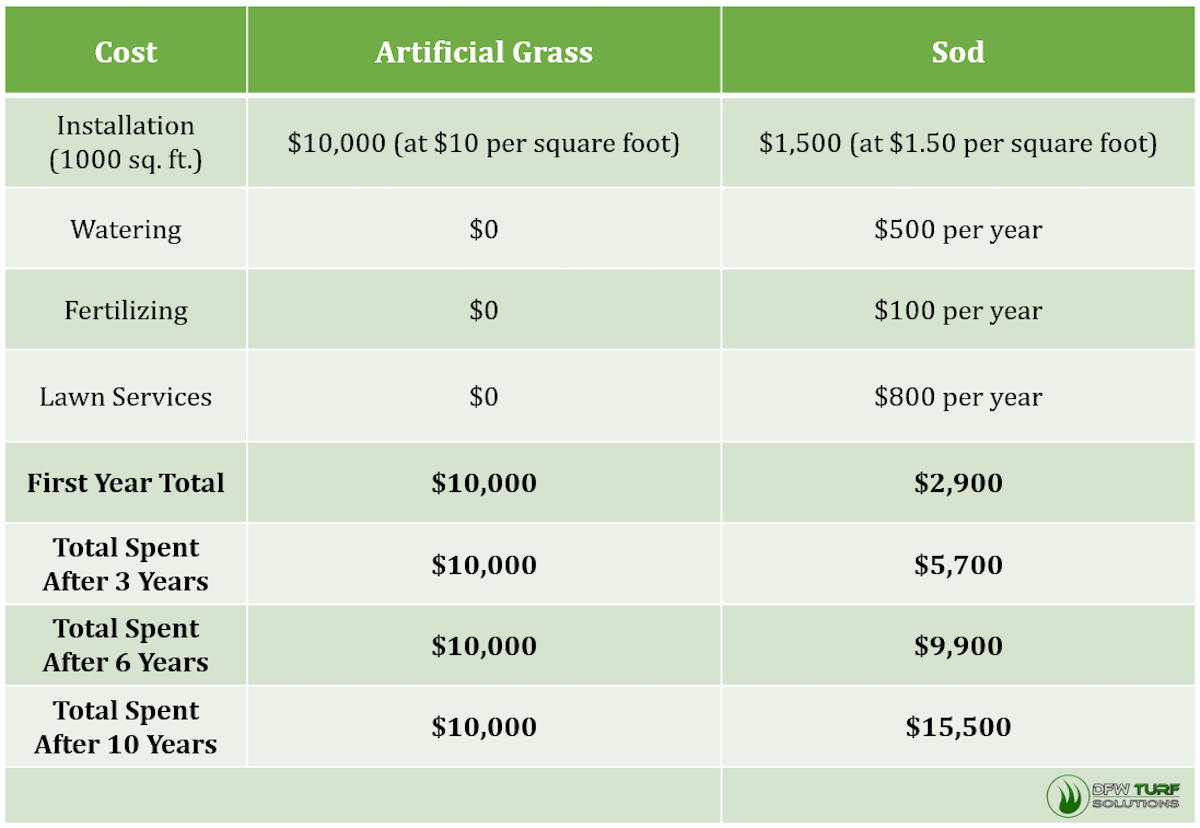 FAQs
How long does artificial grass last?
The high-quality artificial turf installed by DFW Turf Solutions generally last 12-15 years even with medium traffic — and often up to 20 years or more. It does depend on usage and whether some basic maintenance steps are taken.
How much is a backyard golf green?
A backyard putting green requires premium quality artificial grass, usually costing between $10 and $30 per square foot. The total cost will depend on the size, design, extra features and ease of access.
How much is artificial grass for dogs?
Pet turf systems require a few special features, such as higher durability and antimicrobial infill to keep these areas safe, hygienic and long-lasting.
Your turf is likely to cost closer to $12 per square foot than $7. Generally, a dog-friendly 1,000-foot lawn area should cost between $9,000 and $11,000.
Save time AND money with your artificial grass project…
If you can navigate the initial cost of artificial grass installation, you'll have an investment that pays itself back after about six years and then saves money for every year after that.
That's pretty attractive for Dallas home and business owners, especially when we consider the other major benefits like water conservation and environmental benefits.
When you calculate your artificial grass costs, factor in the labor costs as well as the cost of the grass and materials — and make sure you compare like for like with estimates.The DFW Turf Solutions team has been installing high-quality artificial turf in Dallas-Fort Worth since 2014. Reach out to our helpful team by calling (940) 365-9165 and we'll be happy to provide a quote.