When it comes to upgrading your home or commercial space with new artificial turf you may begin to wonder if the cost of installing artificial turf is worth it. The best way to determine this is to know how long your artificial grass will last.
Afterall, one of the significant reasons homeowners choose artificial grass is for its minimal maintenance, and year-round lush green look, not to mention artificial grass is perfect for backyard golf greens, pools, and pets.
Like any product, not all turf products are created equally, and the life expectancy will be highly dependent on a variety of factors which we will discuss in this article.
See Also:
Lets jump into the quick answer.
How Long Does Artificial Grass Last?
How long artificial grass will last is highly dependent on the product, installation quality and overall care. With proper care, artificial turf can last up to 20 years or longer and can pay for itself in less than 5 years.
With that in mind, let's take a look at some of the factors that can significantly affect the lifespan of your synthetic turf.
See Also:
What Factors Impact How Long Turf Can Last?
The Quality Of Materials
Material quality is arguably the most crucial variable to consider when you are trying to estimate how long your synthetic turf will last.
For example, artificial grass made of basic quality plastic won't hold up well under heat or extreme weather changes. It may get damaged and the color may start fading away within just a year or two. 
On the other hand, artificial grass made of synthetic plastics (such as nylon or polypropylene) is resilient and durable. These materials are highly resistant to the grueling summer heat in hot regions like Dallas as well as the coldest, snowy winters. These materials are also pretty much stain-proof. This allows high-quality artificial grass to look and feel as beautiful and green as possible, and for as long as possible.
So, if you want to extend the lifespan of the synthetic turf that you buy, make sure you are purchasing the highest quality products.
When it comes to how long your turf product will last, it is absolutely critical to choose the right type of turf for your use.
For example, a homeowner looking for turf for their 3 dogs will need a different product than a non-pet owner who is looking for turf around their pool. This will be different from someone looking for premium turf for their backyard putting green. 
If you have questions about your turf application in the Dallas-Fort-Worth Area, reach out to us today for your free quote.  DFW Turf Solutions.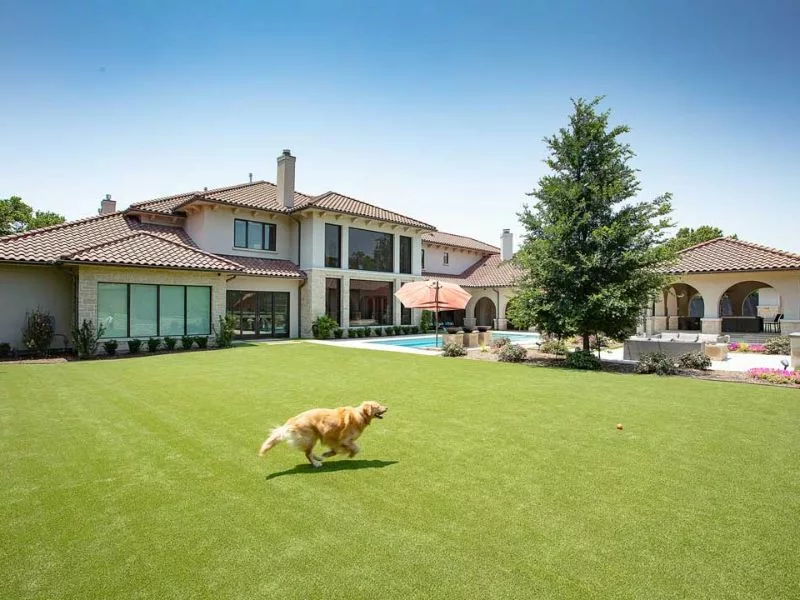 The Quality Of Installation
The quality of installation also plays a vital role in extending the lifespan of your synthetic grass. With the right installation, your synthetic turf is less likely to suffer from poor drainage, wrinkling, weed growth, and plant-based damage.
Although you can certainly install artificial turf in your yard yourself, we believe that it is a project best left to the professionals. From overworking the material to leaving visible seams, there are many things that can go wrong during a synthetic turf installation if it isn't done properly.
A professional installation service, on the other hand, ensures a high-quality and long lasting installation that will help your synthetic turf maintain a green and healthy appearance.
At DFW Turf Solutions we have special-grade pet turf designed for durability and to maintain the lowest temperatures possible. This provides an ideal environment for your pets that can stay considerably cooler than other turf options.
If you are still concerned about the temperature of the grass on really hot days, you can allow your dog to play in a more shaded area or do some of the following steps to cool your turf.
Proper Maintenance
One of the best qualities of artificial grass is that it requires minimal care. As soon as your artificial grass is installed, you can bid farewell to mowing, fertilizing, re-sodding, or watering and other tedious tasks that go hand in hand with the upkeep of a natural grass lawn.
That being said, you should still look after your synthetic turf if you want to keep it looking as perfect as the day it was installed.
We have an entire article on proper maintenance here.
There are two things that you need to include in your synthetic turf maintenance plan:
Brush/rake the infill: Lightly brushing or raking the infill periodically will dislodge areas where it has become compacted under an extremely high volume of activity. Raking the infill also helps your artificial grass blades stand upright, so that they can retain their natural look and feel.

Rinse off waste, dirt and debris: Rinsing areas where pets relieve themselves down with a hose will eliminate odors and prevent discoloration. Rinsing from time to time is also necessary to remove dirt and debris that falls from trees and bushes, and keep your lawn looking natural and new.
See our full article: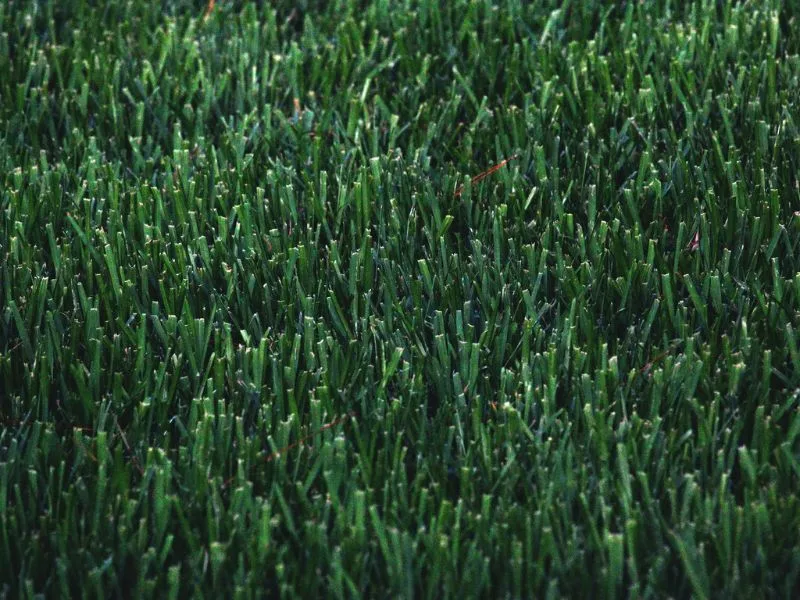 Minor Repairs
How often and what type of traffic your home's backyard receives has a lot to do with synthetic grass lifespan. For example, an artificial grass backyard where it will rarely be walked upon will naturally last longer than a yard that is home to daily games and pets that love romping through it.
The good thing is, high-quality artificial grass products are designed to be used more extensively and hold up well to daily wear and tear. Even if minor damage occurs – something sharp causes a small tear or a glass of orange juice spills and stains a small area – the turf can easily be repaired.
Our landscape professionals can fix seams or replace small sections where rips and tears might have occurred.
Pro Tip: If you spot an issue with your synthetic turf, deal with it as soon as possible or call our professional if you are not sure. When left unattended, a minor issue can result in a more damaging problem and expensive repairs in the future.
Summary
Synthetic grass is so durable and requires so little maintenance that it can pay for itself in less than 5 years. Even so, the particular grass product you choose — with the right maintenance plan — could very well end up serving you beautifully for at least 20 years, or even longer.
Looking For A Trusted Artificial Grass Installer In Dallas?
At DFW Turf Solutions, we work with top-of-the-line synthetic grass products in the industry. Plus, we use only the best tools and techniques in our unique installation services to provide Dallas – Fort Worth residents with an installation that guarantees customer satisfaction every time.
So, if you are thinking about switching to artificial grass for your Dallas home, get in touch with DFW Turf Solutions today and let our team of friendly experts introduce you to your next synthetic grass landscape.
Call us at (940) 365-9165 for a free quote on your next project.