How to maintain artificial grass?
Installing synthetic grass in your lawn or garden can help you save a lot of money in the long run as you do not need to water, reseed, add fertilizer, or mow the land. However, installing artificial grass is a big investment, and if you want a return from your money spent, you should take good care of it. The amount of maintenance required depends upon your individual requirements. If you have a lawn or garden that experiences pets or children, you will have to invest more time. If the landscape is surrounded by too many trees or is dusty, you need to spend more time. On the other hand, if the area does not experience too much foot traffic or does not include too much vegetation, maintenance will be easy for you.
So, let us discuss how you can take care of your artificial grass so that it looks great for long. If you have any questions, you should get in touch with DFW Turf Solutions, a trusted synthetic grass company in Dallas for the right solutions.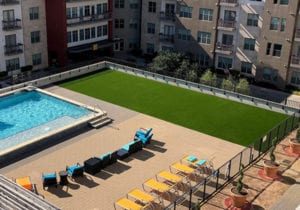 If you are ready to learn the tips to maintain artificial grass, read on.
Take care of dirt and debris
Dirt and debris are a real eyesore, and if they are left to build up, they can block the drainage system. The small particles from the leaves can block the filtering holes, affecting your synthetic grass. The best way to take care is to brush off any excess leaves once a week during autumn or in off-peak season. You can also use a leaf blower instead of a brush. A leaf blower is easy to use and will remove all the small particles. They will also help in putting the strands back into the upright position.
Remove the stains
No doubt, you can find stains or marks on your artificial grass. If you find them, don't worry. You can remove them easily using hot soapy water. While there are many cleaning agents to remove stains and marks, you should stick to safe, eco-friendly cleaning products to prevent damage.
Seasonal upkeep/care
While you should brush the fake grass regularly on a monthly basis, there is some maintenance that is required during certain seasons. During summers, when you and your loved ones are likely to be out in your garden or lawn, you should maintain the high traffic areas properly. The good thing about artificial grass is that it is protected against damage caused by the frost. Use weedicides
You will find weeds in your garden even after you install artificial grass.  So, instead of letting them grow further and cause more damage, you should take proactive steps. Treat the artificial grass with weedicide to maintain your artificial grass once in a while.
Remove stink
A bad odor will not affect your artificial grass but you will not leave your fake grass to stink. If pet urine or excrement is a problem, use an effective cleaner to remove the bad odor.
Rinse the synthetic grass regularly
You should rinse the artificial grass frequently with water and when needed to get rid of debris, dust, and other waste.Use a mild and safe detergent to clear away dirty spots.
Maintain your artificial grass post installation
Just after the synthetic grass is installed, you will find excess sand on the surface of the turf.  You need to just sweep   the  sand across the synthetic grass to make its way to the right place.
At DFW Turf Solutions, we are a team of technicians with relevant knowledge and expertise in the artificial grass     industry. We hold the reputation for providing the best artificial grass in Dallas Texas.
Here we will also share some bonus tips for maintaining artificial grass
Prevent sharp objects like broken glass coming in contact with the artificial grass
You should not use strong and harmful detergents like a bleaching agent for your lawn
Avoid sources of heat near the artificial grass

Keep chewing gums and adhesives away from the fake grass
Keep an eye on the damage that pets and kids can cause
Trim over-hanging trees to reduce the amount of debris or leaf litter
These are a few simple steps to maintain artificial grass so that it stays in excellent condition for the long term. If you have any questions on how to maintain your artificial grass lawn, call us. You can also get in touch with us to discuss the benefits of installing synthetic grass in your lawn or garden.
DFW Turf Solutions is committed to providing the best artificial grass service in the Dallas-Fort Worth Area
We are committed to making your life easier by providing you with low-maintenance synthetic grass at competitive pricing. We have artificial grass experts in Dallas that can help you transform your outdoor landscape. Our huge stock of artificial turf will allow you to sit back, relax, and enjoy the benefits of a green and lush lawn all year round.
Give us a call today for a free estimate!

DFW Turf Solutions, "A synthetic grass company", is focused on customer service, quality control, and water conservation.

4700 US-377
Building 6B
Krugerville, Texas 76227
12300 Ford Rd B321, Farmers Branch, Texas 75234