Whether it's because of the scorching temperatures, local water restrictions or a distaste for yardwork, more Texans are making the switch to artificial grass.
Globally, the artificial turf market is projected to grow at 6.72 percent until at least 2030. One of the most notable trends has been that homeowners — rather than commercial enterprises or sports field owners — account for much of this growth.
So, what are the benefits of artificial grass that are driving this huge interest?
We've taken on board what DFW Turf Solutions clients have told us and compiled a list of the main reasons why people in the Dallas Fort Worth area are increasingly making the switch to synthetic grass from real grass.
Here are the 21 main benefits of synthetic turf for homeowners in the DFW area:
Let's dive into them straight away…
1. Aesthetics
Much of the recent interest in synthetic grass can be attributed to the fact that it looks and feels more realistic than it used to — as you can see from the stunning installation for one of our clients in this image: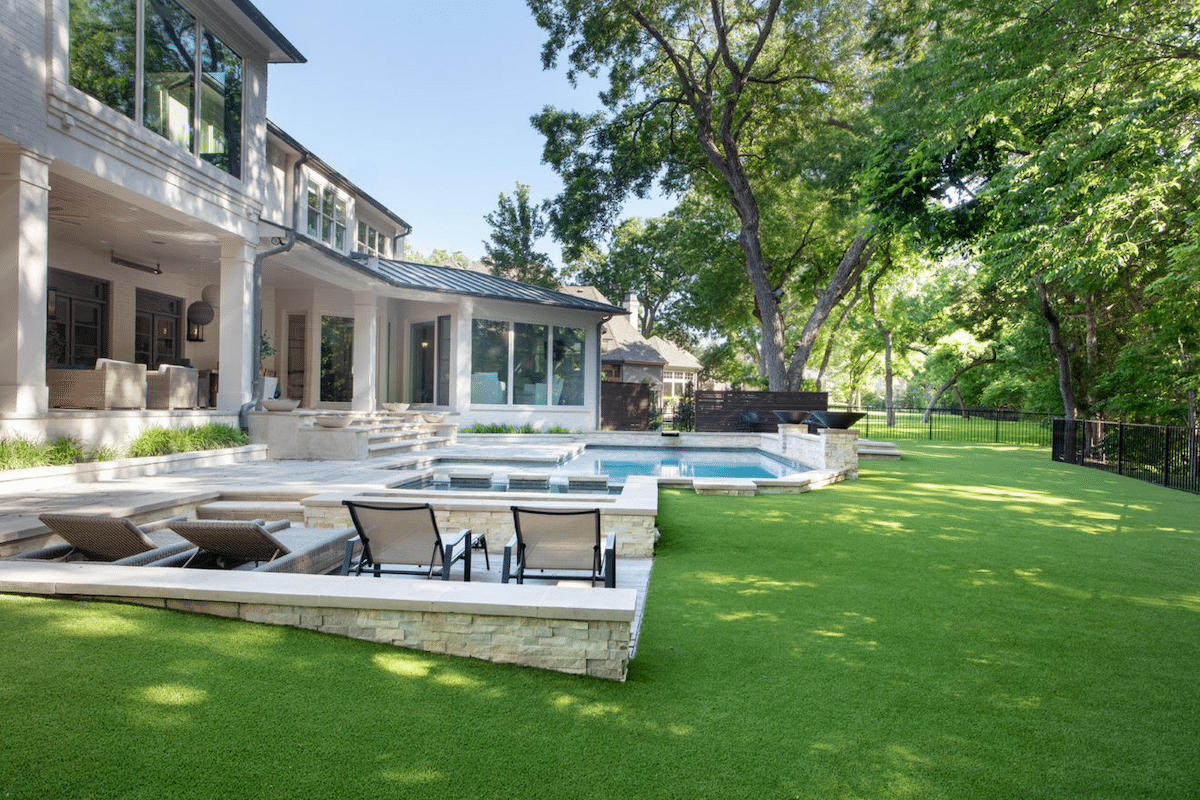 Some people still imagine 1980s sports fields when they think of artificial turf. However, with the advance of technology, it's difficult to tell the difference at first glance between high-quality fake grass and the real thing in 2023.
Gone are the harsh spiky feel, the unrealistic coloration and the shiny appearance. Instead, modern, high-quality artificial grass is soft and inviting, as verdant as a freshly mown lawn and inviting for all the family, including your pets. It even springs back into perfect shape again after heavy foot traffic.
The best artificial turf also includes the imperfections of real grass, such as brown-colored thatch and dual-toned blades, which give it a more realistic appearance. It also comes in a wide variety of blade lengths.
2. Water Conservation
There are few states where water conservation is more important than in Texas.
The Dallas and Fort Worth areas have recently announced water usage restrictions because of ongoing drought conditions:
Irrigation of landscaped areas with hose-end sprinklers or automatic irrigation systems is strictly prohibited between 10 a.m. and 6 p.m. from April 1st – October 31st. In Dallas, there's a maximum twice-weekly watering limit in play too.
Naturally, this severely impacts homeowners with lawns and gardens that need continuous watering — and it could get worse.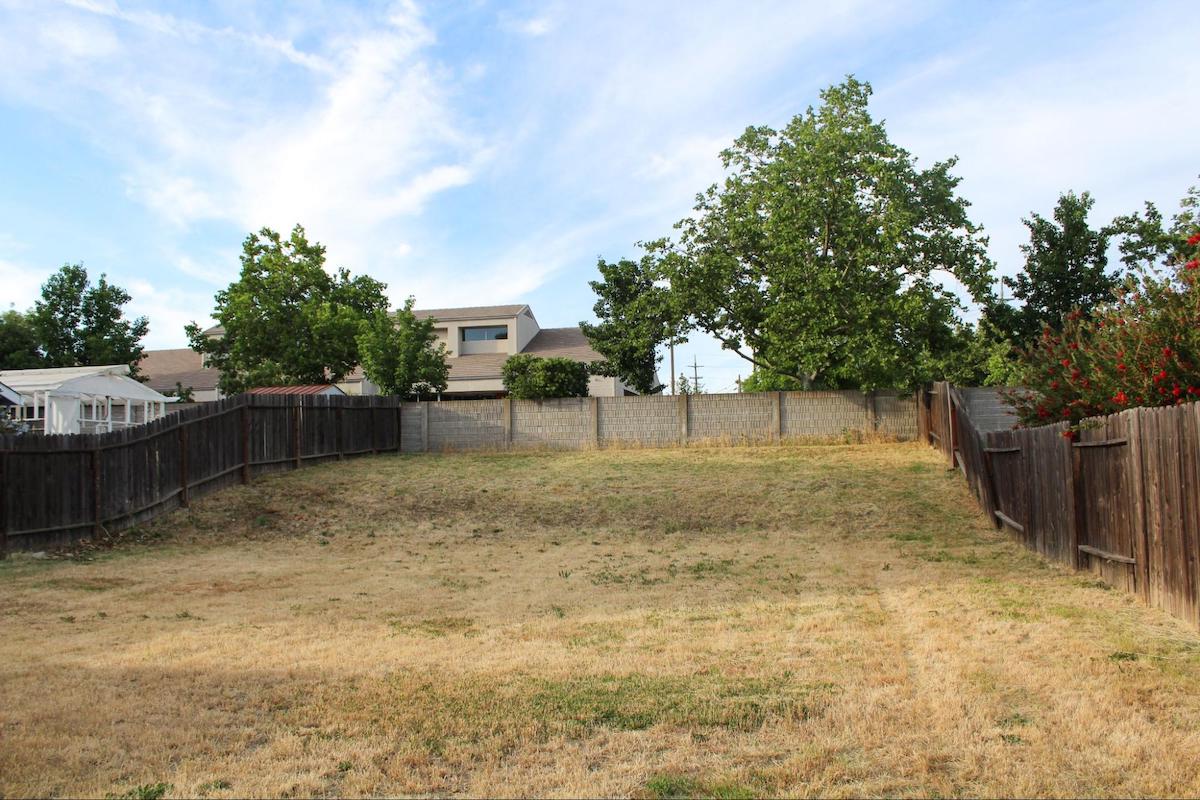 One of the main benefits of artificial grass is that it looks fantastic without any water. An occasional rinse is all that's required.
Over one-third of residential water is used for lawn irrigation nationwide. A turf lawn of 1,000 square feet can save around 55,000 gallons of water per year or about 70 percent of a homeowner's water bill. Even if artificial turf receives no water at all, it will still look mainly fine provided other basic maintenance is performed from time to time.
3. Saves Money Every Year
Monthly water bills are reduced by 70 percent if you don't need to irrigate a grass lawn — but you also save money in other ways.
Additional costs to maintain a real grass lawn include the cost of fertilizers, weedkillers and pesticides. Many homes must also pay the cost of lawn services required to keep the yard looking presentable.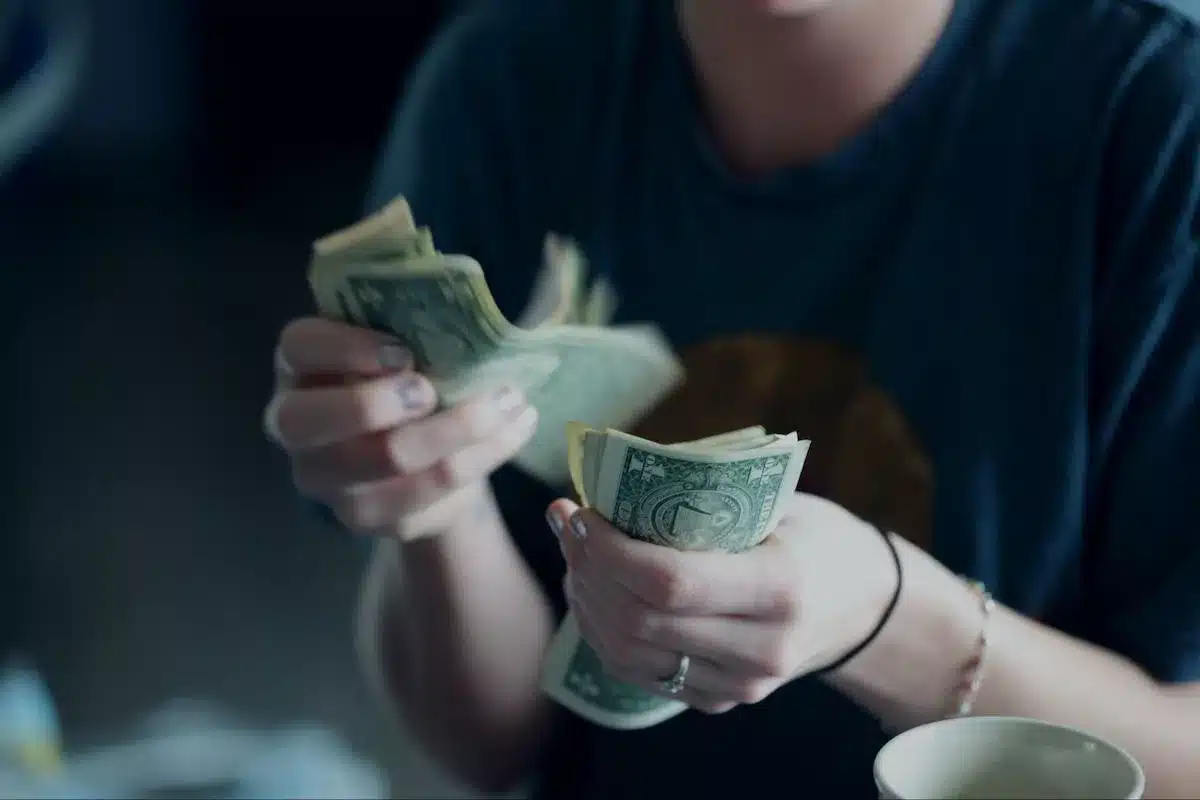 There are none of these additional costs with artificial grass. So, a synthetic lawn will end up saving you money every year, which leads us to the next point…
4. High Return on Investment (ROI)
The cost of artificial grass compared with real grass is always a major factor to consider before making the switch.
Although the installation costs of synthetic grass are considerably higher than seeding a lawn or installing grass sod, your artificial grass starts paying you back for your investment from day one.
By the fifth or sixth year, the installation costs will have been paid back in full. Every year thereafter, synthetic grass saves you money compared with real grass — as you can see from the following graph: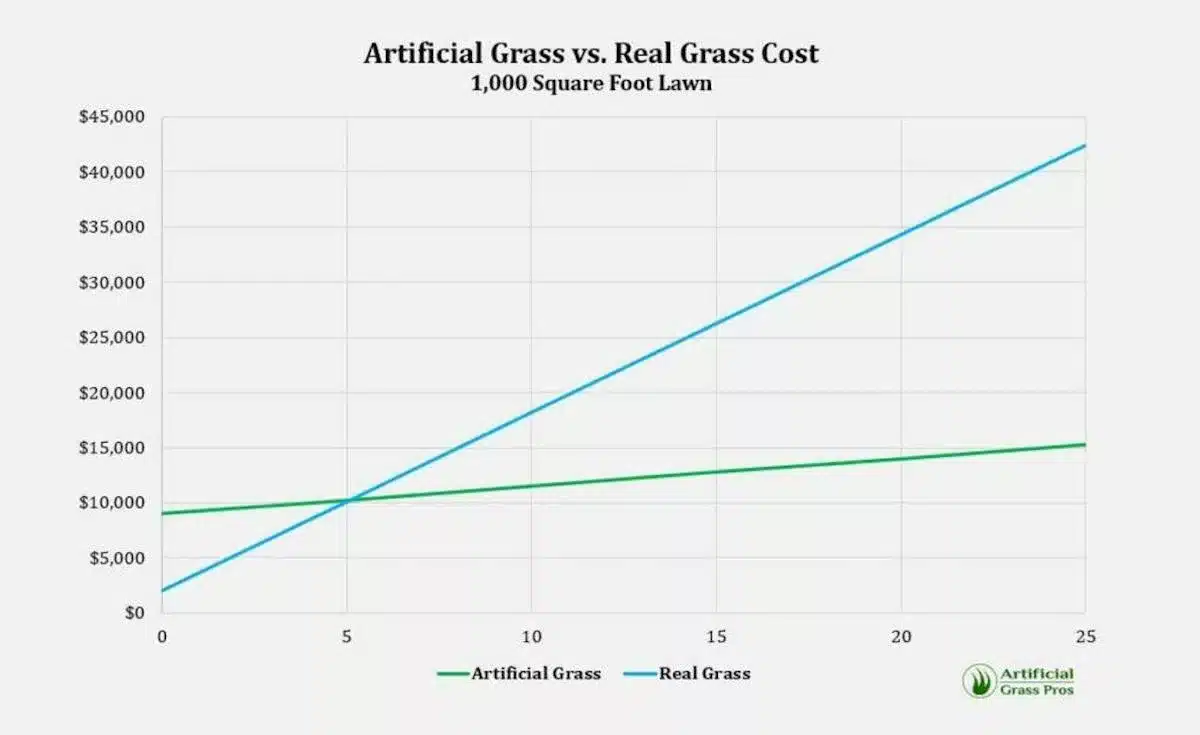 5. No mowing or trimming
One of the big benefits of artificial grass is the lack of maintenance required. This can free up many hours every year for homeowners who'd rather be doing something else.
While artificial grass is not completely maintenance-free, it needs barely any attention to remain at its best — and certainly, no mowing, trimming, aerating or re-seeding after it's installed. So, there's none of this: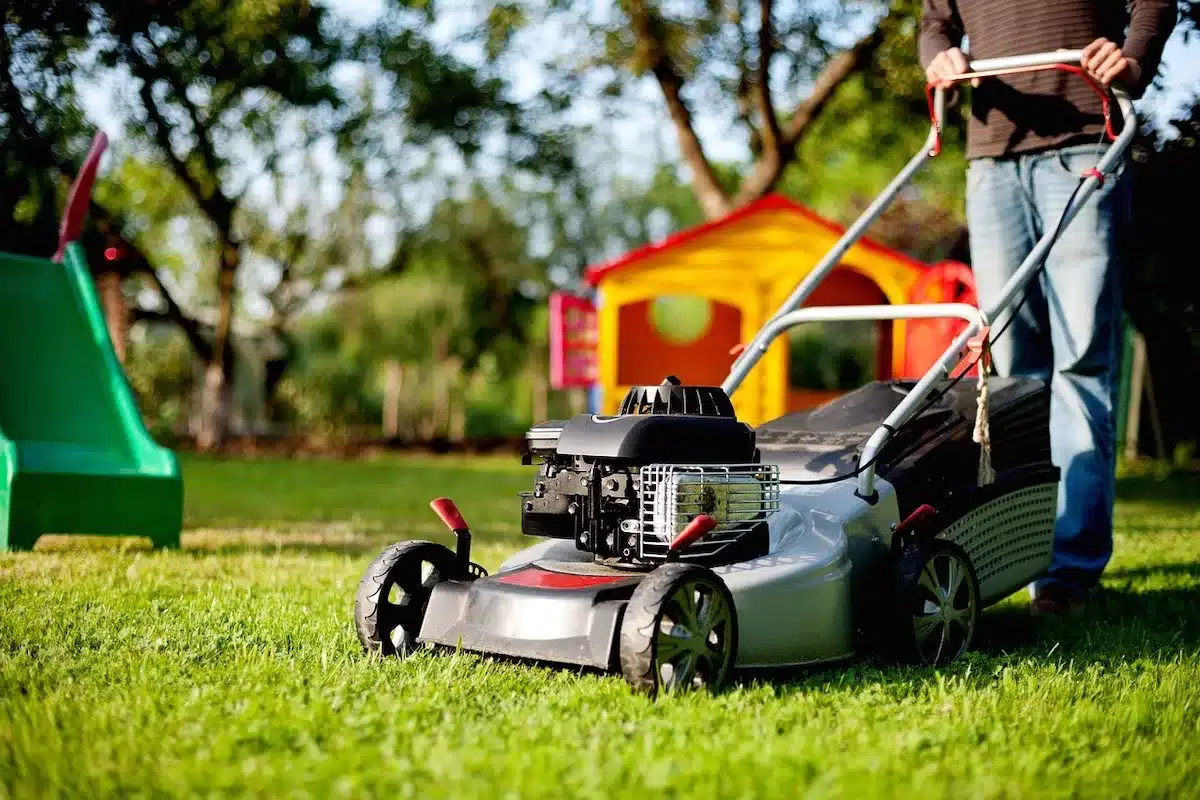 There are multiple benefits from this — not only does it free up time but it also has cost benefits (discussed previously) and environmental benefits (discussed later).
6. Safe and non-toxic
If you're considering switching to a synthetic grass lawn that all the family are going to use, safety should be a primary concern.
There are very few concerns over the safety of artificial lawns that use high-quality products and are installed professionally. They are flat, even and free of tripping hazards. Synthetic grass also uses materials such as polyethylene, polypropylene and nylon (which are non-toxic and commonly used around the house) and requires fewer chemicals than real grass to maintain.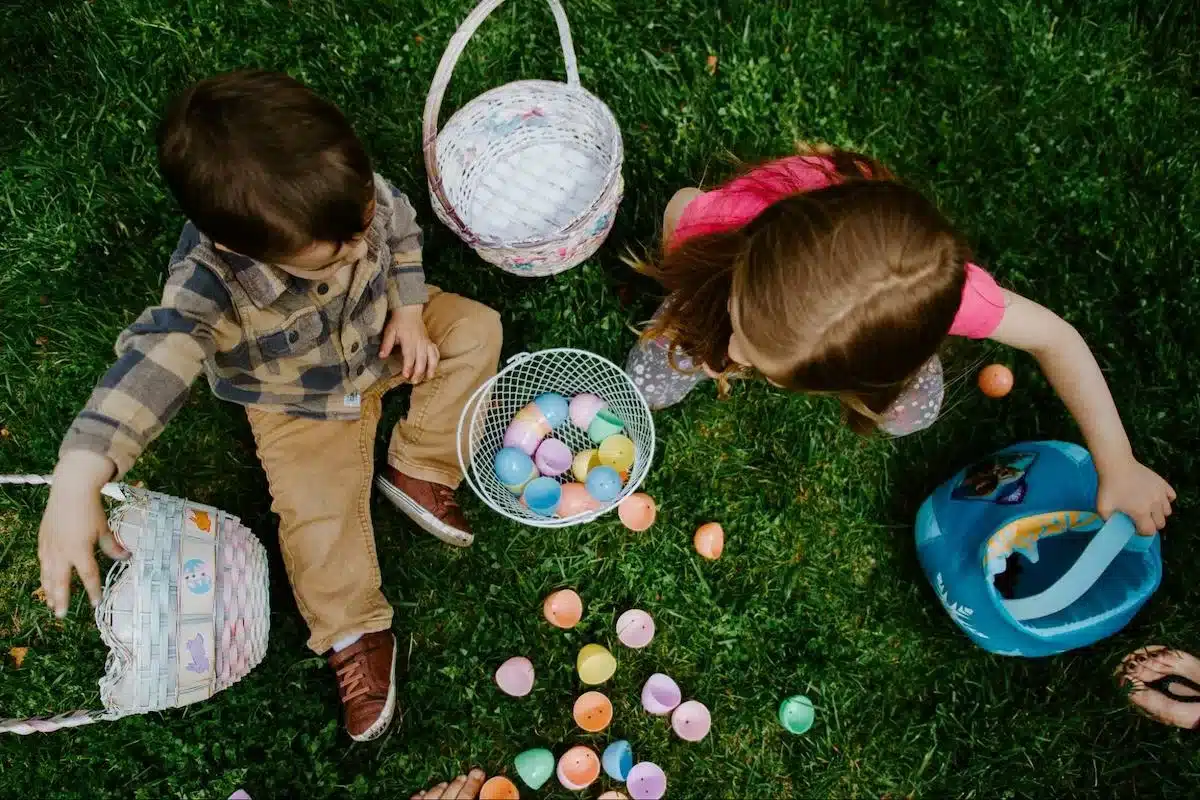 This all makes for a safe and healthy space that can be used by all the family in all conditions!
7. No bald spots, weeds, mud or burrowers
Another of the benefits of synthetic turf is that you won't need to deal with many of then problems that afflict real grass. Your lawn looks immaculate all the time, with no bald spots, muddy patches, potholes or burrowers to contend with – and fewer weeds.
Some grass lawns end up looking like this unless they are not treated with lavish amounts of TLC: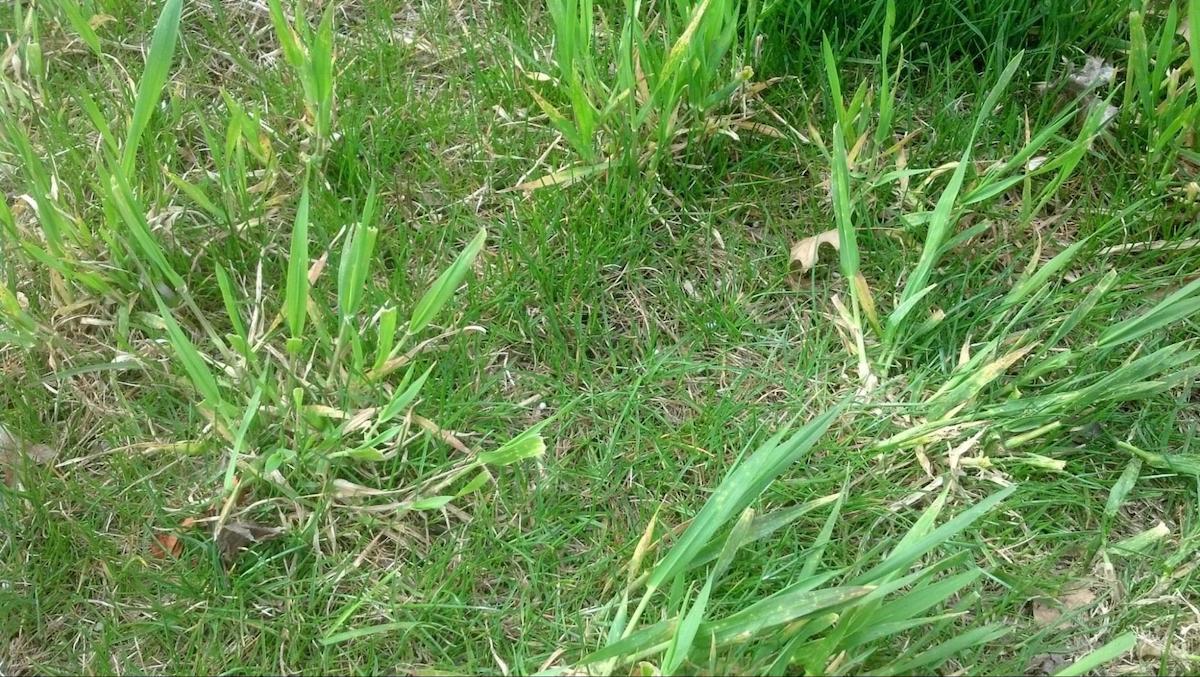 Dealing with weeds is also much easier with synthetic turf. You may need to remove a few weeds from artificial grass infill but none of the heavy weeding that is often required with real grass.
Other than that, all you'll need to do is remove a few leaves or debris in the fall or after a storm and rinse the area down from time to time.
8. Usable all year round
An artificial grass area can be used all year round — come sunshine or rain. Even a big freeze like Texas saw in the winter of 2022/23 won't harm an artificial lawn in the long run.
Being usable all year allows families in the Dallas-Fort Worth area to enjoy their backyards — whether it's by the swimming pool, on the backyard putting green, in a kids' play area or simply enjoying a family picnic or barbecue on the lawn, like this family: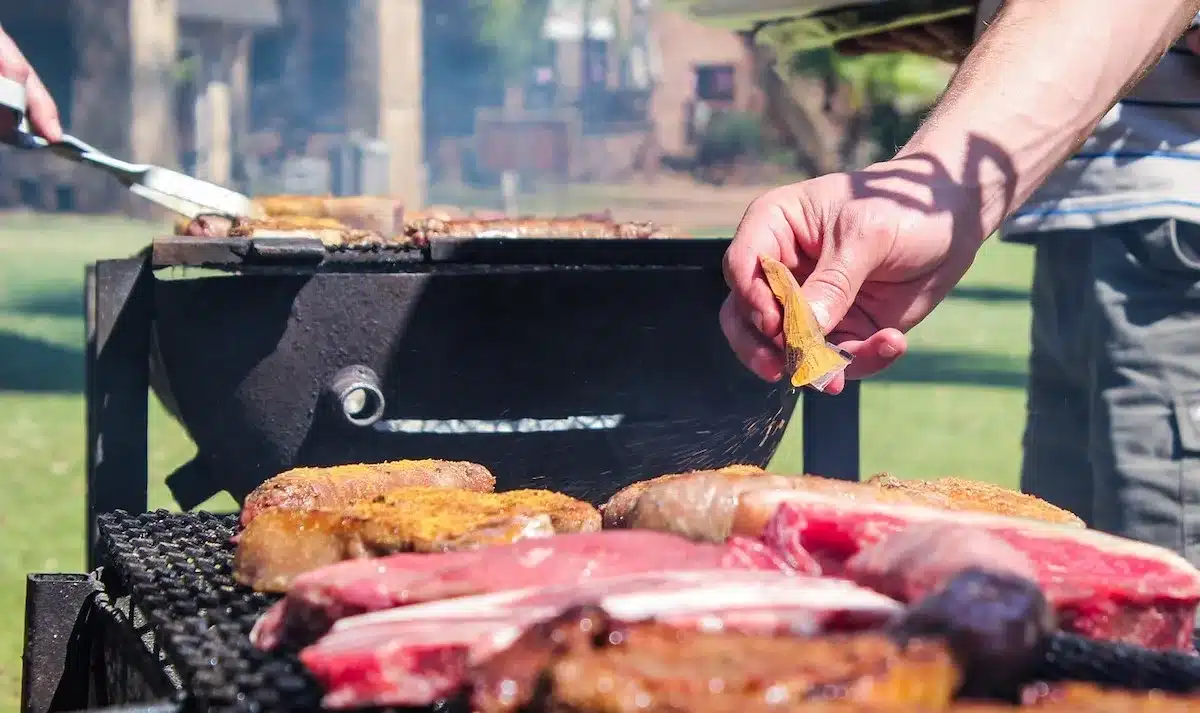 9. Versatility
Another benefit of artificial grass is its versatility. Not only can it be used in a variety of ways in backyard areas but there are also plenty of front yard ideas for artificial grass. It can also be installed on balconies, decking, rooftops, in entertainment areas and even indoors.
Synthetic turf is also popular for backyard bocce ball courts, volleyball courts and tennis courts or other recreational areas: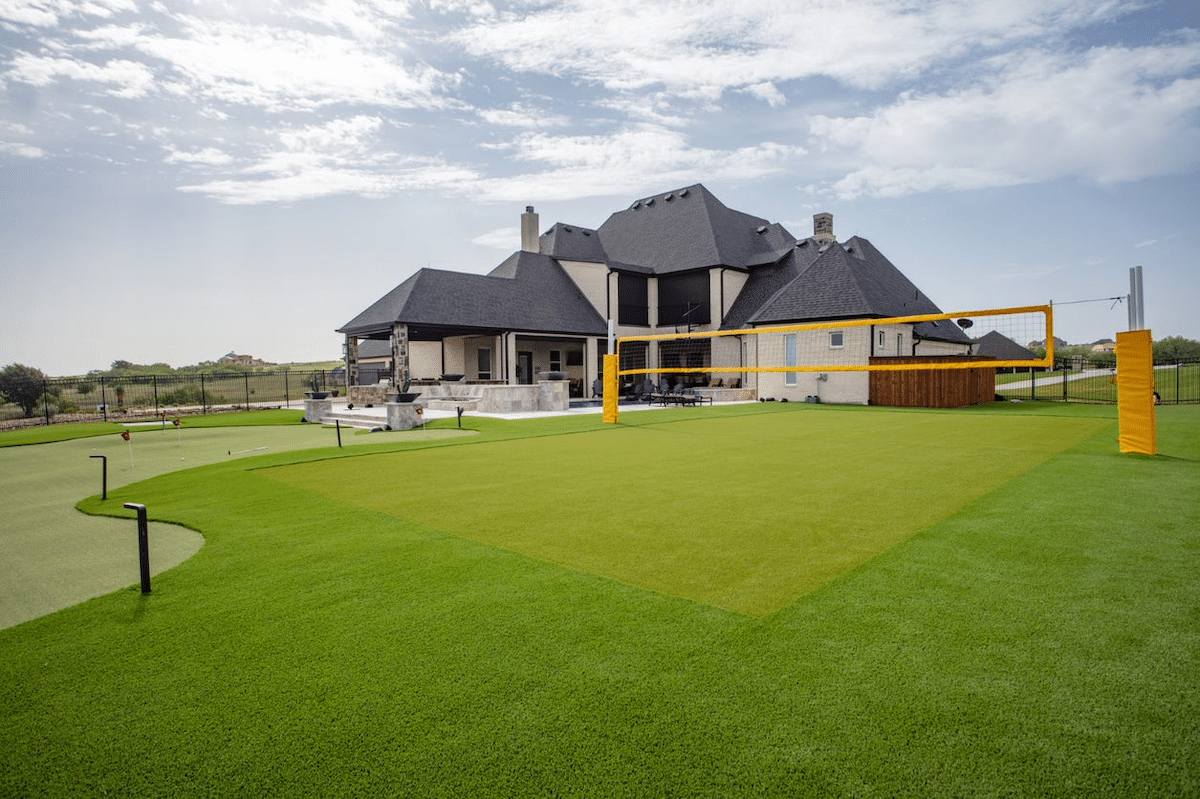 Because it needs no sunlight or water to grow, artificial grass is much more versatile than real grass — for both domestic and commercial applications.
Commercial artificial turf is installed on sports fields, wedding venues, hotels, restaurants and other businesses where a fantastic grass lawn adds to the curb appeal and beauty of the venue. Many homeowner associations and property managers also choose artificial grass in common areas for easy maintenance and curb appeal.
10. Environmental benefits
We've touched on the environmental benefits of artificial grass already with water conservation. There's more to it than this though.
Most homeowners are not aware of just how much fuel they use by cranking up the mower so regularly in the growing season. Small-motor, gasoline-powered equipment like lawnmowers emit approximately 242 million tons of pollutants annually and contribute to climate change as much as cars and homes.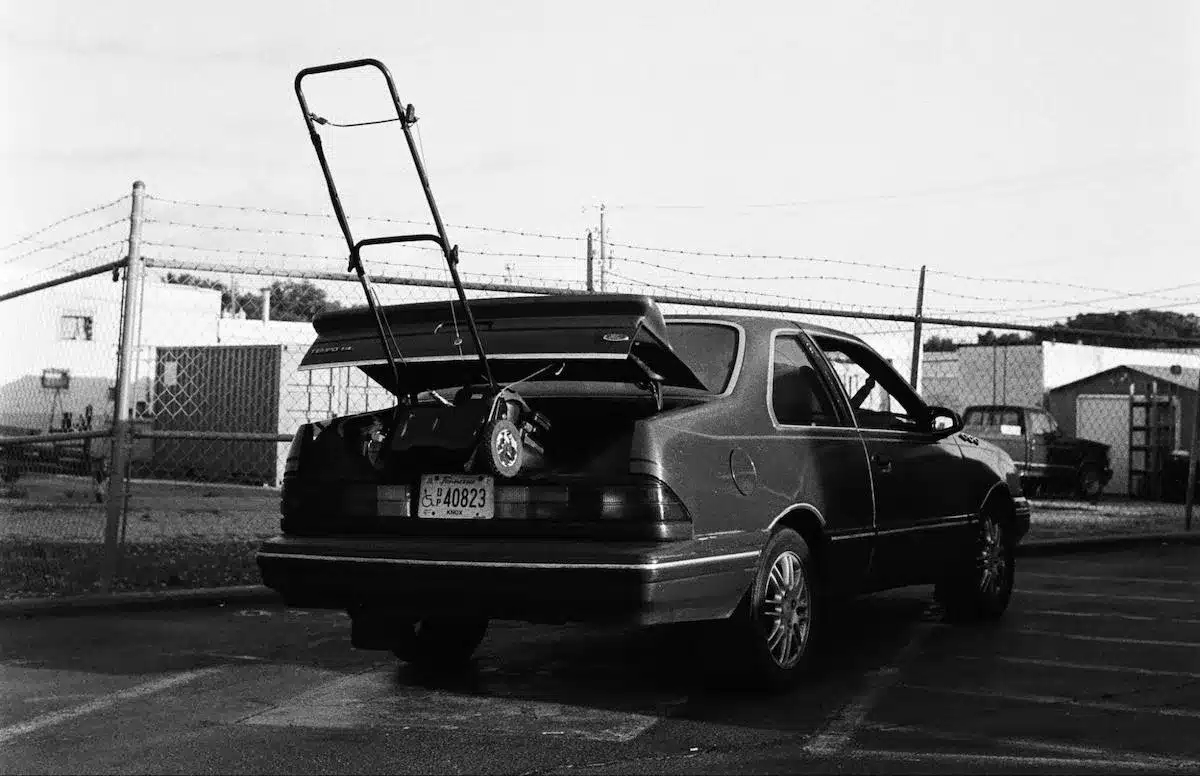 In addition to the lower emissions with synthetic grass, there's the lack of requirement for fertilizers, pesticides and weedkillers, meaning a lower toxic load and less seepage into the water supply.
Proponents of real grass may point to the fact that artificial grass is petroleum-based and not biodegradable, as well as to the use of crumb rubber in the infill.
While artificial grass may end up in a landfill, its longevity (it generally lasts decades) means that this is less of a concern. Besides, the crumb rubber once used as infill in many installations has largely been replaced by silica in home installations. Athletic and sports fields in the U.S. may still use crumb rubber made from recycled tires.
11. Increases curb appeal and home value
Beauty is in the eye of the beholder — but no potential home buyer likes the look of an overgrown or unkempt garden or lawn area outside a home.
With an artificial lawn, you don't have to worry about that. Looking pristine is normal and home buyers will be impressed with the added curb appeal. A tidy front lawn and backyard area suggest the inside is also well-kept — encouraging more potential buyers to come knocking.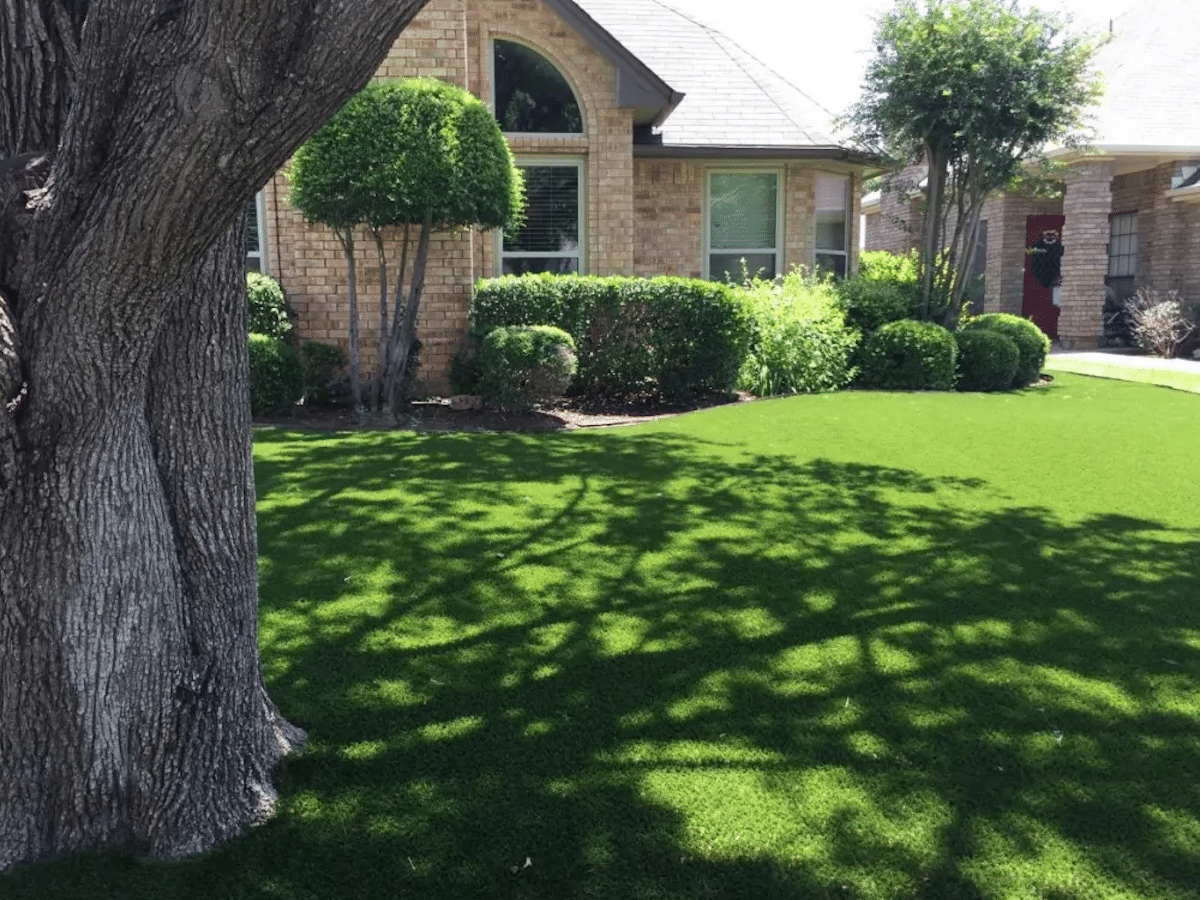 For home buyers in the Dallas-Fort Worth area, water usage has become a primary concern as we already know. An artificial grass lawn needs no water to stay beautiful and, for that reason alone, it can increase a home's value.
12. Safe playing surface for kids
Professionally installed artificial grass is ideal for kids' play areas and parents can sleep easy knowing that their children are not going to be injured from a hard fall.
Whether it's a backyard play area, school playground, park or athletic venue, children can run, play and jump on high-quality artificial turf without parents worrying.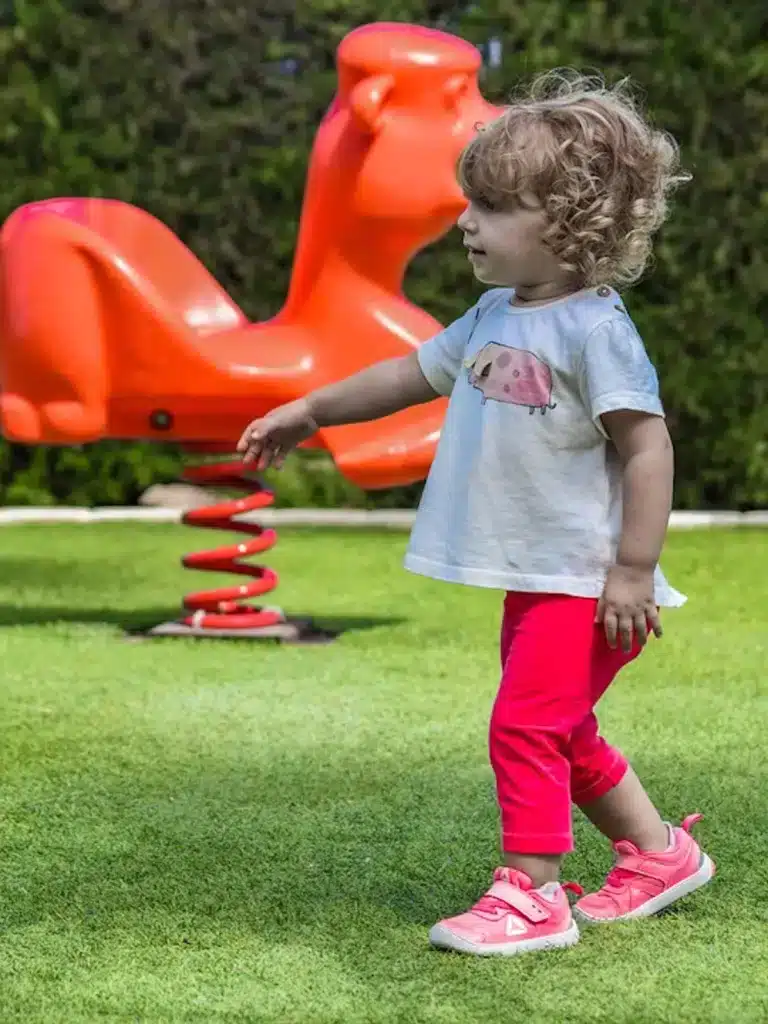 The grass installed by DFW Turf Solutions is non-abrasive so it doesn't lead to scrapes or scratches. The turf is made even more child-friendly by the layer of padding underneath it, which absorbs shock and prevents fall injuries.
13. Durability — even with heavy use
Professional artificial grass suppliers check the intended usage before recommending a suitable type of artificial turf. With so many options available nowadays, getting reliable advice at the start can help you choose a grass that is fit for purpose and lasts the distance.
Most high-quality synthetic grass can stand up to considerable wear and tear. But a seldom-used front lawn requires lower durability than a much-used backyard area.
Heavier-use areas require artificial grass with a higher face weight. This type is denser, with more blades per square foot than a lower face-weight grass, helping it stand up to extra foot traffic.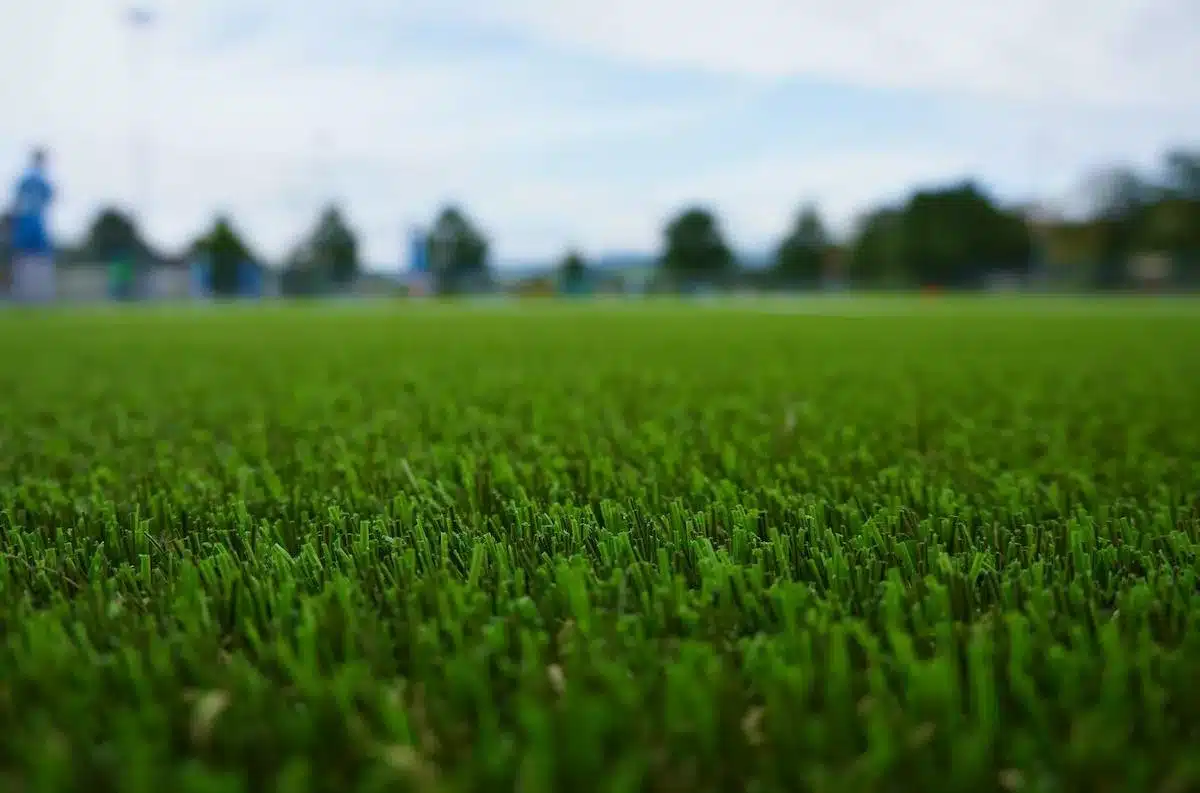 Depending on the intended usage, DFW Turf Solutions installs high-quality synthetic turf products with a face weight of at least 50-60 ounces per square foot for lighter use and up to 80-90 ounces for heavier use areas.
14. Longevity
Based on the artificial grass we have installed for our customers in the DFW area, we conservatively estimate 12-15 years for the life of artificial grass. It can easily last twice this long with a little maintenance and care.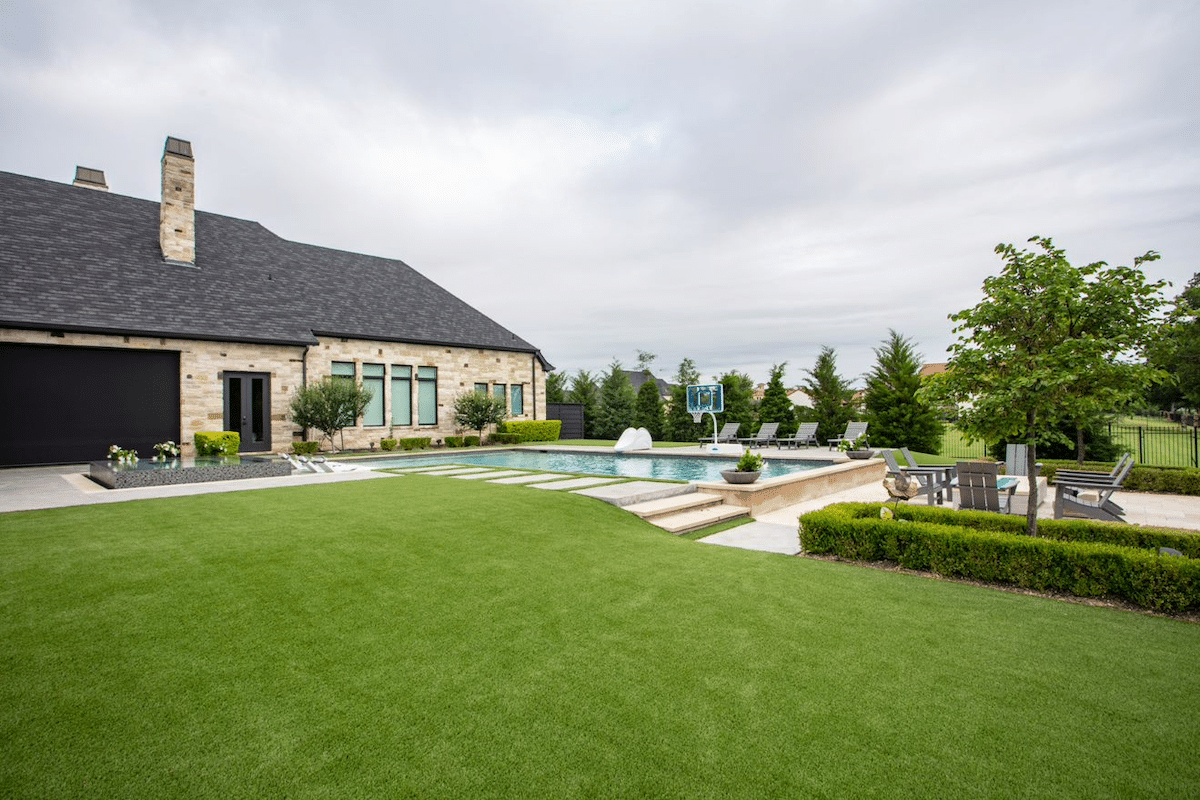 Remember, your artificial grass starts paying you back on your investment from day one and after 5-6 years, you're in profit. That means plenty of years of profitable returns from your artificial grass after you pay the installation costs back.
15. Suitable for pets
Some dog owners hold off on installing artificial turf because of perceived unsuitability for pets. There is a common belief that synthetic turf won't handle dog pee or other dog waste.
Many of our clients are dog owners and their pooch happily enjoys life on artificial grass — like this one: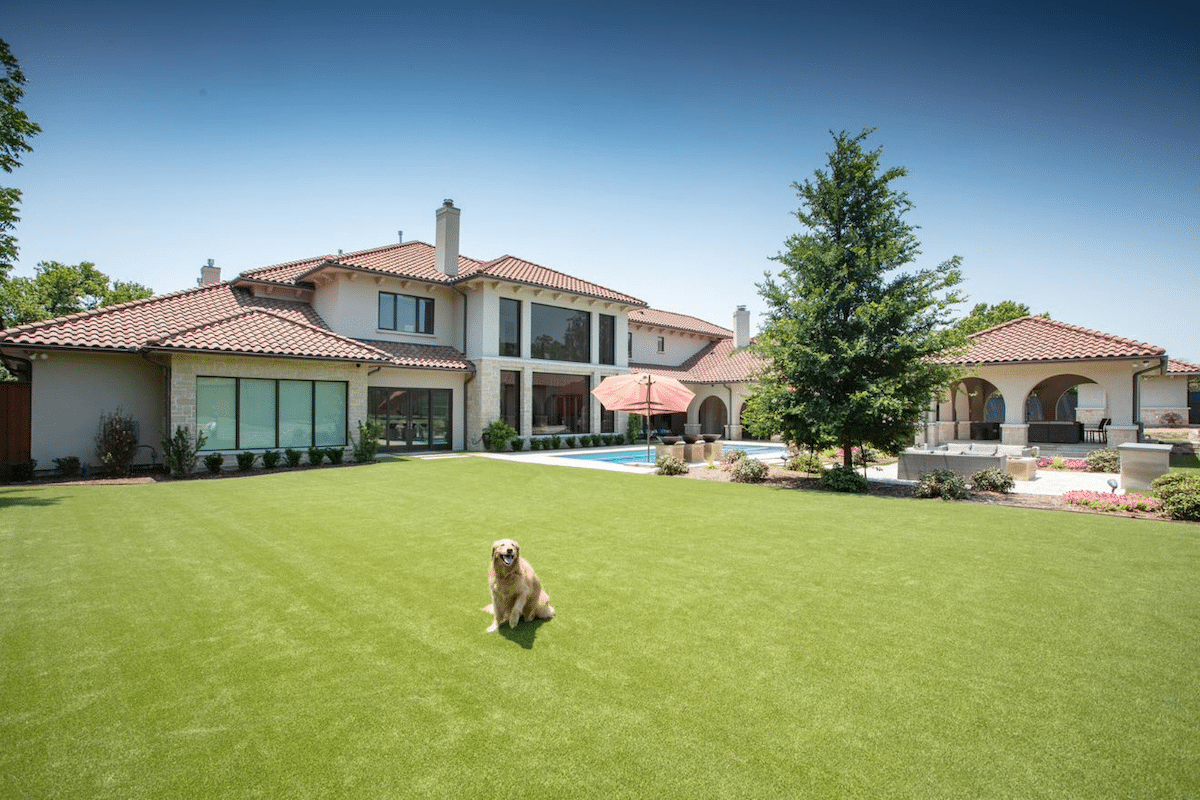 The homeowners actually benefit in many ways from the switch to synthetic turf because not only can dogs pee on artificial grass but there's no digging for bones, no muddy paws trailing through the house and no yellowing of grass patches due to dog pee. The best pet turf is highly resilient to even the most boisterous of dogs.
16. Ideal For Pool Areas
The best artificial grass is well suited to areas around swimming pools — as you can see from this picture from one of our client's properties in the DFW area: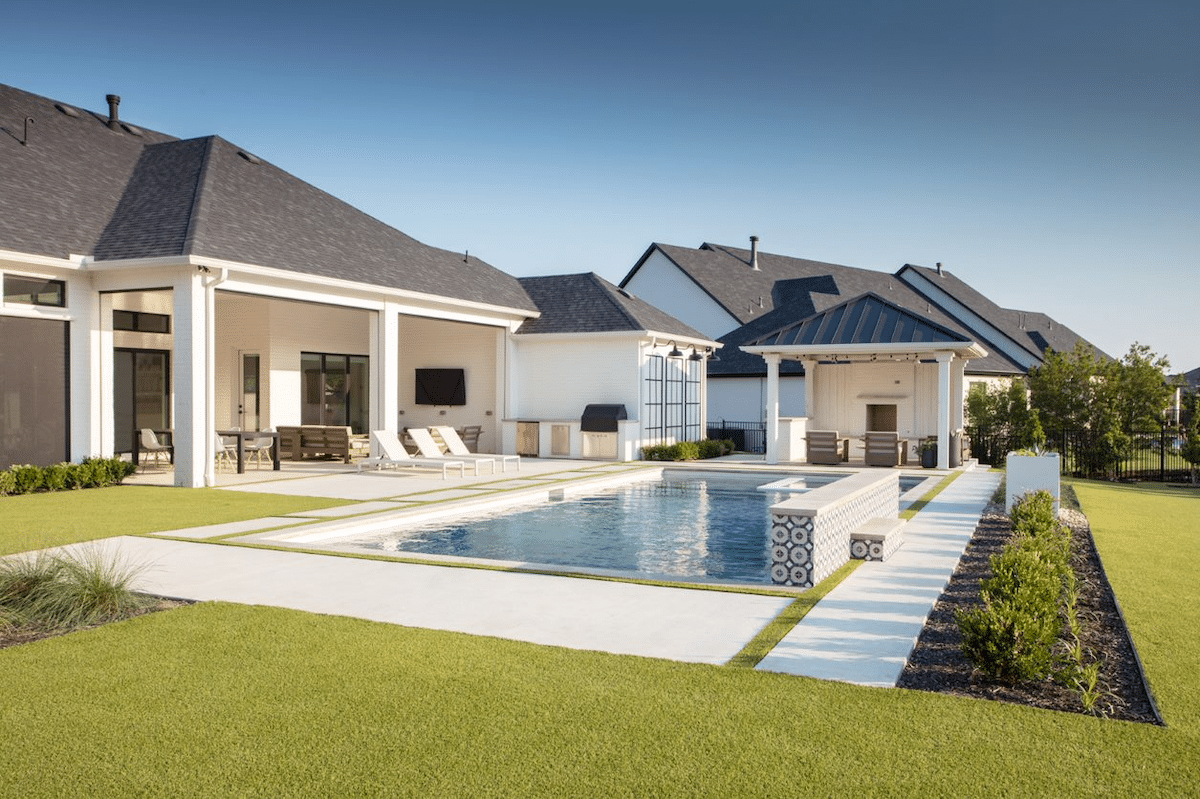 Many similar homes are enjoying the benefits of artificial grass in yards with swimming pools.
Pool turf is often laid between the pavers around pools. It stands up excellently to high volumes of water and is unaffected by chlorine. It is no more slippery than real grass and also feels soft and natural under bare feet on the way to and from the pool. And you don't have to worry about dirt or leaves blowing into your pool from the grass.
17. Great for backyard putting greens
Texans love their golf and artificial turf provided golf enthusiasts with an affordable and convenient way to get putting and chipping practice from the comfort of their backyards.
This is one stunning installation for a client in the DFW area: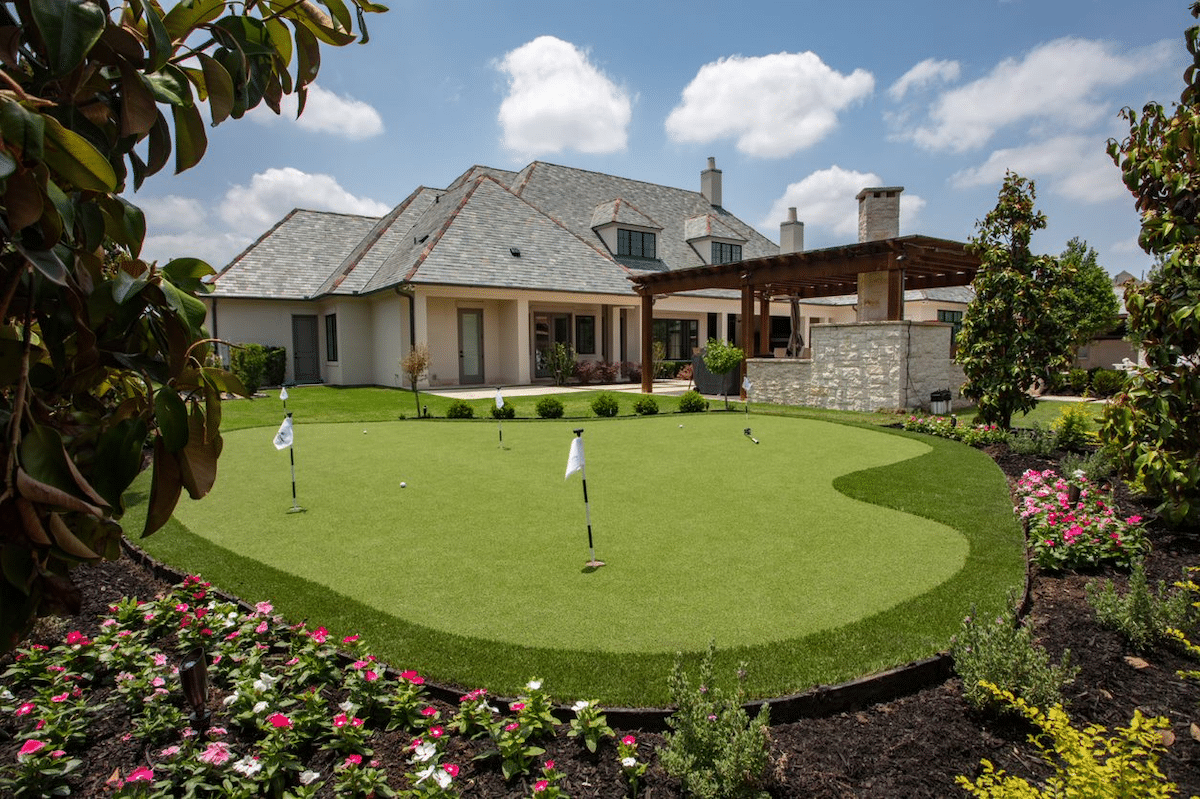 The cost of a backyard putting green has come down because once homeowners install their green, little servicing or maintenance is required other than occasional brushing. Real grass putting greens requires many hours of tending from greenkeepers.
Artificial grass putting greens can perfectly mimic the bounce and roll of a golf ball, with optional water hazards and sand bunkers landscaped to include chipping areas if you have the space. This is great for practicing your short game.
18. Undamaged by the sun
Some people claim that artificial grass won't stand up to very hot sunlight and will fade or even burn. This is a myth. In fact, its suitability for the hot weather in Texas is one of the main benefits of synthetic turf.
You can expect your artificial grass area to look immaculate even in the hottest of Dallas summers: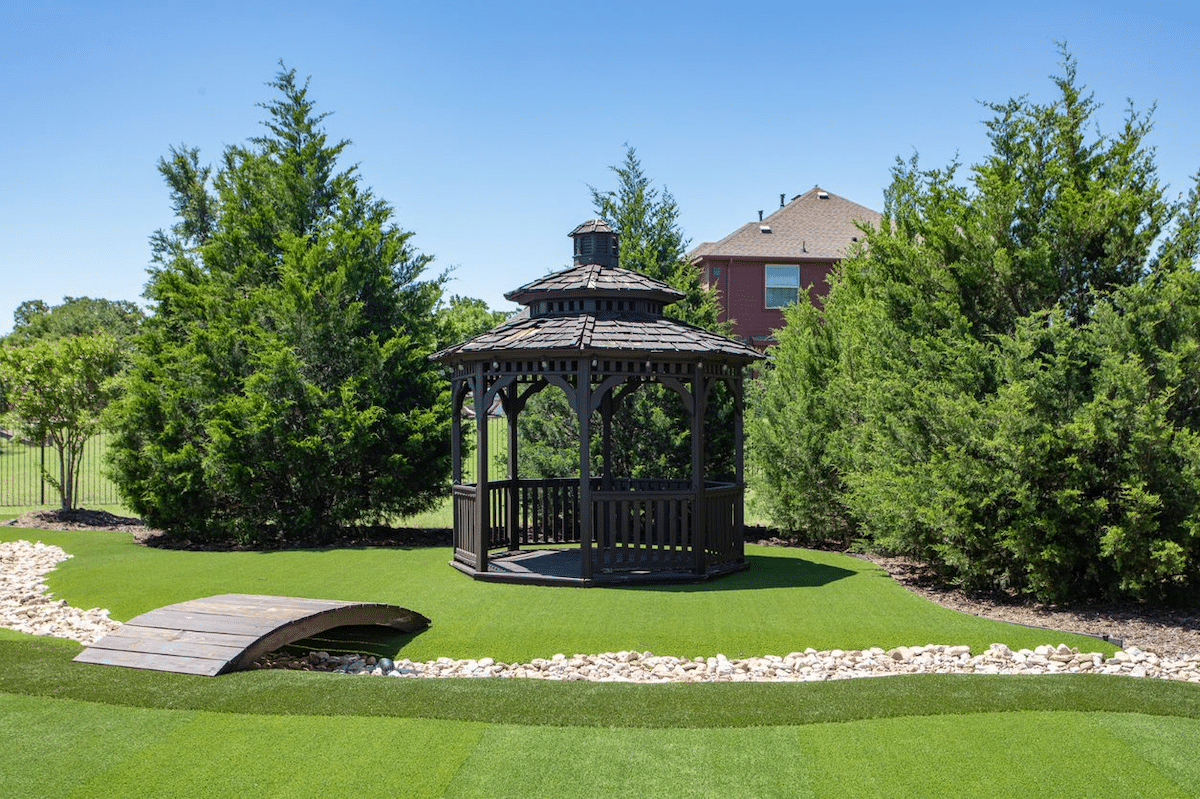 Every blade of grass on the turf installed by DFW Turf Solutions is treated with UVI protection, helping it withstand the sunlight. It won't fade or turn yellow with time.
While artificial grass gets hotter than natural grass in sunlight, we've never had a case of grass "melting" in the heat and it remains comfortable for you and your family (and dog) to sit on.
19. Withstands heavy rainfall
Dallas is known for its heat and sunshine but the artificial grass also stands up well to the type of heavy rainfall that often comes in April and May or during summer storms.
Professionally installed artificial grass has a natural drainage system built into it, with perforations in the backing to allow rainfall (and dog pee) to pass through it and drain away.
Overwhelming amounts of rain may cause some puddling as it does on waterlogged areas of natural grass but high-quality fake grass generally stands up well to drainage comparisons with real grass.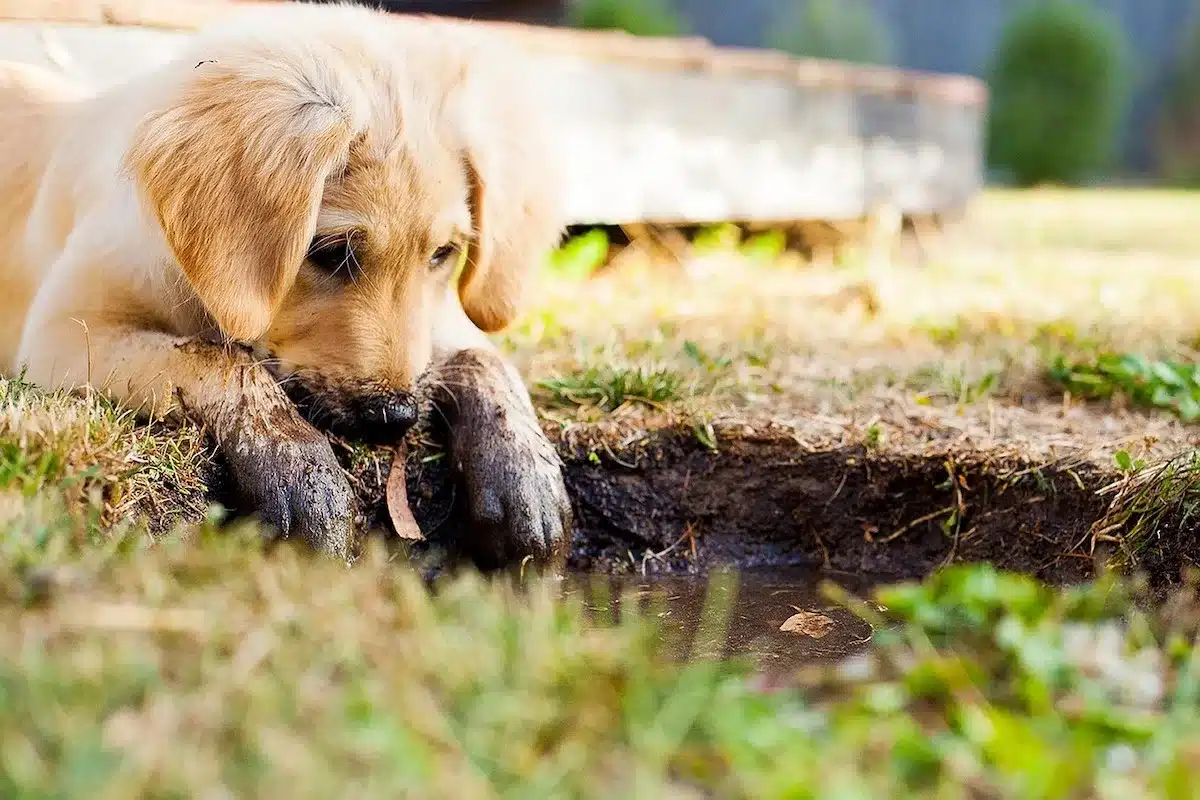 Most of the artificial grass products installed by DFW Turf Solutions boast drainage rates of over 30 inches per hour per square yard if properly maintained. The polyethylene blades dry out quickly and are undamaged by the rain.
There's no heavy waterlogging, muddy areas or growth of mold and mildew, as there can be with natural grass after heavy rainfall.
20. Allergy-free
Natural grass allergies are relatively common in the U.S., leading to runny nose, sneezing, asthma, and eye symptoms. Skin rashes can also result. Around 10 to 30 percent of all children and adults in the U.S. suffer from hay fever due to grass pollen.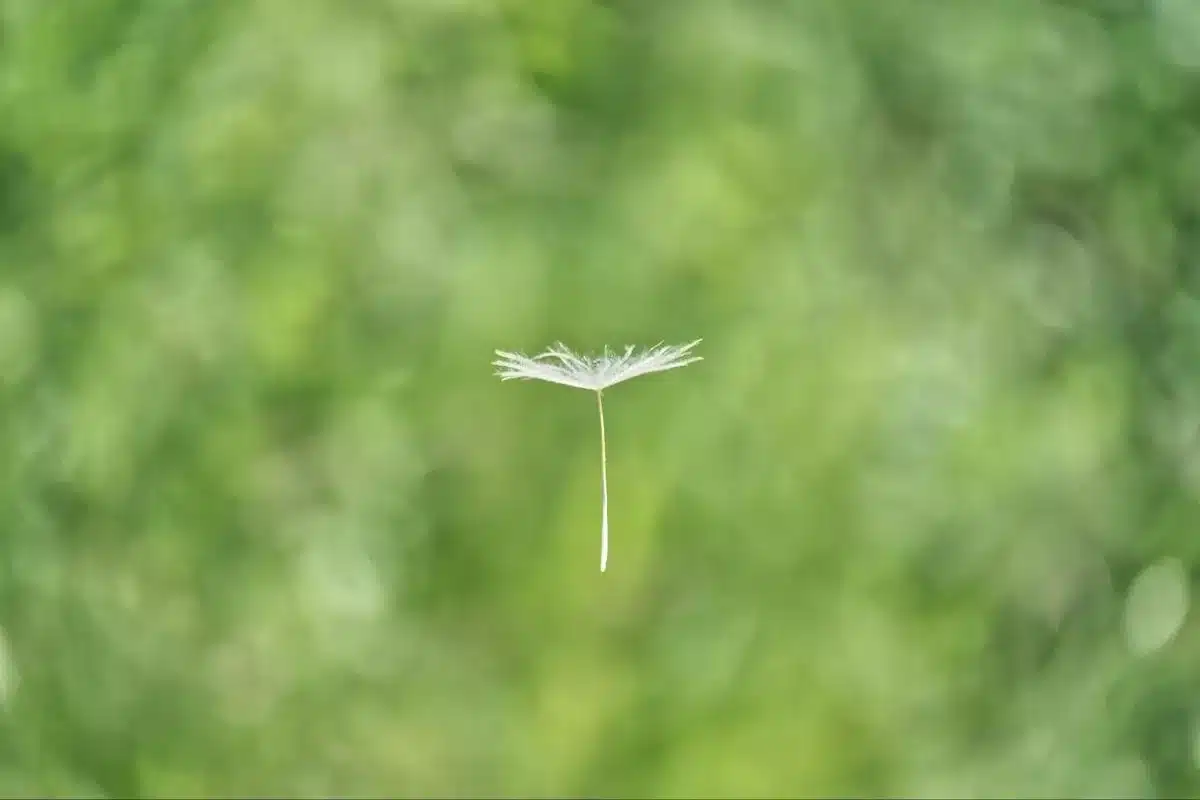 This becomes a thing of the past with synthetic turf as there's no pollen to worry about, except if it blows on your grass from next door or neighboring flower beds.
Your family is, therefore, kept safe from such allergic reactions: another benefit of artificial grass.
21. Ideal in shaded and high-traffic spots
Another artificial grass benefit is that it looks immaculate even in shaded areas with no water and heavy foot traffic.
Natural grass needs plenty of sunlight and water to flourish — and preferably few pairs of feet walking on it. Permanently shaded areas can be problematic as can the water shortages that have been affecting Texas and the surrounding states in recent years.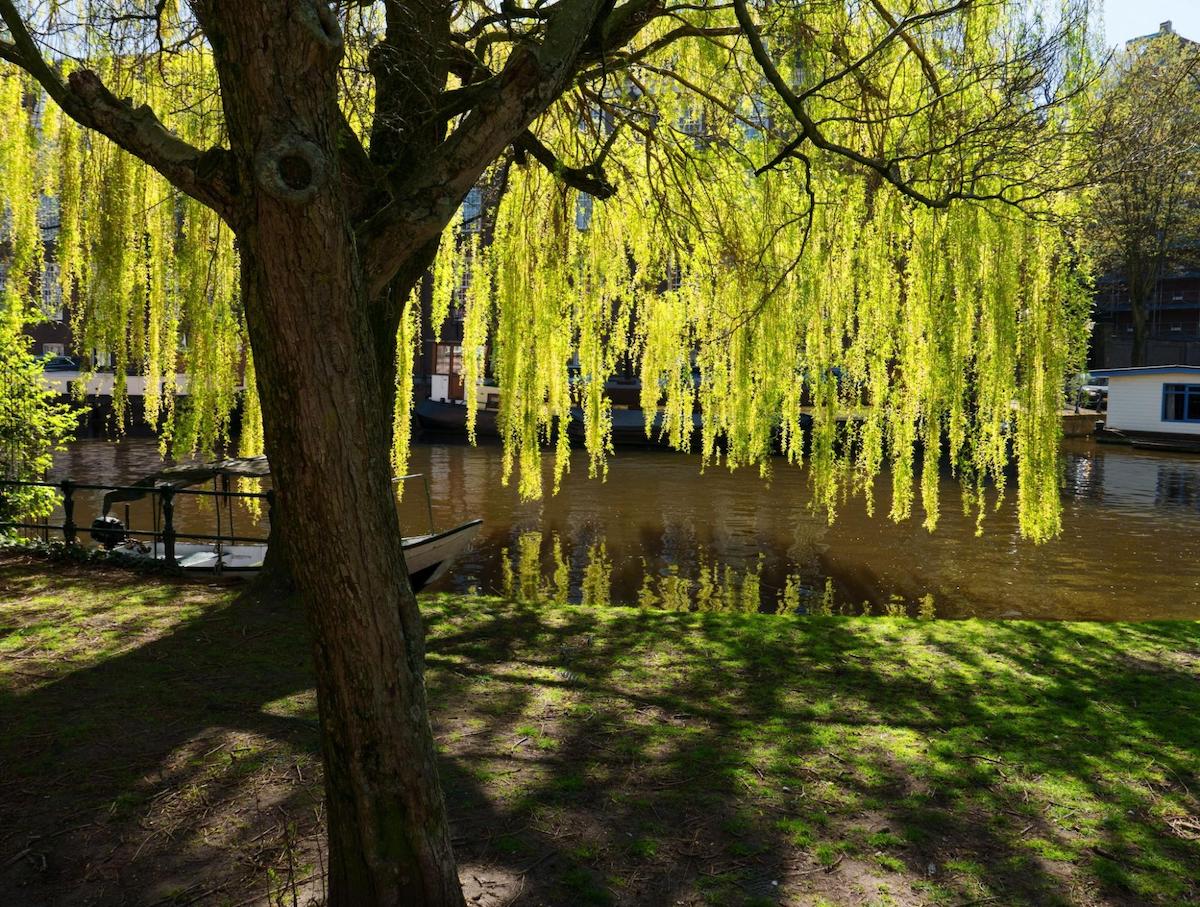 Most natural grass also suffers from the constant pounding of feet in high-traffic areas. Artificial grass, on the other hand, will remain robust with no bare patches, making it a versatile alternative to real grass.
Start enjoying the benefits of synthetic grass
The few downsides to artificial grass are greatly outweighed by the benefits.
Any homeowner who loves tending to their lawn and is untroubled by water restrictions and running costs, will never seriously consider artificial grass.
However, for other homeowners in the Dallas-Fort Worth area who are considering making the switch, an impressive array of benefits await with synthetic turf. Many of the traditional concerns have already been solved by technology and the wide availability of high-quality synthetic turf in the U.S.If you're based in the Dallas-Fort Worth area, call (940) 365-9165 for a free quote. The team at DFW Turf Solutions has been installing high-quality artificial turf in the area since 2014 and can manage your project from start to finish.