Commercial property owners shouldn't undermine the value of realistic looking, artificial turf. Business owners have always looked for ways to cut down their expenses and save whatever time they can. Fortunately, the installation of synthetic turf offers both!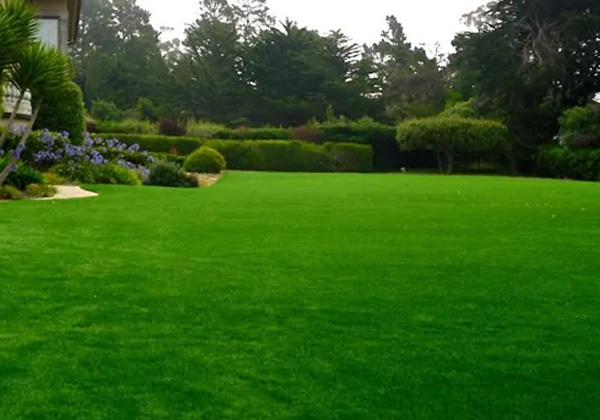 By installing artificial turf indoors or outside your commercial property, you can reap several benefits. How? Check out the following to know what turf can do for your business:
CREATES A BEAUTIFUL CURBSIDE APPEAL
Turf gives your business property a much professional and well-maintained appearance. Before your clients step into the property, you will already be creating a fantastic first impression. Turf helps ensure that your business property looks and feels at its best. It also allows you to let in the customers right through the front door.
Artificial grass does not fade so quickly, create puddles, or feel cold in winters. It remains green and good looking all through the year. In fact, if you plan on selling your commercial property, you must certainly consider affixing it with artificial turf to add to the property's value. It creates a tidy look while raising the value of the space. Not to mention, the turf will keep your lawn looking lush and beautiful for years to come without costing thousands of dollars.
MAKES THE ENVIRONMENT MORE PRODUCTIVE
Your commercial space instantly brightens up with turf. So, when everyone sees a vibrant and well-maintained property, it profoundly impacts their mood. Moreover, the color green is calming, energizing, and motivating. The workforce feels more relaxed in such an environment, and it is more likely to enhance their productivity. Commercial turf installation will make the space more fun and inviting, not just for the potential clients but also for the employees.
IS LOW MAINTENANCE
Commercial lawn care can cost considerably, mostly depending on the size of your property. Besides, if you care for the lawn yourself, the hours of effort, as well as the equipment, start to add up.
Artificial turf needs no watering, weekly mowing, or maintenance of the greens. Installing commercial-grade turf eliminates the need for a landscaping service that would be necessary for organic grass.
Gone are those days when you needed to sift through several service providers, different bids, and weekly/ monthly maintenance schedules. With artificial turf, you can enjoy a lush green and well-kept space without having to deal with the headache of conventional lawn care or maintenance.
Want to know how long does turf last? Click here to find out!
BENEFITS THE SURROUNDINGS
From a business viewpoint, installing artificial turf adds to even the environmental benefits. Today most businesses are looking to build their ecological reputation to help make the planet a better place to live. So the least you can do is use turf and exhibit better business practices. But how turf benefits the environment?
You need not require using any harmful fertilizers or pesticides since turf is evergreen. It maintains the color, texture, and height without using any toxic chemicals that eventually end up in waterways. When there is no chemical input in the lawn, people, animals, and the environment, on the whole, are sure to benefit from it. In addition, artificial grass is made of recyclable materials, so you can be a little more kind to the surroundings.
CONSERVES WATER
Since turf is low maintenance grass, it reduces the water usage that would be immense if it is natural grass. You will only have to water turf when it necessitates regular cleaning or if there are any visible contaminants. This way, you save water, reduce water bills to a great extent, and do your bit for the coming generations.
IS CLEAN AND SAFE
When it pours, traditional surfaces can be a big problem. Mud can be risky and make your property look unappealing. Plus, all the dirt and debris can be tracked on your carpets or floors, making entryways messy. Artificial turf prevents these problems with its superior drainage systems and the capabilities to inhibit puddles, mud, and other accompanying problems.
SAVES TIME AND MONEY
It is true that you will have to spend a substantial amount upfront. However, with all the benefits mentioned above, you would certainly save money in the long run. You do not have to purchase any chemicals, mow the lawn, or water the grass. There will be no weeds, irrigation, aerification, overseeding, etc.
All of these maintenance efforts are necessary with organic grass lawns. Preventing these helps save both your time and money since turf is virtually maintenance-free. Saving time and expenses is what keeps your business profitable. You can go years and years without replacing or installing new grass.
Check out this blog to know more about the installation costs of synthetic turf: How much does it cost to install artificial turf?
READY TO GO GREEN FOR YOUR COMMERCIAL BUSINESS? CONTACT US!
As a business owner, you have hundreds of things to worry about, and lawn maintenance must be the least you would have to spend your time and energy on. While most homeowners in Texas have already opted for synthetic greens for their home yards, try installing turf in your commercial space and see what a difference it helps you make. You can save time, leave a lasting first impression, and avert safety risks.
Whether you own an office, store, hotel, restaurant, gym, dog kennel, swimming pool, café, or any other commercial space, you can benefit from turf in a number of ways. We at DFW Turf have been serving homeowners and business property owners alike with our artificial turf products. If you are searching for an affordable and reliable synthetic grass company, we are a name you can trust.
We have rendered hundreds of residential and commercial lawns in Texas with our years of experience. If you, too, are interested in investing in a low maintenance lawn, give us a call at 940-310-3263. Our specialist shall visit your space first to learn more about your business and its needs and, after that, suggest a workable plan of action. You can also request a free quote or consultation online, and our lawn care experts shall get back to you with a practical solution.