Even if you live in a city where golf is possible year-round, true golfers are always on the lookout for ways they can improve their access to the game. This usually results in a growing number of golfers installing artificial putting grass at their businesses and homes.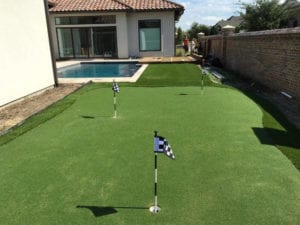 Why do golfers love artificial turf for their putting greens?
Let us look at the top six reasons why synthetic turf products have become a popular choice amongst golfers and why it has become a growing trend among golf enthusiasts. 
No time wasted 
If you choose to go with natural grass on your putting green, you will have to wait until your grass is correctly established before you can practice any putts. Moreover, if you are planting your grass from the seed level, you will have to wait for even more. 
By getting artificial putting grass installed, you will be trapping your golf balls in with minimum time wastage after installation. 
All that is after keeping in mind that you get the convenience of having a putting area in your backyard. You will surely save all the time it takes to get to the driving range to practice your putting skills. 
Very little maintenance
There is a reason why artificial turf has been gaining a lot of popularity amongst businesses and homeowners looking for beautiful yet grass-free landscaping. It requires very little maintenance. 
This applies to artificial putting greens as well. You will not have to water your putting grass turf or keep it cut just like you want. Weeding is going to be significantly reduced, you will have to take minimal care measures during your installation, and it does not require you to fertilize your turf either, saving you a lot of money in the long haul. 
As long as you get your artificial putting grass installed by DFW Turf Solutions professionals, you will not have to pay much attention to it after installation. This means that you will have more time to practice and improve your golf skills.
Less water also means that getting artificial turf is also an environmentally-friendly option. If you live someplace where water is scarce, it is something that you need to take into consideration. Water conservation has been a huge reason why people are getting artificial turf installed.
Location 
By choosing artificial turf, you will not have to worry about your putting green not getting enough sunlight or if the ground underneath is ideal for your next project.
Your putting lawn can go wherever you want or wherever it suits you and your space. If, for some reason, you are limited to the corner of your yard, then getting an artificial green turf installed is ideal. 
If you have extra space and wish to customize something that has some more flair, you can get it done without considering any environmental limitations. You can also choose the ideal shade for your grass which goes well with your existing surroundings. The possibilities are endless. 
Keep things consistent and tidy.
You do not have to stress about any rambunctious child or pups ruining your putting grass with artificial grass. Artificial turf is easier to maintain, but it is also easier to clean and pet-friendly. This will not only help you avoid losing any days where you can polish your golfing skills but will also give you a beautifully maintained landscape that does not lose its beauty after a round of rough play. 
With lesser possibilities of any changes to your green, you can be much more consistent throughout your game. You will not have to wait for any regrowth if your canine digs home in your turf or have to wait for the water puddles to dry after heavy rainfall.
Your putting grass is always going to be there for you, just like the way it was the day before. It is a consistent, durable surface no matter the conditions. 
It is budget-friendly 
While considering the cost of maintenance and improvement projects that may need to be done to a natural grass turf, artificial turf is a much more economical choice for you. 
Once it has been installed, all that you need to do is get your golfing equipment. After you've perfected those putts, you will have all the time in the world to play a few rounds at the course.
Besides requiring little to no maintenance, artificial grass is also made using recycled plastic, which shows that you care about the planet. 
Improve your game
Though professional golfers may be used to natural grass when hitting the links, advancements in the artificial turfs have now made it comparable to the feel of rounds on a natural grass turf.
Artificial putting turf has become a popular choice in the golf world as a consistent and convenient option for amateurs and serious golfers. Even luxury hotels are now getting in on the artificial grass trend.
Nevertheless, proper installation of your artificial turf is critical since it will ensure that you get a smooth surface for consistent rolls. If properly installed, you should be able to perfect your putting game on this turf for years to come.
With the consistency that artificial turf has to offer, you will not have to worry about any potential divots or grooves on your surface that will trip you while practicing. Artificial putting grass is ideal for golfers looking to spend some time improving their game instead of improving their greens. 
Here at DFW Turf Solutions, we will give you the best putting turf in the Dallas/Fort Worth area  
Now that you have seen all the various advantages of having artificial turf, you will understand that it is the ideal way to go. But do you have any idea what kind of putting green turf out there is perfect for you? 
Well, don't worry, because our professional artificial turf specialists from DFW Turf Solutions can help you find a perfect green turf based on your installation location, budget, and goals for your putting game. We serve communities in and around  Dallas, Addison, Highland Park, University Park, Richardson, Garland, Fort Worth, Westlake, Southlake, Plano, McKinney, Frisco, Celina, Prosper, Melissa, Grand Prairie and Carrollton.
Give us a call at 940-310-3263 or contact us online,, and we will take care of the rest.