How Much You Save with Artificial Grass
With the Dallas area's extreme weather changes, local homeowners are looking to artificial grass as a convenient and cost-effective
landscaping
solution. Through freezing rain or summer heat, synthetic grass lawns stay beautiful and green while eliminating the need for regular watering and maintenance. Although some Dallas residents may be apprehensive about installing artificial grass due to its larger initial investment, installing a synthetic grass lawn will ultimately save you money over the years. Here's a breakdown of how much you can save with artificial grass.
Eliminate Costly Maintenance With Synthetic Grass
Whether you hire a weekly gardener or take care of all of your landscaping yourself, lawn maintenance can be extremely costly. In fact, the average cost for real grass maintenance is over $300 per month, or $3,600 per year, on average. Even without paying for a gardener, the price of supplies such as a lawnmower, gasoline, fertilizer, weed killer, sod, insecticides and more is still hundreds of dollars every year. With artificial grass, all of these costs are entirely eliminated. Synthetic polyethylene turf fibers never grow or brown like real grass, so there's never any need for mowing, fertilizing, or re-sodding. Save yourself thousands of dollars a year by making the switch to artificial
turf today.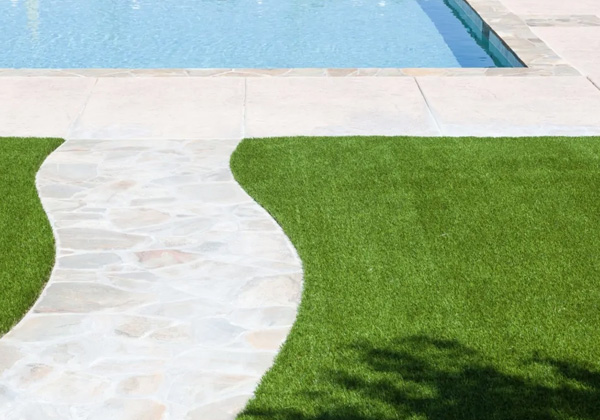 Conserve Water & Lower Your Bills
In Dallas, maintaining a lush green lawn can be an extremely difficult task due to the grueling summer heat. Lack of rain also makes it necessary to water your grass almost daily in order to maintain a green and healthy appearance. However, daily watering not only hinders water conservation efforts, but it also causes your water bill to skyrocket. The average homeowner uses more than 150,000 gallons of water a year to water their lawn. At about $0.004 per gallon on average, that adds up to more than $600 a year to water a 700 square foot yard. With artificial grass, watering is never a necessity. While the efficient drainage system makes watering easy, synthetic turf never needs to be watered to maintain its appearance. Make the switch to an evergreen artificial grass lawn and cut your water bill in half.
Increase Property Value With Artificial Grass
Artificial grass isn't just beneficial when you're living in the home; it's also an investment that will pay off when it comes time to sell. On average, synthetic grass lawns yield a return on investment of about 200 percent – more than the average kitchen, bathroom, and bedroom remodel. Whether this is your forever home or just a quick flip, installing artificial grass in your property can increase its value and be a worthwhile investment for the future.
Every day, more and more Dallas homeowners are realizing the numerous benefits of installing artificial turf in their yards. In addition to enjoying beautiful, perfectly green grass all year long, artificial turf allows you to help the environment while saving money each year. Although there is a higher initial cost with synthetic grass, the return on investment is quick, with the average homeowner making their money back in just two years. If you're ready to get started with artificial grass installation for your Dallas home, call DFW Turf Solutions today at (940) 365-9165.

DFW Turf Solutions, "A synthetic grass company", is focused on customer service, quality control, and water conservation.

4700 US-377
Building 6B
Krugerville, Texas 76227
12300 Ford Rd B321, Farmers Branch, Texas 75234