How to Care for Your Artificial Turf With Pets?
As a homeowner in Dallas, TX, an artificial turf can come in handy for you. Essentially a surface of synthetic fibers made to look and feel indistinguishable from natural grass, artificial turf is a quick and convenient solution to get a beautiful lawn without having to do a fraction of the work that natural grass demands — no weeding, no fertilizing, no mowing and no trimming!
Despite the fact that artificial turf is much easier to care for than natural grass, you may be unsure as to whether or not it is the right option for you if you have pets. After all, how do you take good care of your artificial turf lawn when your loveable furry friends seem to run and poop around the clock?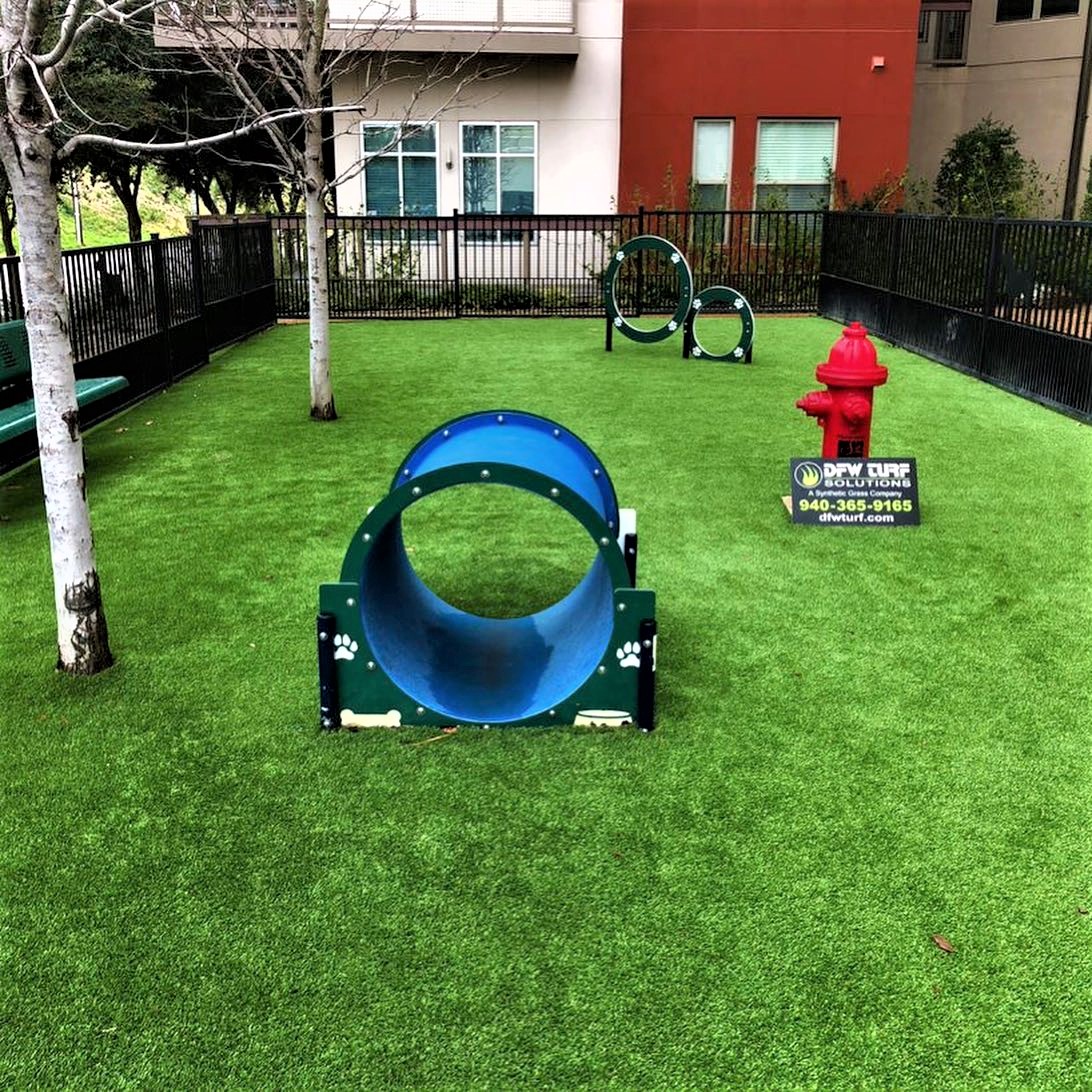 You may be under the impression that having synthetic turf installed when you have pets will leave your beautiful green lawn looking like it has taken a serious beating. On the other hand, artificial grass and pets mix quite well, really.
Let's spend a few moments and talk about how you should care for your artificial turf when you have pets to worry about. (Being proactive is the secret!)
How to deal with pet pee and poop?
Your pets can do their business on your artificial turf — the same way they would on natural grass.
Unlike natural grass, though, you will not have to do a lot of hard work to clean urine from your artificial grass as it drains away through the grass to the substrate underneath the same way as rainwater. Just rinse down the area where Fido has "marked" his territory!
You will not need to do a lot to clean up your pet's pee, but you will certainly need to do something about the mess your furry friends make, and you will need to do it pronto. Pick up the solid waste using a pooper scooper and dispose of what you can. You can also use tissues or old newspapers to pick up your pet's business if you do not have a pooper scooper. And then, hose down the area to completely remove any residual mess.
How to deal with urine odor?
Does your turf have a pet odor? Even when the turf seems completely dry, the smell can linger.
The easiest solution to getting rid of pet urine odor is to deodorize the area with soap and water or a mild dish soap detergent. Start by hosing down the area. You may want to scrub the more stubborn areas with a scrub brush before letting the solution sit. Allow the solution to dry and repeat the process if the smell still lingers.
Alternatively, you can purchase an off-the-shelf artificial turf deodorizer like K9-Zap to eliminate pet odor quickly and easily. You can spray it as needed over your artificial turf to keep your turf smelling fresh all year long fresh.
How to deal with hardened poop?
Fresh pet poop is much easier to deal with than when it has hardened onto your artificial turf. If your pet poop has dried out after a few days of you not cleaning up after your pet, you may have to work a little hard(er).
One simple solution to deal with hardened poop is to spray it with water from your hose; this will loosen it and make it easier to scoop up with a pooper scooper. Once you pick up what you can, give the area another rinse. You can then use a paper towel and your vinegar solution to get rid of any remaining waste.
Conclusion
When it comes to caring for your artificial turf if you have pets running around your home in the Dallas-Fort Worth area, the most important thing you need to remember is always to take care of problems as soon as you notice them. Notice your pet doing their business on your synthetic lawn? Clean it right away!
It would be best if you choose a pet system installed in the first place. Choosing an artificial turf designed with pets in mind will both extend your synthetic turf's lifespan and help keep your yard clean and sanitary.
Are you looking for a synthetic turf solution as a pet owner?
If you would like to learn more about using synthetic grass when you have pets, come to the experts at DFW Turf Solutions. We can happily consult you on the synthetic turf products that are best suited for your Dallas home and furry friends — from one-time installation products likeTurfZap, Zeolite and asneeded, upkeep accessories like K9Zap.
As a leading synthetic grass installer in Dallas, the team at DFW Turf Solutions works with top-of-the-line synthetic grass products from the only place you should buy turf – Turf Hub. We use only the best tools and techniques to provide Dallas-Fort Worth residents with an installation that guarantees customer satisfaction every time.
Get in touch with DFW Turf Solutions today and let our team of friendly experts introduce you to your next synthetic grass landscape. Call us at (940) 310-3263 for a free estimate.

DFW Turf Solutions, "A synthetic grass company", is focused on customer service, quality control, and water conservation.

4700 US-377
Building 6B
Krugerville, Texas 76227
12300 Ford Rd B321, Farmers Branch, Texas 75234